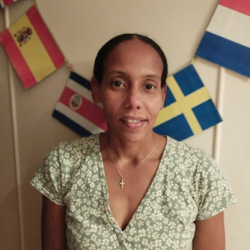 Dominique Hopgood
"I contacted several potential supervisors from various universities but was instantly seduced by the accessibility and generosity of spirit of staff from the School of Literature and Languages at the University of Surrey ."
Research project
The research project seeks to investigate the contextual factors influencing the success of trilingual language acquisition, with an emphasis on the impact of parents' linguistic, cultural, and socio-economic background. It also focusses on the external input benefited by families.
Through the investigation of family background, pattern of language acquisition and language policies implemented within the home, the proposed research aim to answer the following questions:
Which are the most influential factors impacting the success of trilingual language acquisition and what is their relative weight?
How do parents' linguistic and cultural background impact communication patterns in family settings?
Is there a link between families' socio-economic background and the acquisition of active trilingualism?
What type of external support can contribute to a harmonious multilingual development within the home?
Why did you choose to come to Surrey?
I started my PhD in Linguistics in September 2018 as a part-timer. My area of interest is simultaneous multilingual acquisition from birth. I first became interested in the topic when I became a parent 14 years ago and struggled to impart the four languages our family shared (English, Spanish, French and Creole).
As I developed first-hand experience and learnt more about the topic of bi/multilingualism through extensive reading and conversations with other multilingual parents, I became increasingly fascinated by the topic but also frustrated by the lack of resources available for families sharing more than two languages at home. I therefore set out to investigate the topic further through a PhD.
I contacted several potential supervisors from various universities but was instantly seduced by the accessibility and generosity of spirit of staff from the School of Literature and Languages at the University of Surrey.
What course(s) did you study before undertaking your PhD, and where did you study?
I started my PhD relatively late as it coincided with a career change in teaching French. I originally earned a masters degree in international trade in France.
Why did you choose to study it at Surrey?
Finding supervisors willing to support my research project was key. In addition, the location proved quite handy as our family had settled in Surrey.
Why are you passionate about your subject?
I am passionate about my subject because family language policy plays an important role in building a strong sense of identity. Many children exposed to various languages at home, 'only' speak the language of the society they live in, to the detriment of the native languages of their parents. I believe it is possible to embrace the language and culture of a host country without forsaking the family's languages of origin.
How have your supervisors helped you to achieve your aims during your PhD studies?
"Now that I am embarking on my last year, I can honestly say that I would not have been able to navigate the pressure emanating from balancing a teaching career, young family life and research without the continuous support, encouragement and precious advice provided by my two supervisors."
How much opportunity has there been for collaboration during your PhD, either with researchers and academics at Surrey or with external organisations or companies?
I had the opportunitiy to attend various international conferences both online and in-person. These conferences are a great way to learn from experience researchers, present one's work and share experiences with early career researchers.
What have you enjoyed most about your PhD?
I have mostly enjoyed expanding the breadth of my understanding on a topic I am passionate about. Raising multilingual children in a monolingual environment is not as straightforward as people think. It takes a great deal of commitment, perseverance and effort.
How have you found your overall experience of studying for a PhD at Surrey?
I have so far enjoyed my time at Surrey. The on-going support, regular supervision meetings and opportunities to network with academics from my field have certainly contributed to making the overall experience a very positive one.
What are the best things about life in general at Surrey?
Surrey is a stunning region with many sites of outstanding beauty. The opportunities to visit gardens, parks or simply appreciate peaceful walks are many. Wisley Gardens, one of the world's great gardens, is definitely worth visiting.
What has been your best moment at Surrey so far?
My best memory will remain the winter school I was able to attend on the topic of multilingualism at the University of Oslo in February/March 2023. One of my supervisors had kindly suggested to attend the course in the hope to reinvigorate my motivation for the forthcoming last stretch of the doctoral journey. The trip proved to be incredibly inspirational and career-changing. I not only met with the most prominent senior researchers in my field but also had the opportunity to meet with other mature early career researchers facing the same challenges as me.
Do you have any advice for students thinking about postgraduate study?
"Postgraduate study can be a long, lonely, and exhausting process. It is therefore important to find supervisors you can regularly exchange with and who will be able to keep you on track when the going gets tough."
The accumulation of knowledge can sometimes be overwhelming so take time to step back, digest all the information and relate it to the research questions that motivated your study in the first place.
Never be afraid to stand your ground but be prepared to defend your viewpoint with soundly based arguments.
Cultivate hobbies that will allow you to disconnect and recharge the batteries when necessary.
What do you plan to do following your PhD course at Surrey?
Following my PhD course at Surrey, I plan to use my skills to continue raising the awareness of institutions and multilingual families on the positive influence of education policies and family practices that allow children to embrace their linguistic and cultural heritage.
Finally, do you have any other comments you'd like to offer about your time at Surrey?
Starting a self-funded PhD while parenting young children is not easy but researching a topic you are passionate about in a thriving and supportive environment certainly makes all sacrifices worth it.