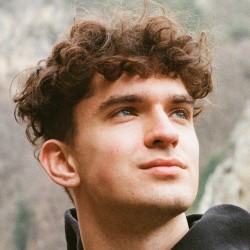 Eimantas Budrys
The delivery of the TEDxSurreyUniversity event has been one of the most precious moments of my university experience. The TED brand backing has opened so many doors to new industry connections and helped me win the Access All Areas 30under30 award in 2023. 
Is there a song that reminds you of Surrey? Why?
'Work Bitch' by Britney Spears – I trained most of my season with the rowing squad listening to this song in secret. It paid off with a gold medal in a national championship! 
Why did you choose to come to Surrey?  
The rankings and the 'programme fit' for both my partner and me, as we came to study at Surrey together from Lithuania. I didn't attend any open days due to COVID-19, so I couldn't have a real impression before applying, but knowing Surrey had quite high entry requirements for its events programme made me interested. 
Why are you passionate about your subject? 
Every day is different working in events. The creative side, different clients, different roles, the ability to freelance and the possibility to travel the world make working in this industry worthwhile.
There is just something about seeing a crowd being amazed by the work you put on which I never tire of.  
What do you like about your course and why? 
The course has given me a deeper understanding of the events industry, especially the modules exploring sustainability, crowd safety and legislation. 
Who have been your favourite academics and why? 
I absolutely appreciated Emma Delaney's practical approach to the subject and her passion for business events. She was a lovely professional to learn from, both in lectures and in 1-2-1 meetings. She gave me useful insights for when I was running my own events and trying to secure private sponsorships. The Live Event module delivered by her was definitely one of the most memorable study moments at university. 
James Kennell has recently joined the school, yet has already made a tremendous impact on it.  
What were the facilities like on your course?  
I did spend an ungodly amount of time in the library. For me, there is nothing better than a quiet space with loads of focused people around (yes, I am the 5th floor, silent library type). 
What careers support have you received?  
1-2-1 meetings with lecturers have been a wonderful experience to gain connections, insights, advice and guidance. If there is one element of the study experience that people seem to overlook it is making the most effective use of their 1-2-1 meeting time (trust me, the lecturers actually want to know you as people outside the lecture room!). Also, you will have enough time to work if you decide to; there is time to gain industry experience and still have a good time. 
Are you part of any clubs or societies?  
Clubs and societies make or break the university experience. I've had the chance to win the national rowing championship and get heavily involved in the University of Surrey Students' Union in my first year, organise an amazing TEDxSurreyUniversity event, and go on the loveliest snowboarding trip in France with Snowsports. 
I met one of my dearest friends running TEDx society as president, and it was fantastic to see how close other team members have become. 
What are the best things about life at Surrey?  
Being able to enjoy London nightlife has been a great part of the Surrey experience.
It might not work for everyone, but leaving Guildford at 9pm and returning from a great event at 6am the next morning is something that my partner and I have done quite a lot! I've lived in Stag Hill Court all three years of my course and I wouldn't trade it for anything else, convenience-wise. 
What has been your best moment at Surrey so far?  
The delivery of the TEDxSurreyUniversity event has been one of the most precious and heart-warming moments of my university experience. Organising it was quite a steep learning curve. I genuinely believe that the whole project team developed tremendously in a very short time, including myself.
The TED brand backing has opened so many doors to new industry connections, and even helped me reach one of the most important career peaks: to win the Access All Areas 30under30 award in 2023. 
Do you know what you want to do when you graduate? 
For now, I am enjoying my full-time work in big pharma events, travelling abroad to deliver projects every month. More long-term, I am considering 4 options: owning an international corporate events agency in Lithuania; launching my data consulting business; living in Lithuania and working as a freelancer, flying nearly every week or being the loveliest stay-at-home dad and living off investments. Let's see which one turns out to be true.