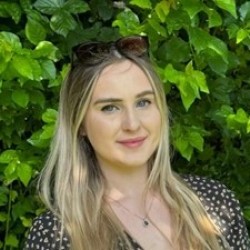 Charlotte Lewis
The range of modules in my course has enabled me to acquire a broad scope of knowledge, whilst specialising in my preferred skills. The small cohort offers a tight-knit community and close relationships with the other students and the teaching staff.
What food dish or snack couldn't you live without at university?  
Coffee, Cadbury's and a good stir fry recipe.  
Why did you choose to come to Surrey?  
I knew about Surrey when I first considered university at 18. After working for a few years and deciding to change my career and get a degree, I knew I wanted to look at Surrey again.
The campus, Professional Training placement opportunities and the area really appealed to me. 
What was your first impression when you got here? 
Without sounding cheesy, I came to the campus and felt so comfortable; I could see myself being happy here. 
Why are you passionate about your subject? 
Events are everywhere and so much more complex than people think. I love the fact that I can specialise in events within different industries. Sport is my passion, and finding a role within sport that I find rewarding is a perfect combination. 
What do you like about your course and why? 
The range of modules in the course. People think event management is simple, but I can assure you that's not the case! The modules cover everything from business management, legal and risk issues, and finance, to specialising within different event industries. This range has enabled me to acquire a broad scope of knowledge, while specialising in my preferred skills. The small cohort offers a tight-knit community and close relationships with the other students and the teaching staff.
All my lecturers know me personally and take an active interest in their students' lives.  
Who is your favourite academic, and why? 
My tutor, Emma, deserves the biggest shout-out. She has been a pillar of support, guidance and encouragement. She goes above and beyond to ensure I am succeeding at university. All the event teaching staff are incredible, though. 
What careers support have you received?  
When I joined Surrey, I knew I wanted to break into the professional industry. I met with my tutor, the careers team and the academic team.
With a revised CV, in the summer semester of my first year, I applied for a summer internship at McLaren Racing within their Heritage and Extreme E team. I was ecstatic when I was offered it!
Those twelve weeks were some of the most inspiring weeks of my life. I was able to implement professional knowledge from my previous career, but also apply the theory I'd learned in my first year at university.  
Tell us what happened next 
In September 2022, McLaren asked me to stay on part-time. I accepted, knowing what a once-in-a-lifetime opportunity it was. I stayed for 9 months, working across Heritage, Extreme E, F1 and the Internal Events Team. Highlights included working on an event at Silverstone and internal staff celebrations, and my biggest achievement was running filming projects that were part of the F1 2023 Car Launch – and working the day of the Car Launch. Never in my wildest dreams would I have thought I would achieve this whilst studying in my second year and applying for placements. 
I now look forward to starting my Professional Training placement with BMW within PR and events! 
Are you part of any societies?  
I am the currently Treasurer and Head of Creative Media and Events for the Formula Student Society (Team SURTES). This experience stood out on my CV and helped demonstrate experience in my internship and placement applications. I also completed Level 1 and Level 2 of Italian with the Global Graduate Award in Languages. 
How has your time at Surrey had an impact on you? 
Surrey has helped shape me not just as a professional, but as a person. The challenges and experiences have proven to me that I'm capable of so much more than I imagined.  
Do you know what you want to do when you graduate? 
When I graduate, I hope to return to elite level sports and work for a team specialising in PR, comms and events. I would love the opportunity to work abroad! 
Do you have any other comments you'd like to offer about your time at Surrey? 
I wouldn't change my experience at Surrey; however, my advice is that if you want to stand out you need to go above and beyond with your work ethic.
To have achieved what I've done has meant making sacrifices, but I can honestly say, the hard work really does pay off!