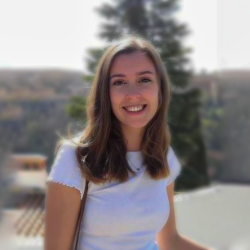 Eleri Gaffey-Cosslett
"I called Surrey and it was super easy – they told me immediately that I was in."
On A-level results day, I received an email saying I hadn't met the conditions of my offers for either my firm or my insurance choice of university, so I'd been automatically entered into Clearing.  
I had a feeling that I might not meet my offers, so I did prepare a lot by reading articles and researching the universities listed on the UCAS Clearing website, and I made a spreadsheet to compare them. I went into school to get my results and it was very stressful - I felt upset and disappointed. I was also worried there was now a big rush to get a university place secured, because I knew they were limited. Luckily, as I'd done some research, I knew which universities I wanted to call through Clearing, Surrey being my top choice. They were well positioned on the league tables and would accept my grades to allow me onto their politics course. 
When I got home, I called Surrey and it was super easy – they told me immediately that I was in. I did call another university later that day, but by then they were no longer accepting anyone else onto their politics course. 
Surrey offered campus tours and arranged for Clearing students like me to visit the university and meet other students (and potential housemates!). But as I lived in Liverpool, it wasn't feasible for me to pop down for the day. Surrey sent me lots of information, so I felt fine about going there, despite never having visited the campus.  My university experience so far has been really amazing. I enjoy going to Surrey and have made great friends. The University is campus-based but near to London and there are lots of societies. 
Surrey encourages everyone to do a placement year – I've just completed a year in Spain with the Erasmus scheme that enables you to study and work abroad.  
I think I want to work in PR and communications when I graduate, and Surrey gives lots of careers advice, support and guidance. Getting involved with the student societies also helps with gaining extra skills.  
My advice for those who are going through Clearing is try to stay calm and trust that wherever you choose to end up, you'll have a great time.