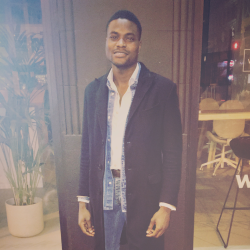 Emmanuel Abayomi
"Surrey is an excellent university to study at. It has excellent facilities which enhance your student experience and it has a very friendly environment. I would highly recommend studying here!"
Course
International Corporate Finance MSc
Why Surrey Business School?
Drawing inspiration from studying the fundamentals in finance acquired during my undergraduate degree in Accounting and Finance at the University of Surrey, I was enthusiastic to advance my knowledge in core international corporate finance procedures that are crucial in stabilising international economies.
"What attracted me to this degree was the opportunity to gain valuable insight into quantitative and analytical procedures used by professionals to assess various financial instruments and make informed investment decisions."
Your course
International corporate finance is not only vital to the success of a business but also plays a significant role in maintaining the stability of international economies. Without an extensive understanding of finance, it would be almost impossible for any country or company to survive in times of economic crisis, such as the credit crunch at the end of 2007 that became a full financial meltdown by the middle of 2008, and eventually, into a global recession.
The aspect of the course that I have enjoyed the most has been the Equity Research Report Project in the Equity Investment Analysis module. This project involves selecting a publicly listed company from the MSCI world index and concluding as to whether investors should buy, hold or sell equity shares in the company. To do this, we learnt how to create three statement models and create different valuations that formed the basis for our conclusion. From this project, I have gained exposure to different techniques that professionals use to analyse investment opportunities. For example, using Bloomberg terminals to analyse historical company performances and forecast future performances of the company using Stata.
The academic staff on my course are very approachable and helpful. For instance, when students had an issue with the limited amount of Bloomberg terminals available for use due to the Covid-19 pandemic, the academic staff took steps to ensure that we could access the terminals from home.
Your time at Surrey
During my time at Surrey, I think I have improved as an individual and my critical thinking has improved. The high level of projects makes you approach tasks in an efficient way focussing on key areas when dealing with large data sets. I have been most proud of my performance in the Equity Research Project. This was a project that I was very passionate about and it was all possible because of the outstanding resources available at the university and the support provided by the staff.
"Another proud achievement I have is being nominated as the course representative for the International Corporate Finance MSc, I was proud because it provided a platform for me to act as a voice for students on my course, promoting their recommendations on general improvements to be made at the university and to help make their learning experience better."
From this, I was able to develop my priority setting ability and enhance my communication and management skills as I had to communicate key issues at the university with a diverse range of audiences.
I have enjoyed making new friends and socialising despite the difficulties posed by the current Covid pandemic. Following graduation, I plan on working as an Analyst within the Financial Services sector. I believe my time at Surrey has prepared me for graduate roles and the advice offered by the Employability and Careers team have been very helpful. Although I have not received a job offer yet, I am confident that I will get the right opportunity in due time.
Surrey is an excellent university to study at. It has excellent facilities which enhance your student experience and it has a very friendly environment. I would highly recommend studying here!
Find out more about postgraduate study at Surrey Business School