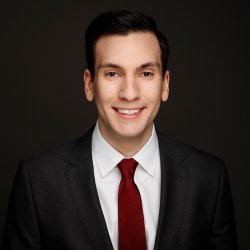 Vasilis Michos
"The mix of academics and industry professionals gives students a holistic view of the finance industry and academic knowledge correlates with real-world approaches."
Course
International Corporate Finance MSc
Why I chose Surrey
I chose to study the International Corporate Finance MSc at Surrey Business School to deepen my knowledge in this area, and successfully pursue a career in a highly competitive industry. The beautiful campus and excellent facilities and infrastructure make Surrey an outstanding place to study.
My course
The course is well-structured, and I found all the modules very interesting. The group projects and the presentations I had during the second semester helped me to improve my teamwork and presentation skills and step out of my comfort zone. The individual project in the third semester was very motivating, I got to build on a topic from scratch, which allowed me to get a deep understanding of a specific area of finance and further improve my quantitative skills through the empirical research I conducted.
"The core syllabus is fixed; however, you have the chance to choose certain modules that match your career aspirations.This means each student can create a bespoke blend of modules that they find more interesting or is in line with their career aspirations."
During my studies, I had the opportunity to work with numerous databases and software. I used Stata for the purpose of my individual project, and all students complete a certificate issued by Bloomberg LP, the Bloomberg Market Concepts, which provides a basic understanding of the operation of the Bloomberg terminal.
"I was able to test finance theories in real-world data and explore many aspects of investments."
The finance industry offers fast-paced, and continuously challenging careers, in finance, personal development and training is key as the landscape is always changing.
During the time of my studies, I was equipped with strong knowledge in many areas of finance. I was able to dig deeper into a topic and find links between academic knowledge and practical implementation as well as perform at a high level in assessments.
I was able to gain a scholarship to sit the CFA Level 1 examination. CFA is a qualification that many industry professionals have and is considered amongst the best in finance. The course provides a solid background to the CFA syllabus.
The teaching team
The lecturers are very passionate and motivate students to participate throughout their modules. The mix of academics and industry professionals gives students a holistic view of the finance industry and academic knowledge correlates with real-world approaches. I should also highlight that I had individual support, upon request, from all lecturers, the programme director, and my project supervisor. This level of commitment and support gives students the ability to exploit their potential to the fullest.
Campus life 
In terms of infrastructure, Surrey Business School is a modern building, the facilities are excellent, and in general, is a very pleasant place to study. The university's amenities and especially the library can accommodate every student's needs.
"Guildford is a very nice town, although relevantly small it is a good place to be during your studies. The campus is very close to the town, which makes everything within reach."
The campus itself is stunning with numerous green areas where you can take a walk to rest and London is only half an hour away, which is perfect for weekend breaks.
Surrey Sports Park offers a vast range of sports and activities and I would recommend every new student takes part in a hobby or sport alongside their studies, there is always time and it will help you to better cope with your studies.
Find out more about International Corporate Finance at Surrey Business School