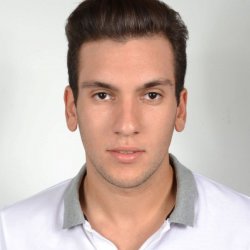 Vasilis Michos
"The beautiful campus, excellent facilities and infrastructure make Surrey an outstanding place to study."
Course
Corporate Finance MSc
"The reason I decided to study corporate finance was to deepen my knowledge in this area, and to successfully pursue a career in this highly competitive industry in the future. I chose Surrey Business School, due to the high standard of academic education and the MSc's up-to-date syllabus. Furthermore, the beautiful campus, excellent facilities and infrastructure make Surrey an outstanding place to study.
I have a great interest in finance and investments. Our complex and ever-changing financial world can offer numerous career paths with daily challenges for every thrill-seeker, like myself.
The course is well-structured and all the modules are very interesting. I would say that the group projects and presentations I took part in during the second semester helped improve my teamwork and presentation skills, and to step out of my comfort zone. Additionally, the individual project in the third semester was very motivating since I was developing a topic from scratch. It gave me the opportunity to have a deeper understanding of a specific area in finance and improve my quantitative skills through the empirical research I conducted.
Moreover, I had the opportunity to work with numerous databases and other programmes that professionals use in their everyday life. I was able to test financial theories on real-world data, and work on the most widely used software in the industry, Bloomberg.
"The lecturers at the University are very passionate and motivate students to participate throughout the modules, thus making their subjects highly stimulating." 
The mix of academics and industry professionals also provides students with a holistic view of the finance industry and relate academic knowledge with real-world approaches. I should also highlight that I had individual support, upon request, from all lecturers, the programme director, and my project supervisor. This level of commitment and support gives students the chance to reach their full potential.
Although relatively small, Guildford is a very nice town and a good place to be during your studies. The University is very close to the town centre, so everything is within easy reach. The campus itself is stunning, with numerous green areas where you can go for a walk to de-stress. Surrey Sports Park also offers a vast range of sports and activities you can participate in while studying at the University. I would recommend every new student to take up a hobby or a sport throughout their studies – there is always time and it will help you cope better with your studies.
I have definitely changed during this one-year programme at Surrey Business School. I gained a significant amount of knowledge and it's impressive how many topics can be covered in a fast-paced course like the MSc in Corporate Finance. However, postgraduate studies are not just about gaining knowledge. During this time, I became sure of myself and my abilities, was able to express my ideas with confidence and was also ready to be challenged.
Overall, Surrey is a great place to study – the campus and overall facilities are state-of-the-art and anyone would definitely enjoy being a part of it. One of the most important aspects of my studies was that I got to meet like-minded students and form precious friendships."
Discover more about our courses in accounting and finance, including our MSc in International Corporate Finance.