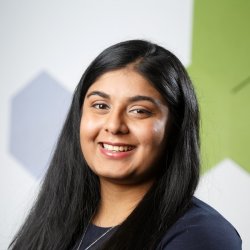 Irosha Gunatunga
"The people at Surrey were so welcoming that during my five years it felt like my second family. The Department is amazing and it's so supportive."
Irosha is Section Engineer and Lead Coordinator for the construction and civil engineering company BAM Nuttall Ltd, having graduated with a MEng Civil Engineering in 2015.
She has been heavily involved in various rail sector projects, including numerous bridge-strengthening projects, a bridge reconstruction on a 52-hour possession on Christmas Day, and building 12 platform extensions in the West Midlands.
Irosha is eager to give back to the industry through the engagement and development of young people. She is Lead Coordinator of the BAM Ambassadors Scheme which allows BAM Nuttall staff two days a year to volunteer and encourage more young people into STEM careers, especially the civil engineering industry.
Irosha was named as one of our Young Achievers in the Vice-Chancellor's Alumni Awards 2019.
What does it mean to win your award?
I was really happy and flattered. It's nice to think that I am doing things that warrant this award.
What attracted you to civil engineering at Surrey?
My dad is a civil engineer and so I knew about it from a young age. I have always been practical and hands-on and did work experience in a number of other areas – law, finance and the charity sector –before deciding on engineering. I was really fortunate to be able to gain experience working for Skanska at the London Olympics before going to university – my first on a construction site, which I loved.
My cousin studied mechanical engineering at Surrey so I knew it was a good university. I missed the open day so I contacted Colin Howard to see if I could visit and he took time out of his day to show me around. The people at Surrey were so welcoming that during my five years it felt like my second family. The department is amazing and so supportive.
What were the best things about your course?
Tutorials were really helpful. In my final year I loved the management and legal lectures to the extent that my lecturer asked if I would rather be a barrister!
Where did you spend your placement year?
At BAM Nuttell through whom I secured a scholarship. I had to get a minimum 2:1 every year so it really drove me on. I had a contract from them before I finished my course so it took the pressure off job hunting. I could focus on getting my degree – in my final year, the fifth floor of the Library became my second home.
How did you change as person during your time at Surrey?
I became more confident, although I have never been shy! I particularly became confident in my academic ability. I went to a school where everyone did well so it was easy to think maybe they were better than you, but at Surrey I appreciated there were lots of people just like me – I was the only person at my school who did civil engineering.
I learnt lots of life skills and grew up.
What is your strongest or happiest memory of your time at Surrey?
It was our final night together at university after graduation. We all went to Rubix and stayed on through the night to earn the Survivors' Breakfast. While we waited for it to be served, we went to sit down by the lake. I turned round to everyone and said 'we made it' and it was our goodbye. It is a bittersweet memory – we had been together for five years and were like a family.
What do you enjoy most about your work and why?
The legacy. When I went to the London Olympics I was really proud to see an area of landscaping that I had helped design, knowing that although it looked simple there was a lot of engineering behind it – it was amazing to see the final product being used by visitors.
A lot of my work involves railway projects and it is great to know that I am making people's journeys safer and faster. Often passengers have no idea that anything has happened. For instance, we had just a 52-hour window for a new bridge construction over Christmas. It was the culmination of months of work behind the scenes and passengers wouldn't have been any the wiser. Despite being tired working the night shift, it almost felt like a Christmas present!
What are your goals for the future?
I want to get as high as I can in the industry – Director or CEO level.
Tell us about your work as a BAM Nuttall Ambassador
I lead a team of people across the organisation to encourage young people to study STEM subjects and civil engineering in particular. Our staff all have different stories and journeys and we visit schools and colleges to get the word out. There is a massive skill shortage to support the amount of work going on so we need to change any misconceptions about the industry. There are so many opportunities and not just in engineering itself – it could be in HR or IT for example.
I haven't been treated any differently because I am a woman in a male-dominated area. I have exactly the same skillset and have never felt put down. I have some amazing female role models who have been incredibly supportive. I am now mentoring an apprentice and with my ambassador work hope I am a role model too.
Discover more about our courses in civil and environmental engineering.