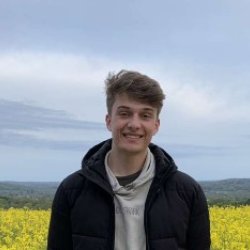 Jack Patel
"I was inspired to study mechanical engineering at Surrey because the course was highly recommended to me by a former student."
Choosing Surrey
The University's known for its great Professional Training placement programme, which increases your employability in the future.
The amazing Department of Mechanical Engineering Sciences, its strong reputation and the amazing sporting facilities at Surrey Sports Park were also a major selling point for me.
I liked the fact that it's a campus university in a location that's close to London, too. There are also a lot rural areas surrounding it, which means there are lots of nice places to visit.
My course
I really enjoyed physics and maths throughout secondary school and sixth form. My older brother also did the same degree at another university, which spurred my interest.
I was inspired to study this subject at Surrey because the course was highly recommended to me by a former student
Foundation Year
The work done in the Foundation Year provides a good base knowledge to help with more challenging work in the years ahead. It allowed me to gain prior knowledge into the content I'd be studying and it made me more at ease going into the first year of my degree.
Studying a Foundation Year also allowed me to settle into the demands of academia with a lighter workload, and make myself comfortable with university life and managing workload and time efficiently.
Highlights
The paint party at Rubix will definitely be one abiding memory of my time here!
When it comes to my studies, going on a trip to the top of Guildford Cathedral to do pressure tests with manometers will be another.
Life at Surrey
There are lots of fun student events, such as those held at the Marquee, and the various societies provide a lot of activities to attend.
I'm part of the ultimate frisbee, badminton and squash societies, and I go to the gym regularly. Sport is a large part of my life and the University provides amazing facilities for this.
The future
I don't have any firm plans for what comes next yet.  But I'll try to find a job in the field of mechanical engineering. Hopefully, I'll make contacts on my placement year, which will help.
My dream job would be working in the field of space engineering.
Learn more about undergraduate study in our Department of Mechanical Engineering Sciences.