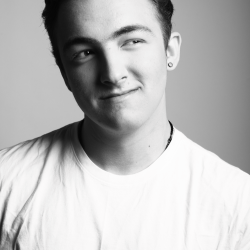 Jasper Sullivan
"In a word, Surrey seemed like 'home' and I already felt a part of the PATS community before I'd even had a confirmed offer.  My overwhelming sense of drive and ambition for music made Surrey a place I felt destined to be a part of."
Course
Creative Music Technology BMus (Hons)
Choosing Surrey
Arriving at the open day, it seemed like I already belonged. I was studying Music, Theatre Studies and Biology A-level at the time and couldn't wait to go to university and start writing music. I was originally a music student but switched to study the BMus Creative Music Technology course at the end of my first year, as it was on this course I felt I could really expand my horizons by writing music. 
Why did you choose to study your course?
Surrey seemed the best place to master my craft and start building my career, as well as learning about the social, political and historical contexts in which composers before me worked. I've gone from playing challenging classical piano repertoire by Chopin, to writing noise music in the style of artists like Keiji Haino. My favourite module so far has been Sound Design, where I had to both score and design the sound (SFX) for a short CGI disaster film.
What are the academic staff and facilities like on your course?
To know that I have professors who take pride in their work as well as continually practicing and honing their own skills and knowledge in musicianship, is nothing short of truly inspirational. The care that the staff have for the progression of their students and their futures is incredible.
Are you part of any clubs or societies?
I've worked with friends to start the "University of Surrey Composers Society" and hope to officially launch this autumn when we're back on campus.
Do you think you've changed since you started at Surrey?
I have certainly grown within myself, as well as learning so much about my chosen career. I have made the most exceptional friends, as well as having formed lasting connections with peers to work with on future projects. My confidence in my abilities has increased, which I can only hope will open up greater opportunities for me as a musician in the future.