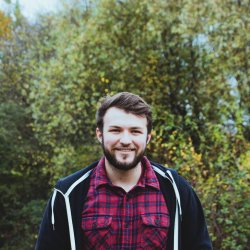 Josh Ellis
"The course really stood out from other options – not just the diversity and depth of the modules, but the extracurricular opportunities such as radio, DJing, events management and live performance."
Course
Creative Music Technology BMus (Hons)
I decided to apply for study at Surrey University when I was studying my A-levels and the campus felt so welcoming and inviting from the moment I stepped off the bus for the Open Day. Having researched music technology courses online and having visited different universities, Surrey was by far my favourite and I was thrilled when I received an offer.
The course really stood out from other options – not just the diversity and depth of the modules, but the extracurricular opportunities such as radio, DJing, events management and live performance. Above all my dream had always been to compose music for media, and this was the primary focus of the course.
The Creative Music Technology course at Surrey thoroughly equipped and prepared me for life as a Freelance Media Composer. When working in the creative industry, it's really important that you have a broad skillset. The freedom in module choice allowed me to really shape the course in to what I wanted it to be, with choices from Live Electronics and Computer Programming, to Classical Harmony and Orchestral Study. Overall the course allowed me the time and focus to hone and perfect my composition, whilst constantly exposing me to a wide array of new music and opportunity.
The friendly and encouraging academic staff on my programme were great. All the lecturers were also actively working in the music industry as composers, live musicians or engineers. Surrey has a range of recording studios and labs where you can compose and produce any time of day; I was often in the labs 24/7 close to a deadline! During my time at Surrey I was also part of the radio and surf society. In my second and third year I was Head of Events for the Radio station and Vice President and Head of Trips for the Surf society.
I would really recommend living in halls for first year as it's such a great way to make friends. During Fresher's week I got to know everyone in my block of flats on Manor Park and everyone would regularly hang out together. My room was really spacious, I had an en-suite and the communal space was also really nice. Manor Park is only a short walk from a large Tesco and Surrey Sports Park which is really convenient. Being close to London is another great reason to study at Surrey, especially considering London is the hub for the UK music industry if not the whole of Europe!
When I reflect on my time at Surrey, I always think of the great times I had socially. I now have so many close friends working in the music industry doing really cool things, so it's nice to look back on where we all started and the fun times we had.
Surrey was where I really flourished as a musician and composer. It was a time of absorbing lots and lots of information and being exposed to so many new musical concepts and practices. It really prepared me well for my future career.
Since graduating I have been working as a freelance media composer. Currently I compose for an array of library music companies based in London, and in the last few years have composed music for companies such as LandRover, Hilton Hotels and The BBC. In 2018 I received the award for 'Best Ambient/Minimalist Production Music Track' at the Production Music Awards, which was definitely the highlight of my career so far.
I would really recommend Surrey to all prospective students considering a career in the music industry. You will be challenged, stretched and pushed to your limits whilst being immersed in an environment which lives and breathes music. Ultimately, Surrey is widely recognised within the industry as a breeding ground for composers, producers, engineers and musicians. Providing you work hard, you're guaranteed the chance to make your dream a reality.
Discover more about our Music and Media courses, and our Creative Music Technology degree.