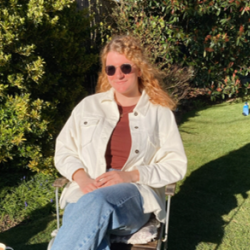 Jess Bond
"The course focuses less on literature and more on immersing yourself in the culture and language itself, teaching the lessons you need for the real world of work."
Course
Modern Languages (French and German) BA (Hons)
Study abroad location
Duisburg, Germany and Paris, France
Choosing Surrey
I decided to come to Surrey once I had visited the campus for the first time and found out about the unique languages courses offered.  I got granted an unconditional offer and felt so excited to get into my first-choice university. I was studying French and German at college and it felt like what I was working towards had finally become real.
Every aspect of the university layout was appealing to me with the large main campus which has a fantastic library and academic buildings, along with many social spaces available, and Guildford town centre is so close by. The Manor Park campus with the sports park was a real draw, along with the range of high-quality accommodation available.
Your course
The course was different from others I had seen, and there seemed to be a real sense of community within the School of Literature and Languages. The course focuses less on literature and more on immersing yourself in the culture and language itself, teaching the lessons you need for the real world of work.
I have learned about many aspects of the languages and their respective cultures, as well as gaining an insight into how I can apply my degree for different future careers – through the translation modules for example. There is a good mix of history and traditions taught, as well as lots of current and relevant material, which prepares you well for being immersed in a new society abroad during your Professional Training placement.
Academic staff
Luckily, the staff are amazing and so helpful in every aspect of academic and university life. They have incredible experiences to share with us and you can tell that they have a real passion for teaching and a desire to help every student. They really get to know us as our classes are so small, which is rare for a University and such an advantage.
Your life here
I am part of Surrey Angels, the cheerleading society, and competed at the top level of the sport every year I've been on campus. It was a new sport for me, combining aspects from others I've done before, which was ideal! Also, during my final year I have been a member of the newly created LangSoc, which relates to my course and provides another way of meeting new people and creating friendships with people from our faculty outside the classroom.
Professional placement
I worked for a translation company in Duisburg, Germany, executing and checking translations in many languages. I also had a remote placement (due to the pandemic) for a Paris based company, translating their materials to help the expansion of their business and conversion to the English market.
Both placements involved practical translation and I really enjoyed providing a service to people and receiving positive feedback, plus this is an area I am interested in pursuing career-wise. Communication was massively important in these roles and I felt really valued as an English native with a high level of French and German!
A Professional Training placement gives you real insight into what your career could be like after university and it's a great way to gain some work experience. Especially during my placement in Germany, I was immersed in the workplace culture, with no English being spoken, which was tough but great for my language skills!
Looking back
I would say the experience of winning the Varsity game on home turf in my first year was an amazing experience; performing and competing as part of Surrey Angels in front of the crowd at Surrey Sports Park was really exciting!  I also really enjoyed coming back to campus for my final year, reuniting with lots of friends and still making more.
Looking forward
Since starting Surrey, I think I'm more mature and self-aware. I have also grown in confidence socially, academically, through cheer, and even through gaining experience working part-time alongside studying.
I am still interested in translation and have a passion for helping others/providing services. My first stop after I graduate is to gain experience working abroad in a ski resort.