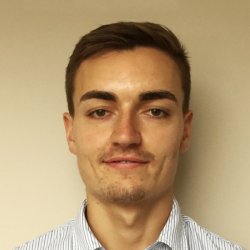 Kurt Taylor
"I'm studying for an Epidemiology PhD and I love the nature of the work, having the freedom to develop my own ideas and take them forward into projects."
Course
Sport and Exercise Science BSc (Hons)
Why I chose Surrey
I didn't really know what I wanted to do long-term, so I picked a subject that I had a real interest in that could lead me down many different career paths. I enjoyed all aspects of sport and naturally found a love for linking it to science, so the Sport and Exercise Science course at Surrey was a perfect fit.
The impressive campus and facilities, including Surrey Sports Park - a hub for elite athletes and teams - made the decision an easy one!
My course
I really liked the tight-knit feel of the course and the intimate class sizes, which was something that set Surrey apart from other universities.
I was lectured by so many different experts and it always felt like I was learning from the best. Staff were extremely helpful and happy to reply to any queries via email or in person. Since graduating, we've even kept in touch.
My career and development
My time at Surrey was the start of my research career. I'm very thankful that my course organisers and supervisor supported me and provided me with options to get involved in real-life research throughout my studies. Without that, I wouldn't have been accepted onto my Epidemiology PhD.
I'm now in the final year of my programme. I love the nature of the work, being given the freedom to develop my own ideas and take them forward into projects and eventually scientific manuscripts. My highlight so far has been having my work accepted at a conference in Melbourne - it was a great experience.
My advice
Doing a PhD and pursuing a career in academia is certainly not for everyone. But, if you have a real interest and passion in research, then it could be perfect for you!
Take advantage of all the opportunities there are to gain scientific experience at Surrey and make use of the staff available to support you.