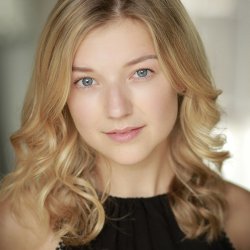 Laura Loutit
"GSA isn't just for however long your course is; it's a community and support network you carry with you forever that supports and uplifts each and every member and I feel very lucky to be a little part of that. I think that's very rare when it comes to conservatoire training, due to the competitive nature of the industry, but I know whenever I need it, GSA is always there."
Course
Musical Theatre BA (Hons)
Choosing Guildford School of Acting at the University of Surrey
I was really keen to find a school which equally valued all three disciplines of musical theatre. I admired that acting was at the core of everything and was always astounded by the versatility and range of each individual student in GSA productions. I felt confident that in choosing GSA, I'd be encouraged to excel in all aspects of my career in the arts. I'd taken the pre-audition course and knew instantly it was somewhere I wanted to dedicate a huge part of my life to. The atmosphere and community spirit of the building made me feel safe and encouraged.
My favourite memory
It has to be the final night of our production of Shrek at the Yvonne Arnaud Theatre. As the curtain fell, my entire year group let out this almighty roar of joy and it was the most magical feeling, all beaming with pride and adoration for, not just each other, but for how far we'd come as performers, the work created together, and anticipating all the exciting things they'll go on to achieve. Being supported by astonishing fellow students and staff who are with you every step of the way was really special.
My course 
Aside from the exemplary training, it was the opportunities outside of classes that made the course so interesting. As a part of the GSA Singers, we sang at many venues including The Royal Festival Hall alongside the BBC Concert Orchestra. Opportunities like these allowed you to have a taste of being in front of an audience after spending hours in a studio burrowing away!
Life after Surrey
In May 2020, amidst the first lockdown, fellow course member, Matthew Rankcom, and I founded the production company The Grey Area Theatre Company specialising in new musical theatre writing and revivals with social relevance. When working in production, I love the creative freedom you have to make decisions you wouldn't usually be exposed to as a performer. I still get the exact same creative buzz watching a show we've produced, as I would being a performer in it; being there every step of the journey gives a whole new appreciation for our incredible industry. In September 2020, 'Before After', starring West End's Rosalie Craig and Hadley Fraser, was broadcast live from The Southwark Playhouse and live-streamed to audiences in 44 countries. The show was awarded an OnComm recommendation and we have been shortlisted as finalists for an Off West End OnComm Award.
Career prospects
Whilst the training focus is on developing the performer's skill set, we were introduced to other creative skills and outlets by visiting industry professionals showing the vast expanse of jobs the industry has to offer. These sessions affirmed that being creative doesn't just mean being on stage and gave me the confidence to embark on such a new and exciting venture.
Advice for students
Take the risk… it'll pay off, I promise! We're in an industry where it feels like so much is out of our control but none of our achievements would have happened if we hadn't taken the risk. Be bold, it's exciting! Keep proactive and create opportunities for yourself to ensure you're always striving to be the best version of yourself and keep yourself sane!
Discover more about our courses in theatre and performing arts, including our BA (Hons) Musical Theatre course