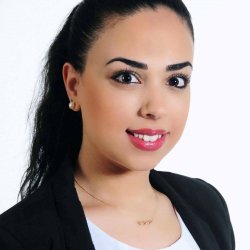 Maria Louca
I am curious by nature and I like to offer myself and others a logical explanation of how the international community operates. The aspiration to study for a PhD came from working on my LLM dissertation as I really enjoyed the process of researching a new area.
Research project
Jurisdictional Objections in Inter-State Courts and Tribunals
My supervisor Dr Arman Sarvarian is one of the main reasons why I returned to Surrey for my PhD, along with Surrey's great location and welcoming environment.
I hold an LLB in Law from the University of Keele and an LLM in International Law from the University of Surrey, where I also received 'The Justice Umaru Abdullahi Prize' for the best graduating student on the International Law programme. I was subsequently awarded an MA in International Relations from the University of Kent. I am a qualified barrister under the National Bar of the Republic of Cyprus.
The driving force throughout my studies has been my genuine curiosity in finding explanations concerning international affairs. I grew up in Cyprus during a time where public unrest and intense political negotiations regarding Turkish occupation of the island was dominating the social scene. This prompted me to become interested with state affairs at a very young age. International law along with international relations provided the regulatory mechanism in this restless situation, by securing and promoting safety, predictability and reliability on an international level, based on political, historical and social qualities which are incorporated into its core.
I have really enjoyed my experience so far. A PhD is quite demanding and challenging; I often compare the experience to a rollercoaster. Therefore, it is important for the researchers to work in a friendly environment which offers both academic and emotional support, and I have certainly experienced this at the School of Law.
Guildford's location is great for students who want to be near London, for research purposes. The Doctoral College offers a variety of events aiming to develop the skills of PhD researchers as well as creating a sense of community. Surrey Sports Park is a great on-campus escape, that offers a variety of sports and activities, contributing to the wellbeing of researchers.
Dr Arman Sarvarian has been a great mentor and supervisor for me since 2012. He shares his knowledge and professional experience, whilst offering a holistic and inspiring supervision method.
Dr Sarvarian and I have recently co-authored an encyclopaedic entry for the Max Planck Encyclopaedia of International Procedural Law, published by Oxford University Press. I am also sitting as an alternate member, representing Cyprus, on the International Law Association's Committee on the Procedures of International Courts and Tribunals.
Upon receiving my PhD, I am planning to pursue a career in academia. The School of Law has been great in offering me many opportunities and I recommend that all students make the most of all these opportunities Surrey has to offer!
Discover our programmes in law, including our PhD in Law.