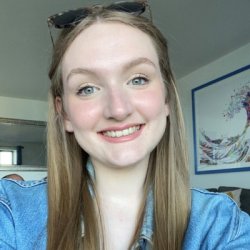 Megan Adams
"When on placement, we only ever hear positive things said about Surrey students and the University."
Choosing Surrey
Surrey seemed like somewhere I could thrive and develop. When I visited for the open day, the staff were all so friendly, I felt instantly relaxed and comfortable. I remember feeling like it just fit with me, and I was so excited to start on a course that I had been working so hard towards.
I really enjoyed the way the interview process was conducted, which solidified my decision that Surrey was my number one choice. The staff were all so supportive in such a nerve-wracking time! It felt like they really wanted you to succeed, and that has continued throughout the course.
A unique privilege
Being involved in the care of pregnant people and their families is one of the most rewarding and challenging jobs I've had the pleasure of doing. Supporting and helping parents to empower themselves through their pregnancy, birth and looking after their babies is such a unique privilege and I'm passionate about ensuring all birthing people are empowered and informed in their journey. It's such an honour being involved in such momentous occasions in people's lives and knowing you've made a difference.
On my course, the staff are so friendly and supportive. You can rely on them to give you high quality education, and feedback on work. They're attentive and responsive when you reach out to them. Our simulation suites are brilliant, with mannequins and sometimes actor involvement that lets you practice your skills and communication before applying them to 'real world' scenarios.
My placements
On placement, you're fully immersed into the role of midwife in the hospital wards and community settings. There you'll develop the skills required to be a competent and confident practitioner. You'll be involved in the care of birthing people and their partners from the first booking appointment, throughout various stages of pregnancy in various wards, through to delivery and then postnatal care of the mother and baby. It can be challenging but is truly such a rewarding job.
"My first delivery is something I will always remember. I was lucky to get the opportunity to attend a home birth and support the mum and deliver her baby! It was a lovely start to my midwifery journey and I will never forget the feeling of my first birth and thinking how lucky I was to be in such a privileged position."
When on placement, we only ever hear positive things said about Surrey students and the University. Supervisors in practice often comment how impressed they are with Surrey students, so I think it does help to be able to say you trained at Surrey when applying for jobs, as we have such a positive reputation!
Looking back
Surrey is full of opportunities to develop yourself and your passions and is fully equipped to support you. The staff and facilities are unmatched and there are so many learning opportunities for personal and academic development. I've loved training at Surrey and couldn't imagine being anywhere else.