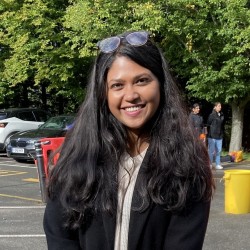 Renuka Shenoy Kotachery
"At Surrey, I opened myself up to new opportunities and experiences which translated into the job I have today."
Course
Corporate Environmental Management MSc
Why did you choose Surrey for your masters? 
I had seven years of experience working in the financial audit field in India. I was passionate about working for a cause, and climate change is a real, important issue that is looming over all of us and needs to be addressed immediately. Given that I worked with large consulting companies like Deloitte and BDO, I would see the increasing importance given to ESG (Environmental, Social and Governance) reporting. As a result, I started looking to make the switch to the environmental and sustainability field and was looking for universities.  
Surrey was the clear choice for me because of the reputation and high regard that the University and Centre for Environment and Sustainability (CES) have. The MSc Corporate Environmental Management incorporated all of the subjects I wanted to learn more about, provided additional certification (this MSc provides a route to the Institute of Environmental Management and Assessment graduate membership) and had internship opportunities built into the short but detailed one-year course. It was everything I was looking for.  
On doing my research and reaching out to LinkedIn contacts that were CES alumni, everyone had glowing recommendations for the course, and the many wonderful opportunities that paved the way for them as a result of doing it, which only helped solidify my decision to move to the UK and pursue my dreams. 
What are your fondest memories of studying here? 
My time at Surrey was so enriching, it was an experience that I'd dreamt of for years. Given that I had only ever lived in India and had established myself in my career as an auditor, it was a huge decision to completely switch fields and leave all my family and friends behind to start over. When I first moved, there were moments where I would second guess myself. As an international student, it is hard to adjust to a different country and culture. With that came more responsibility as I juggled school with my part-time job and research. But here at Surrey, there is so much help and support and it was smooth sailing.  
I met some of the most amazing people and had some of the best experiences of my life. I worked my first job in hospitality, I wrote my first academic essay and my first dissertation that I was proud to claim as my own original piece of research. It was lovely to be a student after all those years – the professors were so friendly and helpful, the cohort was brilliant and I met some of the brightest minds.  
As I lived on campus, the University was my home for a year, and it was such a wonderful experience. It would be hard to pick one defining moment because I cherish it all dearly: the drinks in Wates House after classes, the late nights in the library being engrossed in the interesting subjects, the evening walks to The Mount, the night outs in Guildford and one of my personal favourites, watching ducks and sitting by the lake. It's an experience I recommend to everyone, because beyond obtaining a masters degree, the University and Guildford have so much to offer. 
What were the best things about your course? 
I really enjoyed my course and the subject matter that was taught over the year. I loved that it was so interdisciplinary and brought so many people together from different walks of life, age groups and academic backgrounds to think about how we can help solve climate change. I loved that there were external speakers that provided insights about how to implement what we studied in the real world, and the opportunities that it presented to us as students by way of internships or jobs.  
I appreciated all my professors for always being kind and always being available to help or provide feedback. I thoroughly enjoyed working on my dissertation and learning all about the wonders of nature-based solutions and how satellite Earth observation can help monitor progress of carbon sequestration in forestry to meet our net zero goals. I learnt so much over the year and while it was hard work, it was very enjoyable.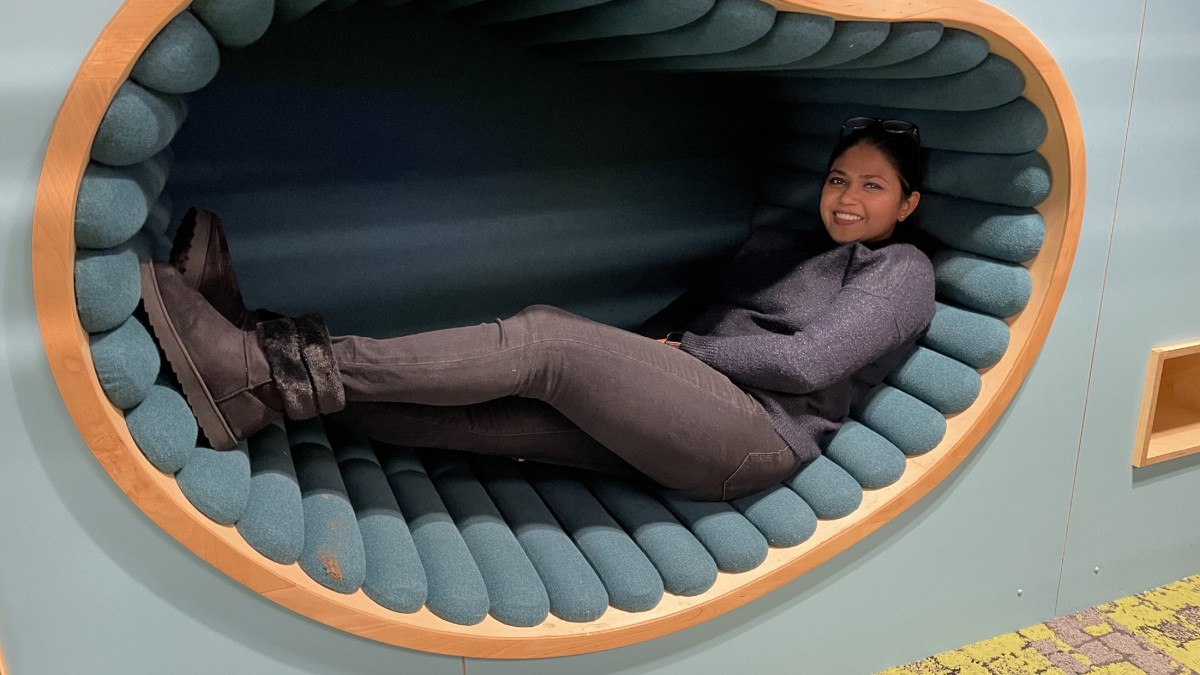 What do you do now? What do you find most enjoyable about it? 
I work as a carbon analyst at a start-up called Kita. They provide carbon insurance, ensuring reduced risks in carbon transactions and providing access to carbon removal solutions at the required scale to meet our global climate goals. I am extremely grateful for the job and love what I do. I don't think there is any aspect of my job I don't enjoy. Given that it is a start-up and we are a small team with nine core members (including senior management), I have a mix of responsibilities. I love that every day is different and that there is no monotony.  
I do a lot of research, I assist with project management and I am a core part of the underwriting team. I can demonstrate my financial skills from my prior experience but still work towards a cause I deeply care about. I speak with and meet multiple people in the climate space, all of whom are inspiring and kind. My job supports and encourages my continuous learning and I'm currently preparing for additional exams that will enhance my knowledge and skills. I am constantly learning new things in new fields, for example the carbon markets and the insurance markets, and using my skills from my dissertation to further my knowledge on remote sensing and how it can help with measuring, reporting and verification (MRV) of different carbon removal technologies. I am lucky to be with a company that constantly supports and encourages my interests, goals and thirst for knowledge.  
How did your time at Surrey help you choose what career to go into?   
My time at Surrey provided me with the opportunities I have today. When I first joined the course, I had a different idea of what I wanted to do. But I threw myself into it and learnt about so many different things. It enabled me to secure a part-time job at a leading climate change think tank, which was a wonderful experience. Although my initial plan was to go back to work for a 'Big 4' accounting company as an ESG consultant after I graduated, I now work in a completely different climate-related space.  
I opened myself up to new opportunities and experiences which translated into the job I have today. I think I enjoy my current job and role much more than I would have if I had restricted myself to a certain path. 
What advice do you have for students aspiring to work in your profession? 
My advice would be to believe in yourself, your purpose and passion, and enjoy what you do. I would also advise that you try out new things that excite you, and don't restrict yourself to what you know or what your comfort zone is. The climate space in particular has so much happening. There are so many new initiatives started by some of the brightest minds that are passionate about working for a good cause and solving the problem of climate change.  
Put yourself out there, make the most of your time at Surrey. Don't expect everything to be handed to you – if you work hard and persevere, you will be surprised at the success that follows. Always network and talk to people in the space because you learn so much and build relationships and you never know whether you will cross paths in the future – it may translate into a wonderful opportunity when you least expect it.
Find out more about our MSc Corporate Environmental Management and other masters courses in environment and sustainability.