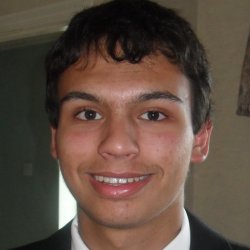 Ryan Gomes
"My three years at Surrey have enabled me to enhance my development skills, which I'm now using to maintain existing tools and develop new tools to provide customers with applications to support their businesses."
What was your most useful experience at Surrey? 
For me, the most useful experience I had at Surrey was the excellent lecturers. Each lecturer tried their hardest to provide the best level of teaching quality they could by delivering in-depth lectures, always being ready to answer additional questions either through informal visits to their offices or via speedy and detailed email responses, and even offering Panopto recordings of lectures.
How did your placement year influence your final year studies and graduate job search?
The Professional Training year (at Metricell) was extremely beneficial for me as it enabled me to learn lots of skills – in particular the ASP.NET framework with C#, JavaScript.and T-SQL. I had an excellent line manager and colleagues who were always willing to support me and answer any questions I had, which helped me to focus my interests and decide on my final year modules.
The skills I learned were very transferable to my third year studies, particularly the Advanced Challenges in Web Technologies module and my final year project which involved building a web application.
What is your current role and how has your degree benefited you so far?
I am a Software Developer at Metricell, where I spent my placement year. I've continued to work primarily with ASP.NET framework, T-SQL and JavaScript to develop web applications, but have now become the product owner of one of the biggest tools in the company, as well as participating in the latest developments of new tools using React for front-end development.
My three years at Surrey have enabled me to enhance my development skills, which I'm now using to maintain existing tools and develop new tools to provide customers with applications to support their businesses.
Do you have any other thoughts you'd like to share with prospective students?
If you're after a university with excellent facilities, highly skilled and supportive members of staff and an opportunity to learn, grow and most importantly enjoy yourself, then definitely consider Surrey.
Discover our courses in computer science, including our BSc (Hons) Computer Science.