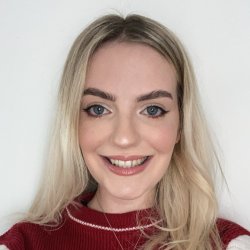 Sarah Harrison
"If you are thinking about coming to Surrey to study but you are a mature student or anxiety is holding you back, it is really worth coming here, you will be made to feel very at home and part of a caring community while you study."
When did you decide to come to Surrey? What were you doing and how did it feel?
I decided to come to Surrey as a mature student after reading about the sociology course on the University website. I felt really nervous about it all because it is a big step, but I knew I was interested in the subject and the modules on offer, and that was enough to make me take that leap.
Why did you choose to come to Surrey?
I chose the University of Surrey specifically after doing a tour of the campus; it has very calming energy especially by the lake. I am a commuter so the great convenience of the location was also a factor, but the main reason was how noticeably friendly and helpful everyone on the campus was during the tour (and ever since!).
What was your first impression of Surrey?
"My first impression was how big the university is, it felt like there were so many possibilities for personal and professional growth, and that impression has stayed with me. There is always something new to try and new people to meet and I really love that about Surrey."
Why are you passionate about your subject?
I am passionate about sociology because it relates to absolutely everything and anything which allows for creativity and imagination to be used, and it is relevant in so many aspects of life. It expands academically on fundamental societal divisions and inequalities that could otherwise go unnoticed. Sociology gives power to the mundane by situating it into wider contexts and, by studying it, I am always learning new ways to think.
Why did you choose to study your course at Surrey?
I chose Surrey because it has a clearly differentiated sociology department, the modules are extremely varied and interesting as they range from grounding theory to more abstract and topical based study. The expertise within the department is also clear from the interesting research that is produced by lecturers within the department.
What do you like about your course and why?
"I like that it started from an easy to access point and then proceeded to progress in an organised way towards specialist subject areas. I appreciate having this grounding in the first year as it has given me to build a firm foundation to understand and form more complex ideas as my degree progresses."
What are the academic staff and facilities like on your course?
The Department of Sociology staff are lovely. They are very caring and provide great support when needed, and the Sociology course is generally very well run. The facilities are easy to access and the SurreyLearn platform makes staying on top of work easy.
Are you part of any clubs or societies? How have they contributed to your Surrey experience?
I am part of Sociology Society, I have made great friends from attending board game nights and my experience of university has definitely been made happier whenever I attend society events!
How do you spend your time on campus?
I usually spend my time on campus in the Nest – I love how many alternative study spaces there are. Going to the lake in spring is also one of my favourite things to do on campus, as is having coffee with friends during lecture breaks or after seminars.
Do you feel supported at university?
This university has made me feel extremely supported, I have found the Disability and Neurodiversity team to be helpful and understanding with regards to my anxiety. The wellbeing services are always ready to help and that provides great comfort for students at Surrey.
What has been your best moment at Surrey so far?
"Getting positive feedback for my first assignment was my best moment so far but all the fun I have had with new friends have been great moments too."
Do you think you've changed since you started at Surrey? How?
I think Surrey has made me more aware of how great it is to work with people you really like and are inspired by. I feel like I get more motivated with every lecture I have.
Finally, do you have any other comments you'd like to offer about your time at Surrey?
I would like to say if you are thinking about coming to Surrey to study but you are a mature student or anxiety is holding you back it is really worth coming here, you will be made to feel very at home and part of a caring community while you study.
Discover more about our courses in the Department of Sociology here.