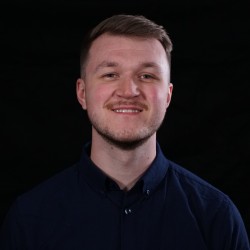 Will Hitt
"Surrey is a place which clearly puts students' wellbeing and employability first. I am forever grateful I chose Surrey."
What's something you couldn't live without at university?

Lakeside coffee shop for all of my coffee and snack-related needs during the day.

Describe your experience at Surrey in three words:

Challenging
Rewarding
Fun!
Why did you choose to come to Surrey? What appealed to you?
I chose Surrey primarily due to its location. I have lived in Surrey all my life and I have always wanted to stay close to home. However, it was an added bonus that Surrey provided exactly the course and modules I desired, and had an exceptional record.
Why are you passionate about your subject?
I am passionate about my subject because politics is something which significantly affects our everyday lives. My interest had origins in the Brexit referendum, and ever since I have been fascinated with understanding the various phenomena which explain how and why people vote. Moreover, politics is an incredibly diverse subject, where I have been able to explore a wide range of topics including philosophy and ideology, all the way to research methods and populism.
Who was/were your favourite academic/s and why?
Having such interests in both philosophy and ideology, and public policy, my favourite academics were Dr Alex Leveringhaus and Professor Theofanis Exadaktylos.
Alex's approach to his modules were excellent. They were both robust yet relaxed, and I felt like I learned a huge degree with every lecture and seminar, and his assignments challenged me to really apply what I had learned in such constructive ways.
Theofanis' modules were fantastically structured in a way that exposed me to such new and complex concepts, in a way that was easily digestible and convenient to circle back to if needed. Furthermore, Theofanis' module allows students to tap into a realm of politics which I feel is typically underexplored for undergraduates, and I felt his module on Making Public Policy was particularly invaluable.
Are you part of any clubs or societies? How have they contributed to your Surrey experience?
Despite joining Surrey in 2020 during the pandemic, I was fortunate enough to join the Politics Society where they ran countless virtual events. This led me to make many new friends during lockdowns and limited social contact, and meet likeminded people. In the next year, I was elected President of the Politics Society where I gained the opportunity to lead the society, design and run both educational and social events in-person, and develop a wide range of desirable skills that would help me find employment. By engaging with the Politics Society, it significantly enhanced my Surrey experience and I don't regret a thing!
Do you know what you want to do when you graduate?
I am fortunate enough to have secured a role before officially completing my studies, and I am now an Assistant Planning Policy Officer at Surrey Heath Borough Council. I explored English planning in my dissertation and, thanks to Professor Exadaktylos' expertise in public policy, my knowledge and skills really shined through in my interview. I look forward to continuing my role in local government planning policy, and I am sure this is an area I will remain in for quite some time.
Do you have any other comments you'd like to offer about your time at Surrey?
By choosing Surrey, I am adamant that I have been exposed to opportunities I would not otherwise have had. I have led a student society, I have worked for the Centre for Britain and Europe, I have met notable figures such as Lord Philip Hammond, a former Chancellor of the Exchequer, and Eduard Fesko, a Deputy Ambassador of Ukraine to the UK, I have been successful in becoming a CBE Studentship-holder, I have participated in Model NATO at the Foreign Commonwealth and Development Office and earned the Distinguished Delegate in the North Atlantic Council, and I have gained so much knowledge and skills that I have secured a role before leaving University.
Surrey is a place which clearly puts students' wellbeing and employability first, and I am forever grateful I chose Surrey.