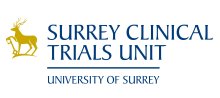 Surrey Clinical Trials Unit
Surrey Clinical Trials Unit (CTU) is an academic trials unit that has the experience, expertise and infrastructure to develop, organise and manage high-quality, multi-centre, randomised controlled trials (including trials of investigational medicinal products) of national and international importance. 
What we do
Surrey CTU has proven expertise in trial design and management in disease areas such as 
Cancer
Gastroenterology
Palliative care
Endocrinology.
We support trials at all phases from first in human (FIH) through to large-scale pragmatic trials, as well as trials of complex interventions, including in digital health and underpinned by artificial intelligence.
Surrey CTU is located in the Clinical Research Building, home to a number of synergistic units committed to excellence in clinical research and digital health innovation. Surrey CTU works closely with the Surrey Hub of the NIHR Research Design Service South East (RDS SE) and Surrey Health Economics Centre (SHEC) to offer support and advice on funding applications and all aspects of study design and methodology, including health economic evaluation and trial management and delivery. 
Capabilities
We work with clinical academics across the Kent, Surrey and Sussex region to design, co-ordinate, manage and disseminate UK and Europe-wide multi-centre, interventional clinical trials.
Meet the team
Professor Simon Skene
Professor of Medical Statistics
Simon Skene is Professor of Medical Statistics within Surrey Clinical Trials Unit (CTU). Simon has over 20 years' experience as a medical statistician in teaching and research, including the design and analysis of studies investigating medicinal products, advanced therapies, diagnostic accuracy and surgery. He has a strong interest in the evaluation of digital h...
Dr Agnieszka Michael
Professor in Oncology , Consultant Medical Oncologist, Medical Director of Surrey CTU
Professor Agnieszka Michael MRCP PhD specialises in the field of Oncology, she is a researcher and a medical oncology consultant at the Royal Surrey NHS Foundation Trust. Professor Michael specialises in ovarian and renal cancers as well as immunotherapy trials. She qualified in medicine at the University of Wroclaw and undertook general medical and oncology training at th...