About
At Surrey Business School we accelerate innovative thinking into practice – investing in pioneering world-class research to deliver business-ready solutions that offer an immediate and lasting impact in the world. We're dedicated to improving business practice and creating sustainable, positive change – while inspiring others to do the same. 
We deliver business-ready solutions by investing in pioneering world-class research, allowing us to place true business insight at the heart of everything we do. We cultivate a dynamic learning environment and our collaborative ways of working motivate students to create change, through skills gained with hands-on learning, critical thinking and entrepreneurialism.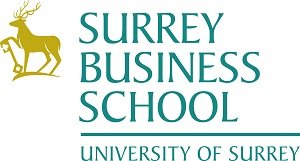 This means that businesses are equipped with the talent and knowledge they need to have a sustainable impact in the future.
We encourage our students to have an entrepreneurial spirit, challenging them to move outside their comfort zones, to 'learn by doing' and put their knowledge to work, and to capitalise on our close relationship with the University's Research Park and Incubation Service.
Our departments
Our approach
The Business School acts a as a catalyst to propel the ground-breaking business ideas into the market quickly and drawing out real value effectively. Everything we put into practice in business, is underpinned by solid theoretical frameworks; through our collaborations within the University and industry, we have built a dynamic and resourceful community.
We bring businesses into our school as valued, knowledgeable partners. Students experience how business is done through a hands-on approach, while businesses get access to the ideas and ideals of future industry leaders.
We're at the fore-front of technology and innovation, creating business models fit for the ever changing landscape and revolutionary industries, such as digital economy.
How we help businesses
Businesses who work with us get to collaborate with some of the best business minds in the world – so they can be confident in trying new approaches while minimising risk.
Offerings such as our Business Insights Lab generates bespoke solutions to business challenges, identifying opportunities others wouldn't. We also offer Open Programmes and bespoke executive training and development, consultancy services and the opportunity to participate in research initiatives.
If you would like to get involved, please do get in touch. Whether you're a potential student, a researcher, representing a business, or someone with an interest in innovating, we'd love to hear from you.