Microstructural Studies Unit
Our MicroStructural Studies Unit (MSSU), the electron microscopy facility of the University of Surrey, was established in 1970 to support a wide range of research activities across the University and to offer electron microscopy services to industry.
Overview
After 50 years of continuous development, we employ experienced microscopists and house a comprehensive range of state-of-the-art instruments such as, transmission electron microscopes (TEM), scanning electron microscopes (SEM) and sample preparation equipment.
Our unit is essential for a wide range of ongoing research projects and makes a significant contribution to undergraduate and postgraduate teaching. Research activities are numerous but presently include nanoparticles and nanocomposites (all material types), opto-electronic materials, advanced metallurgical structures, metal to polymer interfacial studies, etc.
Collaboration
We work in close collaboration with the Surface Analysis Laboratory here at the University. A combination of state-of-the-art instrumentation, expertise in data interpretation and materials knowledge, enables experienced academics and technical staff to select the right combination of techniques for undertaking materials related research and development or solving technical problems.
Such work includes product development, failure analysis, process problems, surface contaminants, verification of material composition and so forth.
How we can help you
In the past few years we have undertaken work for more than 50 different clients. We have worked to develop links with the local community and we are proud to offer electron microscopy services to many technological businesses and research organisations in the south east of England.
Our portfolio of clients encompasses both the public and private sector and their custom is highly valued. We offer competitive rates for SEM, STEM and TEM analytical work.
If you have a particular research problem and would like further information on sponsoring a PhD project where a student can come work for you then contact a member of staff in your area of interest. You can also find further information on becoming a sponsor for our EngD course on the EPSRC Centre for Doctoral Training in Micro- and NanoMaterials and Technologies (MiNMaT) website.
Surface analysis techniques can be used to solve problems in a huge range of areas, some of which are listed below.
Adhesive failure analysis/delamination
Identification of surface contamination
Assessment of cleaning procedures
Elemental composition – bulk and surface
Chemical state information
Material identification and verification
Micro or nano particle analysis
Thin film analysis
Metal passivation and corrosion
Grain boundary segregation in metals
Surface segregation
Protective coatings and paints
Identification of stains and discolorations
Polymer surface functionality before and after various treatments
Oxide film thickness
Surface ultra-thin film thickness
Depth profiles of thin film components
Defect identification
Molecular identification of lubricants, additives, and contaminants
Catalysis.
Are the techniques destructive?
SEM, EDS,WDS and EBSD are potentially non destructive techniques, however TEM/STEM requires advanced sample preparation resulting in a significant change to the sample.
Minimum detectable concentration of an element
The minimum detectable concentration of most elements in EDS and WDS varies with the atomic number of the element and the nature of the material it is in.
As each problem is unique our fees will vary depending upon:
The analysis techniques required
The level of analysis or information required
The difficulty of sample preparation
Sample type and sample number
So we can't give specific quotes until we have discussed your needs. However an initial discussion with our Laboratory Manager will be free of charge.
Discounts
For those companies that are sponsoring MSc or PhD students or our Engineering Doctorate researchers, discounts are given on the cost of analysis. For significant analysis requiring several days of instrument time a discount may also be applicable.
Examples
An example of a variation in costs would be, the analysis of metallic samples in XPS where a surface composition is only required without any chemical state information can be completed faster and more easily than the analysis of insulators where chemical state information is desired.
Another example with varying costs is analysis in our Auger microscope, the elemental composition of a nanoparticle can be obtained far faster than the composition of a fracture interface fractured in vacuo.
Initial discussion
You are welcome to visit the Laboratory and discuss your requirements in person, or you can send our Unit Manager, David Jones an email.
The laboratory staff will always be clear about our capability, facilities, analysis timescale and the results you can expect from the analysis.
Detailed quote is given
If it is decided to go ahead with an investigation a description of the proposed work and a detailed quote will be sent to you for approval.
Collecting and sending your samples
As the surface of samples is so easily contaminated, please, while wearing gloves, wrap the samples securely in fresh aluminium foil and then place in ziplock sample bags. Samples should be clearly labelled individually with a number or other reference if they are sent in a batch.
Samples can be precision cut, mounted in a range of materials, gold or carbon coated, polished to a sub micron finish suitable for microscopy, EBSD, precision ion polishing and electropolishing.
Our maximum sample size is determined by the size of the vacuum gate valves in our equipment. For EDS and WDS this is 2x2x2 cm. A wide range of sample preparation can be carried out on site to ensure a sample is a suitable size for analysis.
You can bring the samples here to the Laboratory in person, or send them to us by post at:
Microstructural Studies Unit
University of Surrey
Guildford
Surrey
GU2 7XH
The analysis
Typically analysis is completed within one to two weeks from when the sample is received. However if the results are needed urgently then a rush can be achieved and analysis is completed in a few days.
Receiving your data
Once the analysis is complete the data that is collected is considered to be your property and is confidential. A copy will be sent to you and the original files can either be archived for up to two years or deleted at your request. Your samples can be returned should you require them.
Available instruments
Listed below are the instruments we have here at the University. If you are interested in having a sample analysed, then please get in touch.
JEOL JSM-7100F SEM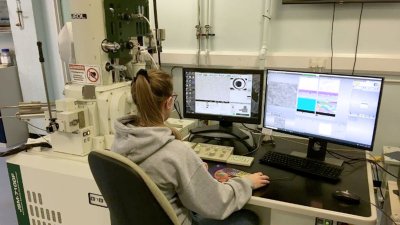 The JEOL JSM-7100F is a highly versatile, easy-to-use analytical field emission scanning electron microscope (SEM). It has a spatial resolution of 1.2 nm at 30 kV. The MSSU microscope is fitted with a Thermo Scientific triple analysis system, featuring an UltraDry EDS detector, a MagnaRay parallel beam WDS spectrometer and a Lumis system for electron backscatter diffraction (EBSD).
All three analytical functions are integrated into a single Thermo Fisher "Pathfinder" data system to allow integration between these three complementary techniques.
Thermo Fisher Scientific Apreo SEM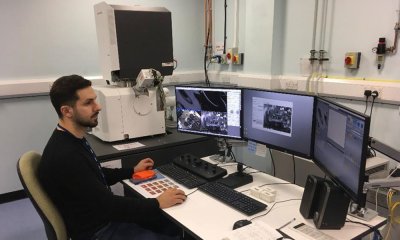 The new Thermo Scientific Apreo SEM offers high-performance imaging and X-ray analysis to researchers at all levels of microscopy expertise. It can achieve a resolution of 0.8 nm.
With Thermo Scientific ColorSEM Technology, a unique live elemental imaging capability, EDS compositional information is always readily and quickly accessed through easy-to-use interface. A range of external and in-lens detectors can display images simultaneously, giving excellent resolution across a wide range of acceleration voltage.
Hitachi S3200N SEM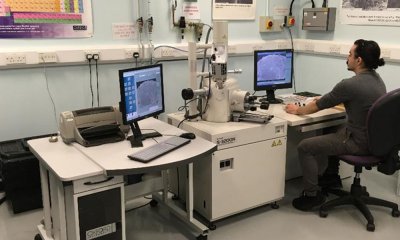 The HITACHI S3200N is a versatile instrument with a large specimen chamber. With ETD secondary electron and back scattered electron detectors for imaging and a variable pressure mode (VP-SEM) allowing the examination of non-conducting and 'wet' samples with no special sample preparation.
Combined with an Oxford X-Act EDS detector and Inca software for qualitative/quantitative elemental analysis, this SEM is a workhorse for investigating all manner of problematic samples.
Thermo Fisher Scientific Talos 200i TEM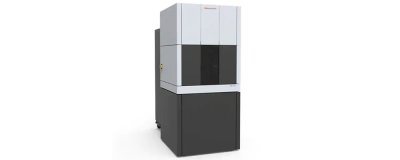 The Thermo Fisher Talos (S)TEM is a 200kV field emission (scanning) transmission electron microscope uniquely designed for performance and productivity across a wide range of Materials Science samples and applications.
Keyence VHX-7000 digital microscope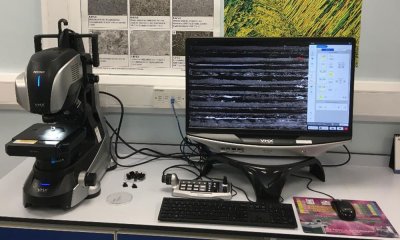 Easy to use following the steps on the user interface and "help" videos. Variety of segmented coaxial or ring lamp illumination with 3-axis stage movement to provide larger area high resolution tile scans and/or 3-D information. Polarising and Differential Image Contrast (DIC) options. Post processing options for dimensional measurements, contamination/grain size/shape analysis, surface profile and roughness.
Find an expert
If you would like to use our services then please email our unit manager, David Jones, to discuss your problem. Unit Manager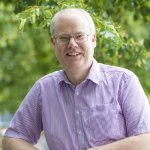 Associate Professor of Metallurgy, Director of the Centre for Engineering Materials

Research
Research within our Centre addresses ceramics, polymers and metals, as well as composite materials consisting of two or more of these materials, and explores a range of applications where such materials are being used to bring about improved performance or new products.