How we celebrate racial and ethnic diversity
Our university community is made up of outstanding contributions and collaborations from staff, students and alumni that come from a diverse range of ethnic and cultural backgrounds. Find out how our campus space celebrates these contributions and read our Race Equality blog for personal stories from our community. 
Student artwork competition - winners artwork installed on campus
The installation of a student-designed anti-racist artwork on campus foregrounds the need for change and illustrates our commitment to racial equality.
In 2020 we ran a competition inviting students to design a piece of floor art in support of anti-racism. Adaugo Yvonne Okenwa, a third-year Law student, won the competition with her design, The Pride of Heritage.
The idea of the artwork itself was also student-led, having been proposed by Languages student Sharna Piercy as a means of creating a permanent reminder of our commitment to anti-racism. It was undertaken as a joint initiative between the University and Students' Union.
Adaugo's story
"I came to the UK from Nigeria about five years ago, leaving my family and friends. My confidence in creating art took a bit of a knock as I was seeing all the other work out there plus coming into a society where I was very much in a minority. There was no one at my secondary school that looked like me.  I decided that I needed to put myself out there a bit more and start creating art again (and not feel daunted by all the great work I was seeing). Also, I was not seeing lots of artwork which featured black people in the UK, so I felt it was important to start creating things again."
The Pride of Heritage
"The contrast in colours and bold outline was all about bringing attention to all the elements I have included. I want people to see the independence and resilience of the people of Africa. I want to honour my family links and those I'm close to in my heritage including my mother who sets me a great example in her courage, vibrance and support for me studying away from home. Africa has a large diverse range of fabric, culture, conversation evoking a wealth of feeling – which I wanted to try to explore in my piece."
The piece was installed in May 2020 outside the Hive, in front of the Amphitheatre. For further information, please email edi@surrey.ac.uk. 
By being brave and bringing my identity and heritage as a black woman into my art, I hope to educate, inspire and share my story to connect with others. Adaugo Okenwa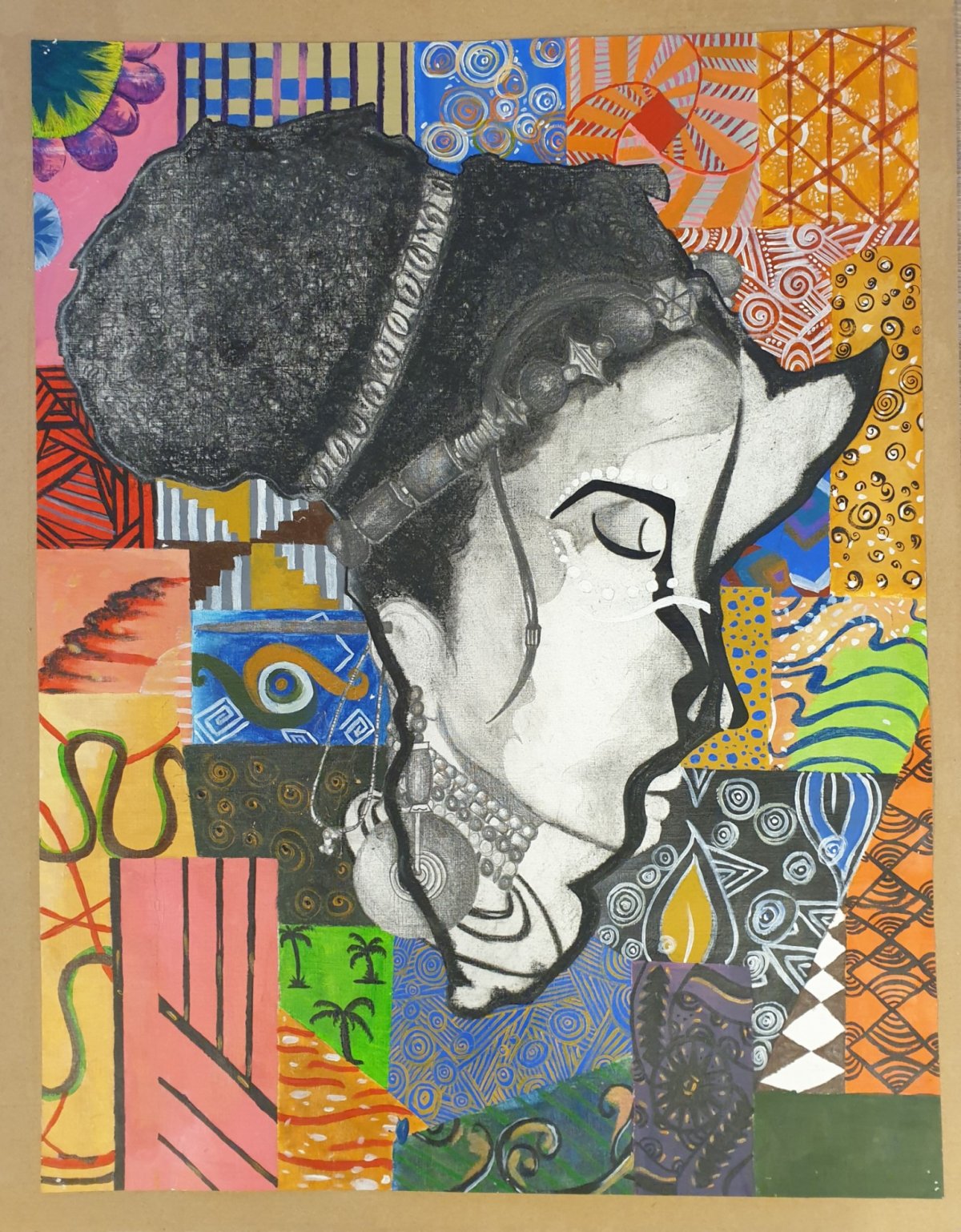 Racial equality events 2020
Black History Month
In collaboration with the Students' Union, we hosted a number of great events for Black History Month in October 2020. In these events, we celebrated the contribution of Black African and Caribbean people to UK society, while also focussing on anti-racism. Raising awareness about the extent and impact of racism and amplifying the voices of Black people in our community must not be limited to one month, therefore we have continued our anti-racism event series with an event in November about racism in football. We will share the details of events for 2021 in due course.
Surrey race equality blog
Sharing staff, students and alumni perspectives and understanding of racism, and their process of learning and unlearning in moving towards an anti-racist society.