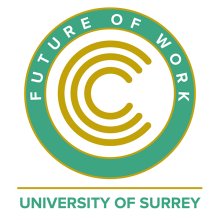 Research
The Centre's research is anchored in the belief that people are at the heart of all change and work is a distinctively human endeavour through which individuals live meaningful and fulfilling lives as they strive for the effectiveness of organisations that help build fair and inclusive societies.
The intertwining of globalisation and the rapidity of technological change continues to have a transformative effect on organisations and the world of work in general. Although the contours of this transformative effect have been evident for some time, the pandemic has reinforced these contours.
In this brave new world of work, the changes and ensuing challenges that confront organisations have no precedent and therefore, the past offers no guidance to the future thereby, creating considerable uncertainty. These transformations have taken a variety of forms, including:
The growing location of work out of a physical workplace
The development and adoption of digital platform business models
Challenges to the traditional forms of organising work
New forms of employment relationship.
Inherent in the transformations are also opportunities as evident in the growing number of employees opting out of organisational careers to pursue entrepreneurial opportunities as means to self-fulfilment. The sum total of these transformative changes is the challenge of finding new ways to achieve adaptive efficiency and ultimately sustained competitive advantage.
Despite the pace of automation, work retains its human component and continues to be integral to adult life experience. In tandem with the pandemic are societal value changes that have put the spotlight on perennial organisational issues such as the role of organisations in creating inequality through inequitable labour market outcomes, implications of technology for quality of jobs and skill requirements, and the management of workforce diversity.
Consequently, organisations in this brave new world of work face the challenge of ensuring their competitiveness while creating an environment in which employees thrive and live meaningful lives. Adapting to these workplace transformations while concurrently exploiting the opportunities inherent in them, requires rigorous research to provide actionable knowledge that can be leveraged to enhance adaptive efficiency and human fulfilment.
The Future of Work Research Centre brings together researchers passionate about understanding the forces that undergird these transformative changes, their effects on organisations, and employees' quality of work life. Research pursued in the centre is necessarily interdisciplinary, employs a range of methodologies, and examines both macro and micro issues.
Research projects
Start date: September 2020