Sensors and user interfaces
Read about our sensors and user interfaces research.
Pressure and presence sensors
We are developing materials, devices and circuits for interaction detection in smart living environments. Research focuses on performance, manufacturability and reliability, and is complemented by software design for event detection.
Gesture sensors and user interaction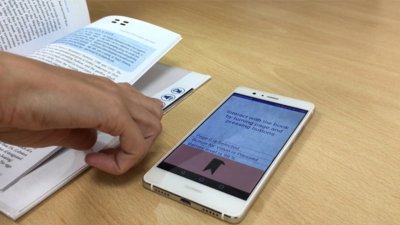 Optical detection of user interaction with physical objects forms the basis of the current EPSRC project "Next Generation Paper", a collaboration between Surrey, The Open University, and numerous industrial partners including Novacentrix, USA, and VTT, ifolor and Otava, Finland. Using a mix of optical sensing, printed electronics and flexible hybrid integration of computing and energy management components, the project aims to create new means of bridging the gap between physical and digital content, with an intuitive control interface.
Publications
G Bairaktaris, F Khan, KDJI Jayawardena, DM Frohlich, RA Sporea, "Printable and flexible photodetectors via scalable fabrication for reading applications", Communications Engineering 1 (1), 40, 2022.
G Bairaktaris, H Siderov, D Celebiler, C Kolii, DM Frohlich, RA Sporea, "Magic bookmark: A nonintrusive electronic system for functionalizing physical books", Advanced Intelligent Systems 4 (3), 2100138, 2022.
Radu A. Sporea, Brice H. Le Borgne, Samuli Yrjänä, Sirpa Nordman, Tapio Ritvonen, Anu Seisto, George Revill, Miroslav Z. Bober, Alan Brown, Caroline E. Scarles, and David M. Frohlich "Next generation paper: an augmented book platform", Proc. SPIE 10738, Organic and Hybrid Sensors and Bioelectronics XI, 1073811 (14 September 2018); https://doi.org/10.1117/12.2320107.
Fully printed memristive elements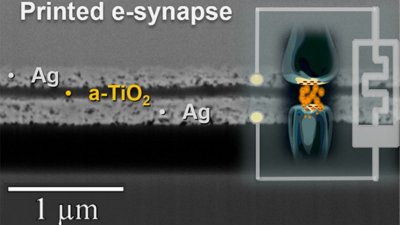 A simple technique for producing electronic devices which remember their operating history has been developed using additive techniques and eco-friendly functional inks. Such devices are ideal for applications where you don't need a long-term memory, but rather a processing memory, such as in replicating the complex sense of touch with electronic skin. 
The behaviour of these devices has many things in common with systems that are fabricated with sophisticated techniques. Our approach relies on extremely low-cost techniques, which tend to be underestimated, but even such simple fabrication processes can lead to very interesting functionality.
Publications
Salonikidou Barbara, Yasunori Takeda, Le Borgne Brice, England Jonathan, Shizuo Tokito, Sporea Radu (2019) Toward Fully Printed Memristive Elements: a-TiO2 Electronic Synapse from Functionalized Nanoparticle Ink., ACS Applied Electronic Materials 1 (12) pp. 2692-2700 American Chemical Society, DOI: 10.1021/acsaelm.9b00701.