---
news
Published:
27 September 2021
Catching up with Ruby
Back in June 2020, we asked for your help to rehome our beloved teaching pony Ruby. We've caught up with her new owners Fiona and Alex, to see how she's settled into her forever home at the Berkshire Animal Connection Centre.
Credit: Anna Ware / University of Surrey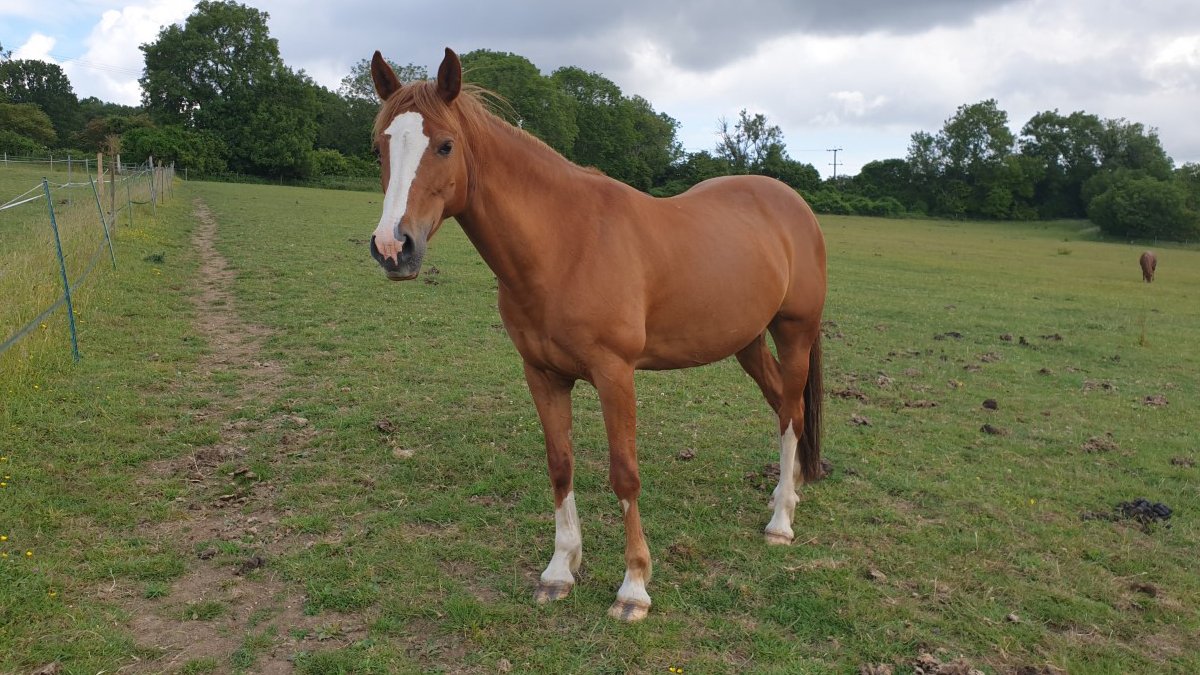 Ruby's new owners
Can you tell us a little bit about yourselves?
We're Fiona Graham and Alex Le Grand, the founding directors of the Berkshire Animal Connection Centre. Between us, we have experience in riding, animal husbandry and welfare, horse training and equine behavioural consultancy.
We started the Centre in April 2020, to provide sanctuary for horses who've been rescued from dire circumstances and equines who can't be rehomed due to medical conditions, ongoing rehabilitation, behavioural problems or simply because they don't fit a specific role in society.
Our aim is to educate the public and demonstrate that animals can be used therapeutically to make a huge difference to the lives of those with mental health disorders and other conditions.
Why did you feel you would be perfect owners for Ruby?
One of our members shared Ruby's story with us and we immediately knew she'd benefit from living in a cohesive herd at the Centre, based in the Berkshire countryside. Ruby, like many of our horses, can't be ridden and has complex needs that we're experienced in treating.
Our ethos is that every animal's life has purpose and each one can enrich our lives, so for us, adopting Ruby was a no brainer.
How has Ruby settled into her new environment?
Ruby's settled in quickly and is now our dominant mare. She's made lots of friends within the herd and is besties with Delboy, a very handsome black warmblood. She rarely lifts her head from the grass as she loves eating it so much! She's been great with the farrier and has a truly kind and gentle temperament.
Has Ruby tried any new foods?
Apart from grass (which she adores), Ruby loves hay cobs and is also partial to a carrot. She's always first in the queue when they're on the menu!
What's her favourite thing to do at her new home?
Grazing - she has such an appetite! She also enjoys loafing under trees or in the barn with the herd and chasing the Shetland ponies when they're being cheeky.
What facilities are available for Ruby?
Ruby and the rest of the herd are in our barn and fields. She has the freedom to stay outside and play or come indoors when the weather is bad (with plenty of food of course!). We're building an Equicentral System (a way of managing horses and land in a sustainable way) utilising the natural and domesticated behaviour of our horses and we'll be installing tracks to ensure Ruby and her friends get plenty of exercise.
Do you have any final remarks?
Ruby's a great addition to the Centre and such a joy to care for. We're so pleased we're her forever home.
Featured Academics
---
Related content
---