---
news
Digital World Research Centre's magic bookmark brings climate change book to life
An 190-page interactive book commissioned, designed and edited by Professor David Frohlich from the University of Surrey and Dr Philip Ely from Curtin University, on positive responses to climate change is on display in the John Curtin Gallery, Curtin University from 28 March–8 May 2022.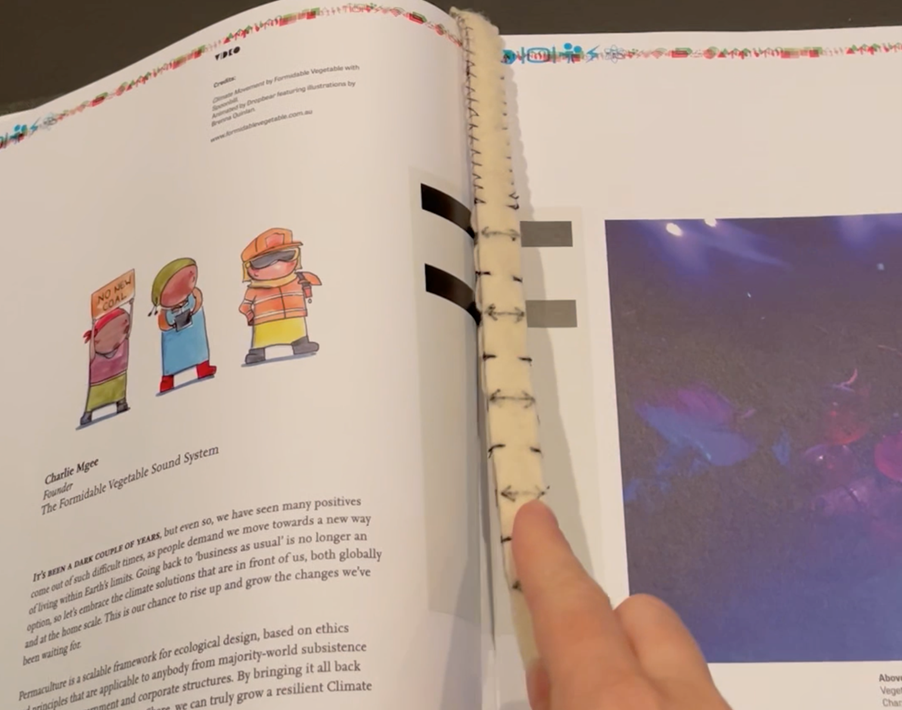 The Climate Domesday Book and was created through a collaboration between the Digital World Research Centre (DWRC), the Advanced Technology Institute (ATI) and the Centre for Vision Speech and Signal Processing (CVSSP) at the University of Surrey and the School of Design and the Built Environment at Curtin University. It contains articles from leading Australian writers, multimedia artists and scientists on the nature of the climate emergency and different approaches to addressing it.
The book uses a 'magic bookmark' developed by George Bairaktaris as part of his PhD with Radu Sporea at the ATI. The magic bookmark triggers associated audio and video clips on a nearby TV screen in the gallery space, from a large format printed book on a plinth. It uses the Next Generation Paper project software platform and Player App, developed and adapted at Surrey by Haiyue Yuan from CVSSP. The app senses Bluetooth signals from the bookmark telling it which page is currently being read, to play video or sound illustrations and explanations of the printed content.
Developed during the Covid-19 pandemic by remote collaboration – The Climate Doomsday Book represents the first complete implementation of the magic bookmark in a full-length book.
Energaia curator, Stuart Bender, praised the quality:
'There is an extremely satisfying feeling holding and looking at the physical book, and the material is both of excellent artistic quality as well as intrinsically interesting technically…. we're really proud to give it a place within the context of this exhibition. I was confident from the beginning that the Climate Domesday Book would be relevant and interesting but wasn't quite prepared for how effective (and engaging) the work has ended up becoming!'
A physical version of the Climate Domesday Book will be available soon to exhibit in Guildford and has been designed to be copied by other cities across the globe in creating new editions specific to their region.
Learn more about the Digital World Research Centre.