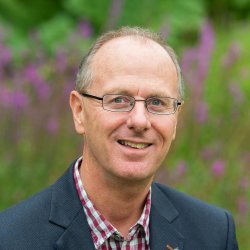 Professor David Frohlich
---
Director - Digital World Research Centre, Research Director & Impact Officer - Department of Music and Media, Professor of Interaction Design
BA Hons, PhD
Biography
David Frohlich is Director of Digital World Research Centre at the University of Surrey and Professor of Interaction Design.
He joined the Centre in January 2005 to establish a new research agenda on new media innovation with social and cultural benefit. Current work includes a mixture of PhD and Research Council projects exploring digital storytelling, personal media collections and augmented paper (http://www.surrey.ac.uk/dwrc/). Prior to joining Digital World, David worked for 14 years as a senior research scientist at HP Labs, conducting design research on the future of mobile, domestic and photographic technology.
He has contributed numerous studies and patents to the field of digital photography, as indicated in two recent books entitled 'From snapshots to social media: The changing picture of domestic photography' (2011 with Sarvas) and 'Fast design, slow innovation: Audiophotography ten years on' (2016).
David has a PhD in psychology from the University of Sheffield and post-doctoral training in Conversation Analysis from the University of York. He is currently visiting researcher in the Department of Gerontology, at the Federal University of São Carlos, Brazil (UFSCAR). David has also held visiting positions at the Royal College of Art, and the Universities of York, Manchester, Sydney (UTS) and Melbourne, and is founding editor of the international journal Personal and Ubiquitous Computing.
Areas of specialism
New media innovation;
Design ethnography;
Interaction design
University roles and responsibilities
Director, Digital World Research Centre

Impact Officer, Department of Music and Media

Research Director, Department of Music & Media
My qualifications
1980
BA Hons Psychology
University of Sheffield
1985
PhD Psychology
University of Sheffield
1991
EPSRC Training fellowship: Conversation Analysis and Human Computer Interaction
University of York
Previous roles
1984 -
1989
Research Fellow. Alvey-DHSS Demonstrator Project
University of Surrey
1983 -
1984
Human Factors Consultant
Electronic Facilities Design Ltd.
1990, 1991 -
2004
Senior Research Scientist
Hewlett Packard Labs
Affiliations and memberships
Research
Research interests
My background is in psychology, human computer interaction and interaction design. My research interests include tangible interfaces to computing, new media design, and user-centred innovation. In recent years at Digital World Research Centre (DWRC) I have begun to explore new design processes for local innovation and participatory design in large multidisciplinary projects such as StoryBank, Bespoke, Community Generated Media and SUS-IT.  On the latter project we developed a simple method of co-design called Focusgroup+, which we are now using  to develop various 'assistive media' systems for older people.
Research projects
This project aims to reduce loneliness in older adults, particularly those of low socioeconomic status (SES), through the design of an augmented reality board game that facilitates storytelling, reminiscing, and capturing and celebrating lives.
This multidisciplinary project aims to explore the future of paper and its connection to the web. It will do so in the domain of travel and tourism where paper and screen-based information are already used together in the tourist experience.
The aim of this project is to investigate, develop and demonstrate new ways to make sense from large amounts of everyday sounds, focussing on real-world non-music, non-speech sounds and soundscapes.
This project is exploring the role of digital storytelling in care home contexts, for improving communication with residents suffering from dementia.  It is part of the .
This project is an offshoot of the .  It aims to apply a new behavioural monitoring system developed in Brazil to the problem of loneliness in older people.
This project is a collaborative research activity and network between the University of Surrey, University of Sao Paulo (USP) and Federal University of Sao Carlos UFSCAR). It tries to fill a gap in the research and development of mobile device applications for older users, including tools for assisted living, monitoring, e-health care and wellbeing.
Indicators of esteem
Visiting Fellowships

2002-2004 Helen Hamlyn Research Centre, Royal College of Art

2000-2003 Centre for Usable Home Technology, University of York

2010-2013 Manchester Business School, University of Manchester

2013 Faculty of Design, Architecture and the Built Environment, University of Technology Sydney

2019-Present  Department of Gerontology, Federal University of São Carlos, Brazil.
Selected Exhibitions
Telecoms '99, Geneva. Audioprint player
Great expectations exhibition of the best of British design and innovation in Grand Central Station, New York, 14-28th October 2002. Audiopaperclip player built into a banqueting table.
Photokina 2000, Cologne. HP Photosmart cameras with sound
Helen Hamlyn End-of-Year Show, Royal College of Art, 7th-17th October 2003. Audiophoto desk.
HP European Press Conference 2004, Cos. Audiophoto desk
Microsoft interactivity exhibit, CHI 2008, Florence. Speculative photo displays, Photoswitch, Photomesa, Photoillume
Telling the StoryBank exhibit, British Science Association, Festival of Science 2009, University of Surrey. StoryBank system
London Design Festival, Victoria and Albert Museum, London. 17-23rd September 2011. Bespoke: Insight journalism as a catalyst for community engagement.
London Design Festival, Brompton Design District, 17-22nd September 2012. Interactive newsprint.
Unbox, New Delhi, India, 7-10th February 2013. Bespoke and Interactive Newsprint.
Innovation in action, Impact Acceleration Account event, University of Surrey, 23rd September 2014 Talking furniture box
Lewis Elton Gallery, University of Surrey, 17th June- 2nd July 2015 Beginning audiophotography: Photographs with sound
Paper evolutions: Exploring digital and physical paper futures, VTT Helsinki, Finland, 9th Sept 2015. Audio-photobooks
Immersions: An exploration in photography with sound, Lewis Elton Gallery, Guildford 4-8th July 2017. Healing waters – immersive wall projection with sound
Selected Patents
Printing of image with related sound. Adams, Frohlich & Rix (27th July 1999). US 20020075464 (20.6.02). US 6563563 (13.5.03). EP1095312 (15.10.03)
Storage apparatus. Murphy & Frohlich (7th September 2000). US6803856 (12.10.04).
Digital camera with sound recording. Frohlich & Hickey (27th April 1999). WO/2000/048388 (17.8.00). EP1028583 (16.8.00). EP1151600 (7.11.01)
Accessing a remotely stored data set and associating notes with that data set. Grosvenor & Frohlich (10th January 2002). WO/2003/058496 (17.7.03) US20040193697 (30.9.04) EP1466272 (13.10.04)
System for capturing audio segments in a digital camera. Battles, Staudacher, Thorland & Frohlich (22nd Feb 2002) US 20030174218 (18.9.03) JP2003283904 (3.10.03)
Photo album with provision for media playback via surface network. Adams & Frohlich (13th March 2002) US 20040008209 (15.1.04) US 6975832 (13.12.05) JP2004034692 (5.2.04)
Associating audio and image data. Frohlich & Adams (30th April 2002) US 20040037540 (26.2.04)
Display and manipulation of pictorial images. Pilu, Pollard & Frohlich (16th September 2002) US 20030058275 (27.3.03)
Internet browsing system. Frohlich & Grosvenor (30th October 2002) WO/2003/038668 (8.5.03) US 20050021673 (27.1.05)
Method and apparatus for producing video and audio-photos from static digital images. Grosvenor, Frohlich & Hall (2nd Dec 2002) US 20050008343 (13.1.05) JP2005038399 (10.2.05)
Communication devices. Frohlich, Brown, Durrant, Lindley, Oleksik, Robson, Rumsey, Sellen & Williamson (10th January 2008) US 20090180623 (16.7.09)
Proactive image reminding and selection method. Kiddle, Piper, Payne, Wall & Frohlich (31st March 2009) WO/2009/130110 (29.10.09)
Method and Apparatus for Providing Dynamic Content Associated with a Document. Frohlich, Sporea & Calic. GP application 1617602.6, (18.10.16)