---
news
Published:
18 November 2021
Meet Surrey's Commercialisation Fellows for 2021-22
We are very pleased to announce our cohort of Commercialisation Fellows for 2021/22!
The cohort commenced their EPSRC IAA funded fellowships in September, so we're just couple of months in, yet they have already experienced and gained so much. Don't take our word for it, here is what they had to say…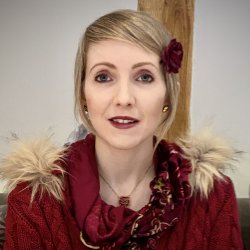 Emily Corrigan-Kavanagh (CVSSP)
Tell us about yourself, why you applied for this fellowship, and what you expect to gain?
[Emily] I want this fellowship to provide me with dedicated time to learn how to maximise research impact through knowledge exchange activities with industry partners and to realise new innovations from research for societal and economic impact.
I am also excited to have the opportunity to learn how to do this in real-time by working on on-going projects within the Innovation Strategy team to develop solutions around how the university can facilitate collaborations with businesses, commercialisation of intellectual property and increase entrepreneurial activities within the research community.
Additionally, I am enthusiastic to take advantage of the networking opportunities that this fellowship will provide me through the SETsquared Partnership and business networks.
My application for this commercialisation fellowship is timely as I am currently working on the "AI for Sound" EPSRC funded project, led by Prof Mark Plumbley, which aims to create new AI for sound sensing technologies to improve the sounds people hear around them in a variety of contexts such as the home, town and city environments, and workplaces. This involves engaging with a variety of stakeholders, including SMEs and local authorities, to collaborate on and realise emerging research outcomes for commercialisation to ensure maximum societal and economic benefit.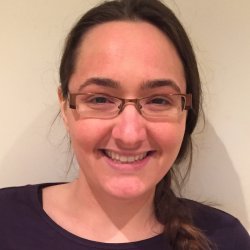 Zoe Harris (CES)
How would you define 'innovation', how does it fit within an academic environment, and how is it relevant?
[Zoe] Innovation for me is taking an idea and making it into a reality. Within an academic environment, it allows us to translate fundamental research into real life impact. This is important because most of our funding comes from research councils who are in part funded by taxpayer money, its important that we have a way of giving our research back to the people.
[Andrea] I see innovation as the process of producing new products or services which produce benefits to society and/or the environment. Within the academic environment, researchers are in a key position to work with industry partners in driving innovation. In particular, they have expert knowledge and skills that are not always present in the industry environment. Knowledge exchange between academia and industry can be a crucial ingredient in producing successful innovation.  Innovation is also key in producing income for Universities and contributes towards successful impact case studies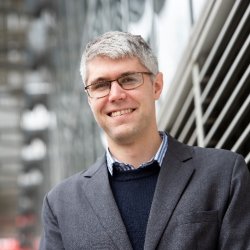 Michael Short (Chemical and Process Engineering)
What do you think are the biggest barriers to innovation?
[Michael] I think that if you ask any academic, that they would certainly say that they are innovating. However, when the discussion turns into how we can translate these innovations into impact for society, this is possibly where the conversation begins to break down. It is difficult for many academics to imagine the long-term implications of their many projects during day-to-day teaching and research, particularly when academics are so pressed for time. Time is always the largest barrier. We need to educate researchers on the various pathways, funding schemes, and collaboration opportunities that exist, convince them that the additional forms and administrative processes will be worth their time, and to give them the mental space to think long-term about the best ways to use their skills and research for the public good.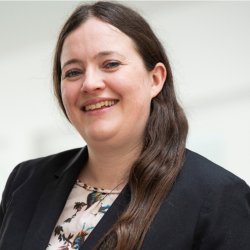 Andrea Darling (Biosciences and Medicine)
How did your fellowship start and what have you already learned?
[Andrea] The fellowship started well. I joined two projects. One involves working with the Enterprise Team to analyse feedback from Innovate UK grant applications to find out what the common mistakes are. I am currently using this information to write a University of Surrey top tips booklet to help researchers and businesses be more successful when applying for Innovate UK grants. The other project involves working with the Tech Transfer Team to contact Food Industry representatives who may be interested in collaborating on the design of a vitamin D fortified food product.
[Femi] The start of the fellowship has been very good. I have met with members of the Technology Transfer Office (TTO) and other Commercialisation fellows. I am currently working with Dr Andrew Rogoyski on project titled: Understanding the use of AI in the games industry. The objective of this project is to understand game development lifecycles and understand where AI techniques can be economically beneficial to these companies. We are in the early stages of the project but I have learnt how to source for local companies and how to track specific contacts within companies using computer based tools. - Femi
[Emily] In terms of unexpected learnings, it was interesting to find out that the commercial value of research is gone, such as it can no longer be patented, when it has been published at a conference or in a journal. Given the pressure on academics to publish, it seems that there is a significant disparity between the workflow process for commercialisation and that of academics. Additionally, academics tend not to be mainly driven by monetary gain and even if commercialisation means that more people within society get to benefit from research outcomes, the commercial value of research is generally not taken into account when results are being finalised for publication.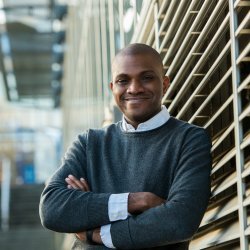 Femi Adeyemi-Ejeye (Music & Media)
How has the fellowship changed your approach to innovation?
[Femi] Usually you think of an idea and then do research around it. But now I am beginning to see how ideas can be shaped by potential adopters (industry) and I am looking forward to applying the soft skills I have learnt in future research development.
What would you say to a prospective ECR considering applying to the fellowship?
[Emily] It will provide you with a great insight into how the commercialisation of research works, who to talk to, why commercialisation is important and why you should care.
[Zoe] If you're not sure, just give it a go. It's a good way to learn with relatively low risk
[Michael] I would highly recommend the fellowship, particularly to ECRs. This experience has really helped me to see the other side of the university.
[Andrea] Go for it. You will learn a lot, very quickly.
[Femi] If you get the opportunity, just do it!
The cohort will continue working on real projects within Innovation Strategy until March 2022. We will continue sharing each of their experiences for you all to see so that we can continue embedding innovation within academia.
Contact us
If you would like more information about the Commercialisation Fellowship programme or to discuss if you might be eligible, please get in touch at iaa@surrey.ac.uk.
Featured Academics
---
Related content
---