---
news
Week long British Councils and Royal Society of Chemistry funded Researcher Links Workshop a success
A week-long British Councils and Royal Society of Chemistry funded Researcher Links Workshop "Energy from Economic Development and Welfare," under the Newton Bhabha Programme has been concluded with remarkable success committing to bi-lateral cooperation between early career researchers in the UK and India.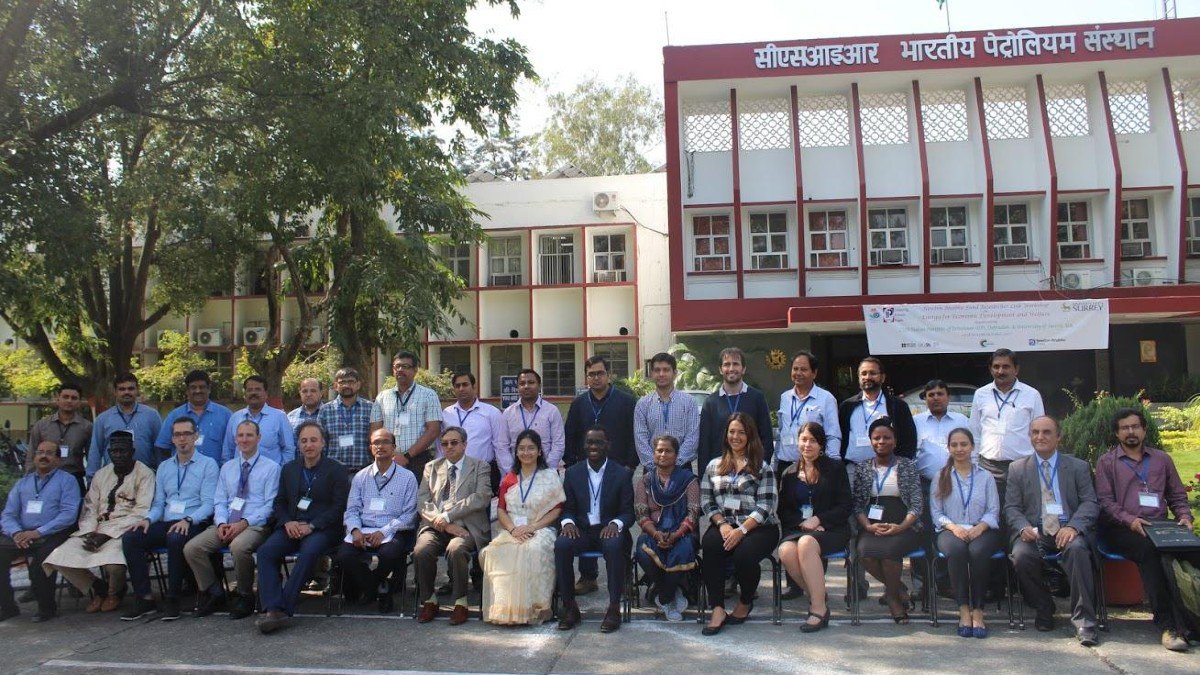 This workshop was supported by a Researcher Links grant under the Newton Bhabha Fund and ran from 23 - 27 April 2017. It followed on from the highly successful track-record of two previous British Council Researcher Links Workshops, UK-Mexico "Biorefinery Research - Promoting International Collaboration for Innovative and Sustainable Solutions", Instituto Mexicano del Petróleo, 18-22 May 2015 and UK-Malaysia "Bioenergy, Biorefinery, Bio-economy: Promoting Innovation, Multidisciplinary Collaboration and Sustainability", Kuala Lumpur, 30 May-3 June 2016.
The grant is funded by the UK Department of Business, Energy and Industrial Strategy (BEIS) and the Royal Society of Chemistry and delivered by the British Council. The workshop was coordinated by Dr Jhuma Sadhukhan of the University of Surrey and Dr Thallada Bhaskar of the Council for Scientific & Industrial Research (CSIR) lab, Indian Institute of Petroleum.
Through the week, several researchers from the two nations made presentations on their research areas and projects. The UK researchers emphasised the importance of source segregation of waste and system/process integration for effective valorisation into platform chemicals with multiple usages of their derivatives. The possibilities spanned a wide range of alternatives such as biofuels, cosmetics, pharmaceuticals, specialty chemicals, food ingredients, agrochemicals, pigments, biosurfactants, bioplastics, nutrients, sustainable energy such as solar and hybrid systems, energy storage systems, biodiversity and bioelectrochemical systems for resource recovery from wastes and CO2 reduction. Research impact and output were linked with the UN Sustainable Development Goals.
Presentations from the UK also included sustainable toilet systems with energy generation, and resource recovery from industries in the UK for circular economy. The Indian researchers presented thermochemical, biochemical, biotechnological and chemical systems for waste valorisation into multiple products, fuel additives, biofuel testing in real-time driving conditions and life cycle assessment. They also showcased a range of innovations in catalytic systems, several of which have been patented. There was good synergy between various presentations showing complementary skills and expertise. Researchers from the two nations have reached to a conclusion of applying whole system sustainability analysis to study performance of any technical system.
The workshop also included laboratory visits at CSIR-IIP to share complementary facilities, expertise and technologies having export potential with the UK researchers. Each day was concluded with a round table discussion that eventually led to seven exciting project concepts in waste valorisation for circular economy, hybrid energy systems, economic growth and sustainability, all presented by consortia evolved during the Workshop at the valedictory session. The researchers showed serious commitments towards cooperation between two nations.
Last but not the least, an exhilarating cultural performance from the School OMM School of Dance and Music, which consisted of Kathak, Odissi and mixed dance styles and enriching experience of a tour at the Forest Research Institute, Dehradun, rounded off the week-long event. These were also essential components that contributed to the international camaraderie and collaborative spirit of the workshop.