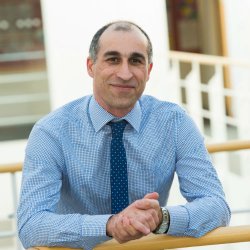 Dr Bahman Amini Horri
---
Lecturer
MEng, MSc, CEng, CSci, MIChemE, PhD
Biography
Bahman Amini Horri is a Lecturer at the Department of Chemical and Process Engineering at the University of Surrey.He received his PhD in Chemical Engineering from Monash University (Australia). In his PhD, he has investigated the application of nanocomposite powders for ceramic fuel cells for improving the microstructural properties of the SOFC electrodes. His bachelor and masters' degrees are both in Chemical Engineering, and he has also obtained a Graduate Certificate in Higher Education (GCHE) from Monash University. Bahman is a member of Institute of Chemical Engineers (IChemE) as a Chartered Engineer (CEng) and also as a Chartered Scientist (CSci). His practical engineering background is in the field of oil and gas industry with six years experience in developing innovative processes for natural gas conversion, carbon nano-tubes, and nanocatalysts. Before joining the University of Surrey, Bahman was a lecturer at the Chemical Engineering Discipline at Monash University (in Malaysian campus).
University roles and responsibilities
Academic Integrity Officer
Affiliations and memberships
IChemE
Chartered Member of IChemE (CEng and CSci MIChemE)
APCBEES
Senior member of Asia-Pacific Chemical, Biological, & Environmental Engineering Society
ISE
Member of International Society of Electrochemistry
IAENG
Member of International Association of Engineers
Adjunct Research Fellow at Monash University Malaysia
Research
Research interests
Bahman's research interest mainly lies into the following areas:
• Solid oxide (ceramic) fuel cells and electrolyzers
• Nanomaterial synthesis for energy applications
• Hydrogen production and optimization of energy systems
The objective of his current research in the field of ceramic fuel cells and electrolysis cells is to develop low-cost, efficient, and highly active nanocomposite materials for improving the electrochemical properties, thermo-mechanical properties, and durability of the fabricated cells which are all the major challenges currently associated with development of ceramic fuel cells and electrolysis cells by both research and manufacturing communities.Hydrogen production is another aspect of his current research which is mainly through water electrolysis based on renewable energy sources. Improvement of the electrolytic properties and developing nanocomposite electrocatalysts using ionic active materials is the major focus of his research in this field
My teaching
- Advanced Mass Transfer (ENG 3187)
-  Design Project BEng/MEng Chemical/Biochemical Engineering (ENG 3192-5)
- MEng and MSc research Project
My publications
Publications
Amini Horri B, Chong MN, Chen XD, Wang HT
(2014)
Modelling of Solar Evaporation Assisted by Floating Light-Absorbing Porous Materials,
Current Environmental Engineering
1
(2)
pp. 73-81
Solar energy is one of the promising renewable energy sources for desalination of saline and brackish waters. The solar evaporation rate could be enhanced by placing light-absorbing agents on the surface or bottom of the solar ponds. So far, different materials such as various dyes, blackened wet jute cloth, black plastic bubble sheets, black rubber, floating porous plates, etc. were used to induce the solar evaporation rate, but the evaporation results showed that the water evaporation enhancement using those materials was quite limited. We have recently reported the use of solar lightabsorbing carbon-Fe3O4 particles and achieved a 230% increase in solar evaporation rate. This paper focuses on mathematical modeling of the solar evaporation process assisted by this kind of floating light-absorbing material. The proposed model was used to predict the evaporation rate of the experimental tests and results showed an acceptable compatibility between the experimental and calculated evaporation rates by an error lower than 13%.
Microstructural features and physical properties of the anodes crucially affect the electrochemical performance of anode-supported solid oxide fuel cells (SOFCs). This paper evaluated the microstructural characteristics and properties including porosity, pore size distribution, sintering shrinkage, mechanical strength, and electrical conductivity of the SOFC anode using carbon microspheres (CMSs) as the pore-former in the fabrication of Ni/YSZ ceramic anode. CMSs with different average particle sizes (CMS1: 11.54 ¼m, CMS2: 4.39 ¼m, and CMS3: 0.27 ¼m) were synthesized, and then incorporated into NiO/YSZ at various volumetric blend ratios ranging from 4.4 to 44.6 vol.%. SOFC anode cermets with a desirable range of porosity (30?40%), shrinkage (15.9?17.3%), flexural strength (75.4?157.8 N), and electrical conductivity (253.5?510.7 S/cm) were obtained using approximately 4?10 vol% of CMS1, 4?20 vol.% of CMS2, and 10?34 vol.% of CMS3. In addition, the use of CMS as the pore former reduced the amount of closed pores in the anode disks from 2.05% to