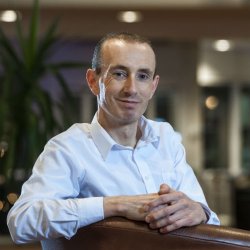 Dr Jonathan Chenoweth
---
Senior Lecturer, Director of Learning and Teaching for Environment and Sustainability
BPD (Planning) Hons, Ph.D.
Biography
Jonathan Chenoweth completed his PhD at the University of Melbourne in 2000 on the institutional dimensions of water resources management before working as a researcher in the Middle East for two years. Since September 2002 he has worked as an academic in the Centre for Environment and Sustainability focused upon water resources and environmental management. He researches on water policy and sustainable development in developed and developing regions, including in the UK and elsewhere in Europe, the Middle East and Africa.
University roles and responsibilities
Programme Director of the MSc in Environmental Strategy

Programme Director of the MSc in Corporate Environmental Management

Programme Director of the MSc in Sustainable Development

Co-programme director on the MSc in Sustainable Tourism
Research
Research interests
Current research interests include:
Defining and measuring water scarcity
Adaptation of water resources management to the effects of climate change
Institutional and policy dimensions of water management in developed and developing countries
Role of the public versus private sector in the management of water and sanitation services
Consumer attitudes to water supply services and the water industry
Sustainable development and trends in the development and use of indicators of sustainability; indicators of sustainable natural resources development, particularly sustainable water resources management.
Research projects
3K-SAN project
The 3K-SAN project is developing and evaluating strategies for catalysing self-sustaining sanitation chains in low-income informal settlements in Kisumu (Kenya), Kampala (Uganda) and Kigali (Rwanda). Identification of commonalities and differences between these areas is being used to develop broader best-practice guidelines for comparable interventions in similar settlements throughout sub-Saharan Africa. This is a collaborative project involving the Victoria Institute for Research on Environment and Development, Kenya, Makerere University, Uganda, the Institute for Policy Analysis and Research, Rwanda together with the University of Surrey. The project is funded by SPLASH consortium / European Commission.
Servicizing policy for resource efficient economy (SPREE)
This is a European Commission funded project which is aiming to identify potential servicizing policies and simulate their effect on absolute decoupling of economic growth and resource use, while achieving societal benefits. The University of Surrey will be leading the water component of the project.
Research collaborations
Collaborative projects within the University of Surrey with Centre for Environmental Health Engineering and the School of Law.
External collaborations via the 3K-San project with the Institute for Policy Analysis and Research, Rwanda, Department of Civil and Environmental Engineering, Makerere University, Uganda, and the Victoria Institute for Research on Environment and Development.
External collaborations via the SPREE project with the Jerusalem Institute for Israeli Studies, Ben-Gurion University of the Negev, Tel Aviv University, Lund University, Technical University of Delft, and University of Santiago de Compostela.
My teaching
Dr. Chenoweth is the module leader of three modules:
Environmental Science and Society
Industrial Placement
MSc Dissertation.