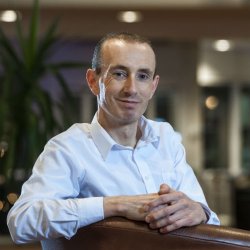 Dr Jonathan Chenoweth
---
Senior Lecturer, Director of Learning and Teaching for Environment and Sustainability
BPD (Planning) Hons, Ph.D.
About
Biography
Jonathan Chenoweth is a senior lecturer in environment and sustainability and MSc Programmes Director in the Centre for Environment and Sustainability.
Jonathan's conducts inter-disciplinary research on sustainable water and sanitation. He also researches on sustainable foods and diets.
Jonathan has an Honours degree in Environmental Planning and a PhD in Environmental Management from the University of Melbourne. Prior to working at the University of Surrey Jonathan worked as a research fellow in the Middle East. He is a full member of the Institution of Environmental Sciences and a Chartered Environmentalist (CEnv).
University roles and responsibilities
Programme Director of the MSc in Environmental Strategy

Programme Director of the MSc in Corporate Environmental Management

Programme Director of the MSc in Sustainable Development

Director of Learning and Teaching in the Centre for Environment and Sustainability
Research

Research interests

Jonathan's current research interests include:

Adaptation of water resources management to the effects of climate change.
The water-energy-food nexus
Institutional and policy dimensions of sustainable water resources management
Sanitation and water service provision for peri-urban settlements in low income countries.
Consumer attitudes to water supply services and the water industry.
Sustainable Development and trends in the development and use of indicators of sustainability;  indicators of sustainable natural resources development, particularly sustainable water resources management.

Jonathan has had research funding previously from the European Commission (FP6 and FP7), the European Union Water Initiative Research Area Network, Leverhulme Trust,  EPSRC, and DfID. He is an associate editor of the Water Policy journal, the official journal of the World Water Council.  
Supervision
Postgraduate research supervision
Jonathan supervises students in water resources management, sustainable food and diets, and environment and sustainability more broadly. He has supervised 11 PhD students to successful completion.
He is currently supervising four doctoral students:
- James Daly: Achieving a step change in water management at the University of Surrey
- Joanna Trewern: How can food retailers support their customers in adopting more sustainable diets?
- Gemma Hunt: Policies to increase sustainable travel and reduce air pollution to mitigate the exposure of school children to damaging pollutants
- Mattie Yeta: What is the contribution of natural capital accounts to national economies' valuation?
Teaching
I am module convenor for the ENGM060 Environmental Science and Society module. I also teach on the ENGM058 Life Cycle Thinking and the Circular Economy module, ENGM064 Foundations of Sustainable Development module and the ENGL001 Sustainability module. In addition I run the MSc Dissertations module taken by Masters students on the MSc in Sustainable Development, the MSc in Corporate Environmental Management and the MSc in Environmental Strategy.