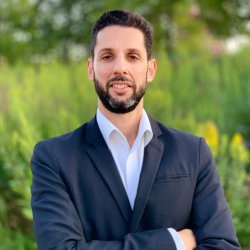 Dr Nikolas Thomopoulos
---
Senior Lecturer in Transport
BSc, MSc, PhD
Biography
Dr Nikolas Thomopoulos is a Senior Lecturer in Transport. Previously he was a researcher at LSE Cities and at the Institute for Transport Studies of the University of Leeds, where he was also a Marie Curie fellow. He studied economics at the University of Macedonia in Greece, then completed his MSc at the University of Oxford and subsequently acquired his PhD from the University of Leeds. Following his studies in Greece, Germany and the UK he has contributed in a range of FP-6, FP-7, H2020 funded research projects and has advised start-ups as an independent business consultant. In the build-up to COP-21 he co-ordinated research within the New Climate Economy project which was funded by national governments, and collaborated with established academics and practitioners across the globe. In 2015 he was an advisor for the Best Conceptual Project of the London Planning Awards.
He has been an academic visitor at the Joint Research Centre of the European Commission, the Chair of a RSA Research Network on 'smart' and 'green' regional growth, a contributor to the planning of the Surrey MaaS project and a member of UK academic missions to Brazil and China. In addition to being an evaluator of funding proposals, a member of Technical Programme Committees of large conferences, he has delivered keynote presentations at conferences, hosted international workshops, co-edited books and special issues about ICT for transport, urban mobility futures and autonomous vehicles. Currently he is a member of the Surrey Living Lab focusing on active travel, a UK representative at the Global Digital Human Rights Network and the Chair of WISE-ACT (Wider Impacts and Scenario Evaluation of Autonomous and Connected Transport), a research network of more than 150 experts in 42 countries.
Having more than 10 years teaching experience in the UK at both undergraduate and postgraduate levels has contributed in understanding the needs to enhance the learning experience of home and overseas students. He has supervised MSc and PhD dissertations, whilst he has delivered guest lectures at LSE, UCL, UPV and Westminster, including the delivery of executive education courses to British Government officials and to executives in Vietnam.
University roles and responsibilities
Research Seminar Series Co-ordinator

Academic Integrity Officer & OSCAR Panel Member
My qualifications
BSc
University of Macedonia, Greece
MSc
University of Oxford, UK
PhD
University of Leeds, UK
Affiliations and memberships
FeRSA
Fellow of the Regional Studies Association
Research
Research interests
Wider impacts of autonomous, automated and electric vehicles
Managing transport to improve tourist wellbeing
Data and privacy management policies
Urban mobility innovation
Research projects
Wider Impacts and Scenario Evaluation of Autonomous and Connected Transport. Role: Chair.
Human centred EVs and AVs
Incorporating the human aspect in the design and development of Electric and Autonomous Vehicles. Role: Co-I.
WE-TRANSFORM is a H2020 project focusing on the impact of transport automation on the workforce. Role: WP Leader, Surrey Lead.
Ready2Drive
Ready2Drive is a HEIF project focusing on the use of technology to support driving and accessibility for the aged. Role: PI.
ESRC-IAA project about co-creating accessible futures through New Mobility Services. Role: PI.
Supervision
Postgraduate research supervision
Currently supervising three Post-Graduate Researchers supported by University of Surrey and Hong-Kong Polytechnic. Research areas for PhD supervision cover the intersection of transport, tourism, environmental and socio-economic research, with a particular focus on business and policy challenges. Always willing to consider high quality research proposals in these areas linked to my projects and publications by interested PhD applicants.
My teaching
Travel and Transport (UG)
Land Transport Systems (UG)
International Transport Policy and Planning (UG)
Understanding the Travel and Tourism Industries (UG)
Strategic Analysis of Hospitality Companies (UG)
Strategic Management of International Hotel Companies (PG)
Research Methods (PG)
Dissertation supervision (PG)
My publications
Publications
Nikitas, A., Thomopoulos, N., Milakis, D.
(2021)
The Environmental and Resource Dimensions of Automated Transport: A Nexus for Enabling Vehicle Automation to Support Sustainable Urban Mobility, Annual Review of Environment and Resources, 46, pp.167-192.
Automation carries paradigm-shifting potential for urban transport and has critical sustainability dimensions for the future of our cities. This paper examines the diverse environmental and energy-related dimensions of automated mobility in the city level by reviewing an emerging and increasingly diversified volume of literature for road, rail, water and air passenger transport. The multimodal nature of this investigation provides the opportunity for a novel contribution that adds value to the literature in four distinctive ways. It reviews from a sustainability angle the state of the art underpinning the transition to a paradigm of automated mobility, identifies current knowledge gaps highlighting the scarcity of non-technical research outside the autonomous car's realm, articulates future directions for research and policy development and proposes a conceptual model that contextualises the nexus of automation-connectivity-electrification-sharing-multimodality as the only way forward for vehicle automation to reach its pro-environmental and resource-saving potential.
Saud, V., Thomopoulos, N.
(2021)
Towards inclusive transport landscapes: Re-visualising a Bicycle Sharing Scheme in Santiago Metropolitan Region, Journal of Transport Geography, 92, pp.1-16. DOI: 10.1016/j.trangeo.2021.103004
Bicycle Sharing Schemes (BSS) are re-emerging as promising components of urban mobility solutions worldwide. However, the lack of consistent collaboration strategies between different actors and institutions, which have been tested in a wide range of cities and contexts regarding their design, tender, operation and expansion, raises significant social and governance implications. Urban transport features as a melting pot for diverse policy objectives, ranging from business model innovation, public tendering, and accessibility increase to the equity and social justice agenda. By employing a Multi-Level Perspective (MLP) framework and by introducing alluvial diagrams and circular dendrograms to BSS planning through a mixed-methods approach, this article illustrates an innovative tool in managing BSS in the context of the Global South. The strength of such diagrams has been underestimated to date since they can be particularly useful for public and private urban transport planners and policy-makers. Visualising user flows in such a manner, particularly in near-live time, may offer valuable insight on the operational challenges of BSS. Findings of the cross-sectional survey in Santiago de Chile confirm that maintenance is significant for user satisfaction levels. Furthermore, decisions regarding BSS expansion and modification could be based on such analysis and diagrams due to the precise identification of both the busiest and those under-represented BSS stations based on revealed preferences.
Thomopoulos, N., Cohen, S., Hopkins, D., Siegel, L., Kimber, S.
(1972)
All work and no play? Autonomous Vehicles and non-commuting journeys, Transport Reviews, pp.1-23. DOI: 10.1080/01441647.2020.1857460
Non-commuting journeys, which include social and recreational journeys, make up a substantial proportion of household travel and these journeys are largely taken by car. Autonomous vehicle (AV) deployment has the potential to dramatically transform the way people work and travel, as well as reshape leisure travel patterns. Yet, the wider societal implications of AVs beyond commuting, such as travel for leisure and tourism, have received minimal attention within transport literature. This state-of-the-art review follows PRISMA guidelines and begins to address this gap through a synthesis of 63 papers on AV travel focusing on non-commuting journeys, including those for leisure, tourism, shopping and visiting friends and relatives. Given the economic importance of the tourism sector and its inherent focus on non-commuting journeys, this analysis is supplemented with a review of the extent to which national tourism strategies of countries leading AV deployment include reference to AVs. The paper reveals an overwhelming focus on commuting journeys in existing AV studies as less than one-fifth of the reviewed academic sources include non-commuting as part of their wider analysis. The review's further key findings are that the interest of publics in AVs for leisure journeys appears to exceed that for commuting, sharing vehicles will be less likely when AVs are used for leisure and there is a lack of recognition in the literature that some non-commuting journeys will require a lower SAE level of automation. Surprisingly, analysis of the national tourism strategies of countries most prepared to meet the challenges of AVs shows that just three countries make specific reference to AVs within their national tourism strategies. The paper contributes to setting future AV policy agendas by concluding that two gaps must be narrowed: one, the distance between how academic studies predominantly conceive of AV use (commuting) and articulated public interest in AVs for non-commuting journeys; and two, the lack of readiness in certain national tourism strategies to accommodate AVs. As non-commuting journeys will be some of the earliest ways for which AVs will be adopted, the paper sets an agenda with a number of recommendations to aid in this transition.