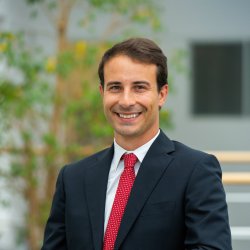 Dr Sebastiano Massaro
---
Associate Professor | Senior Lecturer in Organizational Neuroscience
PhD
Biography
Sebastiano is a Senior Lecturer of Organizational Neuroscience at the Surrey Business School and Honorary Associate Professor at the University of Warwick. Before joining Surrey, he was the Deputy Academic Lead of the Global Research Priority in Behavioural Science and an Assistant Professor of Behavioural Science at the Warwick Business School. 
Sebastiano was awarded the inaugural PhD in Management Science from the UCL School of Management and he also graduated in Neuroscience at the University of Trieste and the International School of Advanced Studies, and in Neuroimaging at the University of Edinburgh. 
Sebastiano's research is theoretically and methodologically focused on mapping the scholarly boundaries of the emerging field of organizational neuroscience; empirically, he investigates the interplay between affect and cognition in various kinds of decision-making, such as moral, interpersonal, and strategic. Sebastiano has received several awards for both his teaching and research and his work has appeared in world-leading journals across scientific areas.
Areas of specialism

organizational neuroscience;

behavioural science;

affect and cognition;

decision making;

cooperation;

morality
My qualifications
PhD Management Science
UCL School of Management
Previous roles
Assistant Professor of Behavioral Science
Warwick Business School
Deputy Academic Lead Global Research Priority in Behavioral Science
University of Warwick
Research
Research interests
organizational neuroscience; behavioral science; research methods; affect and cognition; decision-making; morality, trust and cooperation; health care
My teaching
Quantitative Methods I (PhD level)
Quantitative Methods II (PhD level)