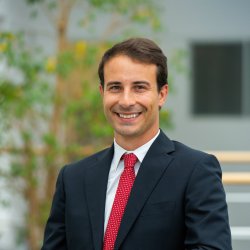 Dr Sebastiano Massaro
---
Associate Professor | Senior Lecturer in Organizational Neuroscience
PhD
Biography
Sebastiano is a Senior Lecturer of Organizational Neuroscience at the Surrey Business School and Honorary Associate Professor at the University of Warwick. Before joining Surrey, he was the Deputy Academic Lead of the Global Research Priority in Behavioural Science and an Assistant Professor of Behavioural Science at the Warwick Business School. 
Sebastiano was awarded the inaugural PhD in Management Science from the UCL School of Management and he also graduated in Neuroscience at the University of Trieste and the International School of Advanced Studies, and in Neuroimaging at the University of Edinburgh. 
Sebastiano's research is theoretically and methodologically focused on mapping the scholarly boundaries of the emerging field of organizational neuroscience; empirically, he investigates the interplay between affect and cognition in various kinds of decision-making, such as moral, interpersonal, and strategic. Sebastiano has received several awards for both his teaching and research and his work has appeared in world-leading journals across scientific areas.
Areas of specialism
organizational neuroscience;
behavioural science;
affect and cognition;
decision making;
cooperation;
morality
My qualifications
PhD Management Science
UCL School of Management
Previous roles
Assistant Professor of Behavioral Science
Warwick Business School
Deputy Academic Lead Global Research Priority in Behavioral Science
University of Warwick
Research
Research interests
organizational neuroscience; behavioral science; research methods; affect and cognition; decision-making; morality, trust and cooperation; health care
Supervision
Postgraduate research supervision
PhD students supervised at Surrey Business School:
Thamer AlAnazi
Zainab Alsayed
Reema Naik
My teaching
Leadership (MSc HRM)
Quantitative Methods I (PhD level)
Quantitative Methods II (PhD level)
My publications
Publications
Chronic Obstructive Pulmonary Disease (COPD) is a highly heterogeneous condition projected to become the third leading cause of death worldwide by 2030. To better characterize this condition, clinicians have classified patients sharing certain symptomatic characteristics, such as symptom intensity and history of exacerbations, into distinct phenotypes. In recent years, the growing use of machine learning algorithms, and cluster analysis in particular, has promised to advance this classification through the integration of additional patient characteristics, including comorbidities, biomarkers, and genomic information. This combination would allow researchers to more reliably identify new COPD phenotypes, as well as better characterize existing ones, with the aim of improving diagnosis and developing novel treatments. Here, we systematically review the last decade of research progress, which uses cluster analysis to identify COPD phenotypes. Collectively, we provide a systematized account of the extant evidence, describe the strengths and weaknesses of the main methods used, identify gaps in the literature, and suggest recommendations for future research
Additional publications
Selected Publications
Porumb, M., Massaro, S., Iadanza, E., & Pecchia, L., (2020), A Convolutional Neural Network Approach to Detect Congestive Heart Failure. Biomedical Signal Processing and Control.
Massaro, S., & Pecchia, L. (2019), Heart rate variability (HRV) analysis: A methodology for organizational neuroscience. Organizational Research Methods, 22, 354-393.
Scarpazza, C., Huang, H., Zangrossi, A., & Massaro, S. (2018), Is interoceptive sensitivity linked to interoceptive awareness in Alexithymia? Journal of Psychosomatic Research, 109, 132.
Cropanzano, R. S., Massaro, S., & Becker, W. J. (2017), Deontic justice and organizational neuroscience. Journal of Business Ethics, 144, 733-754.
Castaldo, R., Montesinos, L., Wan, T.S., Serban, A., Massaro, S., & Pecchia, L. (2017), Heart Rate Variability Analysis and Performance during a Repeated Mental Workload Task. IFMBE Proceedings, 65, 69-72.
Castaldo, R., Montesinos, L., Melillo, P., Massaro, S., & Pecchia, L. (2017), To What Extent Can We Shorten HRV Analysis in Wearable Sensing? A Case Study on Mental Stress Detection. IFMBE Proceedings, 65, 643-646.
Massaro, S. (2015), Neurofeedback in the Workplace: From Neurorehabilitation Hope to Neuroleadership Hype? International Journal of Rehabilitation Research, 38, 276-278.
Massaro, S. (2013), Can WHO survive? An organizational strategy question. The Lancet, 381, 726.
Massaro, S. (2012), Managing Knowledge-Intensive Workers. Nature Biotechnology, 30, 721-723.
Massaro, S. & Jong, S. (2011), Managing Knowledge-Intensive Work: A Trust Based Model. In: Toombs L.A. (Ed.), Best Paper Proceedings of the Academy of Management. 
assaro, S. (2012), Breast cancer screening: new technologies for a new debate. British Medical Journal (Online First), 345: e7330/rr/615968.
Book Chapters
Massaro, S. (2020, forthcoming), The Organizational Neuroscience of Emotions. In: L. Yang, R. S. Cropanzano, C. Daus, & V. A. M. Tur (Eds.) Cambridge Handbook of Workplace Affect Cambridge University Press: New York, USA.
Healey, M. P., Hodgkinson, G. P., & Massaro, S. (2018), Can Brains Manage? The Brain, Emotion, and Cognition in Organizations. In:  L. Petitta, C. E. J. Härtel, N. M. Ashkanasy, W. J. Zerbe (Eds.), Research on Emotion in Organizations - Individual, Relational, and Contextual Dynamics of Emotions, p. 27-58. Emerald Group Publishing Limited: Bingley, UK.
Massaro, S. (2017), Neuroscience Methods: A Framework for Managerial and Organizational Cognition. In: G. P. Hodgkinson, R. J. Galavan, & K. J. Sund (Eds.), Methodological Challenges and Advances in Managerial and Organizational Cognition, New Horizons in Managerial and Organizational Cognition, p. 241-278.  Emerald Group Publishing Limited: Bingley, UK.
Massaro, S. (2016), Neuroscientific Methods Applications in Strategic Management. In: G. Dagnino & C. Cinci (Eds.), Strategic Management: A Research Method Handbook, p. 254-282, Routledge: New York, USA.
Massaro, S., & Becker, W. (2015), Organizational Justice Through the Window of Neuroscience. In: D. Waldman & P. Balthazard (Eds.), Organizational Neuroscience, Monographs in Leadership and Management, p. 257-276. Emerald Group Publishing Limited: Bradford, UK.