MATHEGRAM: Multiscale analysis of thermomechanical behaviour of granular materials
Our consortium are going to be finding out how granular materials behave through 15 projects being carried out by a cohort of early stage researchers.
Start date
01 December 2018
Overview
MATHEGRAM is a multidisciplinary and inter-sectoral consortium consisting of 10 leading academic and non-academic beneficiaries from six EU countries.
Our beneficiaries have expertise in chemical and process engineering, aerospace, civil engineering, materials science, fine and speciality chemicals, pharmaceutical engineering, food science, computational mechanics and software development, in addition to five partner organisations. We will run 15 individual research projects to address the experimental and modelling challenges in analysing thermomechanical behaviour of granular materials.
We will take a systematic approach to examine the effects of temperature on mechanical properties, micromechanics, flow, compaction and mechanical properties, to enhance our understanding of the thermal performance of granular materials and broaden their industrial applications. We will also develop robust heat generation and transfer models for granular materials and use in situ nano-computed tomography to understand the microscopic evolution of a granular material at high temperatures, and explore the application of granular materials in emerging areas, such as dry powder coating in aerospace applications and additive manufacturing.
Aims and objectives
Granular materials, such as soils, agricultural seeds, metallic and ceramic powders, and pharmaceutical powders, are common in nature and have many industrial applications. They possess unique physical properties and a complicated flow behaviour. We aim to improve our understanding of the thermomechanical behaviour of granular materials. In particular, we aim to answer the following research questions:
How does temperature increase within granular materials without the application of external heating sources?
How does temperature affect the physical properties of granular materials?
How can the thermomechanical properties of granular materials be effectively utilised in various applications, e.g. additive manufacturing, powder coating, sintering and catalysis?
Funding amount
$4,200,000
Stay connected

We finally met again in person! At the International Conference CHOPS (Salerno), we had the opportunity to meet a…
https://t.co/zEXi3OBJpy

Team
Airbus Defence and Space GmbH (EADS) is a division of Airbus, a global leader in aerospace, defence and related services. They generate revenues of €2.2 billion and employ a workforce of about 9,100. 
Airbus Central R&T (ACRT) is the corporate research centre of Airbus with operations in France, Germany, Spain, UK, Singapore and Russia. Its overall workforce is more than 7,000 researchers. The ACRT site in Munich, belongs legally to Airbus Defence and Space and employs about 150 people in research and innovation.
Within ACRT, the Materials X department provides research and development facilities for advanced materials and new process technologies from elementary parts to optimised hybrid structures, in an integrated network within Airbus and in close co-operation with suppliers, universities and other research institutes. Within this team the necessary competencies for development and evaluation of protective coatings is available with laboratories for environmental simulation and coating deposition facilities.
Members
Dr Elmar Bonaccurso
Dr Jürgen Wehr
Alexandre Bobillier (ESR12).
BASF, a world's leading chemical company, has a long tradition in cooperative research and training, which they consider to be crucial for their success. The Process Engineering Department, with about 130 engineers and 120 technicians, covers all particle technology unit operations in the chemical industry as well as CFD and DEM simulations. Numerous PhD students are being co-supervised in cooperation with universities across Europe.
Members
The Centre Internacional de Mètodes Numèrics a l'Enginyeria (CIMNE) is a research organisation in Barcelona, Spain, which was created in 1987 as a consortium between the Catalan Government and the Technical University of Catalonia (UPC). It is an autonomous RTD centre focusing in promoting and fostering advances in the development and application of numerical methods and computational techniques for the solution of engineering problems in an international context.
They employ over 200 scientists and engineers from different technical fields and nationalities. In 2005, they started their international expansion and since then have created the following international branches:
CIMNE Latinoamerica
CIMNE USA.
Their headquarters are located at the heart of the UPC in Barcelona. They also have premises at different buildings in several campuses of the UPC and have offices in Madrid, Terrassa and Ibiza.
Members
Dr Francisco Zarate Araiza
Professor Eugenio Oñate Ibáñez de Navarra
Miguel Ángel Celigueta Jordana
Ferrán Arrufat García
Rafael Rangel (ESR13).
The French National Center for Scientific Research (CNRS) is a publicly funded, not for profit research organisation, under the authority of the French Ministry of Research, and is the largest French research organisation. The following two of their laboratories will be involved in MATHEGRAM:
SIMAP laboratory
This lab is a joint research unit of CNRS and Université Grenoble Alpes. It has a strong track record at the interface between the physics and the mechanics of particulate materials, in particular on the use of discrete element simulations and fast X-ray tomography.
Surface of Glass and Interfaces (SVI) laboratory
The lab is a collaborative venture between Saint-Gobain and the CNRS academic institute. It has staff both from SGR and Saint-Gobain conduct research on fundamental topics relevant to the materials and processes of Saint-Gobain, such as reactive granular materials and high-temperature processes. Training young researchers is a core mission of the SVI lab: 10 graduate students are currently enrolled in a PhD program at the lab, often in collaboration with each other.
Members
Professor Christophe L Martin
Professor Didier Bouvard
Dr Pierre Lhuissier
Dr David Jauffres
Dr Pierre Jop
Dr E Gouillart
Aatreya Manjulagiri Venkatesh (ESR14)
Brayan Paredes (ESR15).
DCS Computing is one of the leading software companies in the field of computer aided engineering software for particle flow. They develop and distribute the world-leading open source software LIGGGHTS® and CFDEM® coupling. Their products and services can be divided into four business areas:
Research and development - basic simulation methods and frameworks are developed within large projects such as the FP7 Projects NanoSim and T-MAPPP or in cooperation with big companies or universities.
Model development for simulation engines - extensions and new models are integrated to the simulation engines.
Computer aided engineering (CAE) workflow - in order to bridge the simulation technology from academic to industrial level, CAE workflows are provided.
Consultancy - the developed tools and models are applied to real-life processes to answer engineering questions. DCS offers model and code development, training, consultancy, software quality control and support for its open source codes, widely used in industry and academia.
Members
Dr Christoph Kloss
Dr Christoph Goniva
Dr Arno Mayrhofer
Jelena Macak (ESR5).
The Graz University of Technology (TU Graz) is a leading public university in Austria with 3,251 members of staff and 14,000 students. Their annual budget is 218 Mio €, of which approximately a third is from third-party funds.
Their Institute of Process and Particle Engineering covers the areas of particle technology, pharmaceutical product and process development, particle manufacturing and flow processes. Within the Institute, the Simulation Science group is dedicated to numerical modelling. This includes method development (software, algorithms) and the application to the field of particle engineering using Computational Fluid Dynamics (CFD), Discrete Element Method (DEM) and the Finite Element Method (FEM). The Institute have been actively engaged in these activities since 2008.
Members
Professor Johannes G. Khinast
Dr Stefan Radl
Dr Thomas Forgber
Ranjan Dhakal (ESR2).
The French National Institute for Agricultural Research (INRA) is Europe's top agricultural research institute and the world's number two research centre for the agricultural sciences.
They carry out mission-oriented research for food and nutrition, preservation of the environment and competitive, sustainable agriculture. They participate in MATHEGRAM through the involvement of the joint research unit (JRU) in food and process engineering between them and AgroParisTech, a higher education School of Engineering in Life Sciences, Agronomy, Food Technology and Environment.
The JRU is dedicated to food engineering applications. They work for the French Government and the food industry. Their key expertise lies in a comprehensive knowledge of the mechanisms controlling food processing; studied both experimentally and numerically. Most food unit operations and products are investigated, with focus on food product safety (chemical contaminants), nutrition, sensory attributes and the link between formulation, process and product function. Numerous collaborations are running with research centres in France or Europe, and companies.
Members
Professor Denis Flick
Dr Paul Menut
Dr Artemio Plana-Fattori
Dr Marco Ramaioli
Arnesh Palanisamy (ESR8).
The Imperial College London is a science-based university. They foster multidisciplinary working internally, collaborate widely externally and are home to 14,700 students and 8,000 staff. They are consistently rated within the top ten global universities.
Their Department of Civil and Environmental Engineering is one of the top five civil engineering departments in the world according to subject-specific QS World University Rankings. As judged by the proportion of world leading and internationally excellent research, their department was ranked first in the UK in REF 2014.
Their university is fully committed to involvement in Horizon 2020 and has been awarded over 140 Horizon 2020 projects to date.
Members
Professor Catherine O'Sullivan
Dr David Taborda
Marina Bortolotto (ESR6)
Tokio Morimoto (ESR7).
Janssen Pharmaceutica NV (JP) is an affiliate of Johnson and Johnson, one the world's comprehensive and broadly based manufacturer of healthcare products.
They have a strong track record in research and development of innovative medicines for different therapeutic areas. They have Drug Product Development (DPD), which is part of Pharmaceutical Development and Manufacturing Sciences, and are responsible for development of drug product formulations and their corresponding manufacturing processes (laboratory scale till production scale). DPD employs 79 FTE in Beerse (Belgium) and works closely together with universities across Europe by hosting and co-supervising PhD students.
Members
Johnson Matthey is a global speciality chemicals company underpinned by science and technology. They have operations in over 30 countries, employ around 13,000 people and focus on sustainable technologies. The principal activities regard its core skills in catalysis, precious metals, fine chemicals, clean air, clean energy and low carbon technologies and process technology.
The Johnson Matthey Technology Centre is the group's central resource for fundamental research, supporting all Johnson Matthey's businesses. The centre has extensive knowledge and expertise in the major scientific disciplines that are core to Johnson Matthey – catalysis, materials science, chemical engineering, precious metals and many others.
Members
Professor Edmund Hugh Stitt
Dr Michele Marigo
Dr Vincenzino Vivacqua.
Aman Rastogi (ESR3).
Saint-Gobain Recherche is a global industrial group and a world leader in solutions for sustainable habitat and industrial applications. They are present in 64 countries, with 180,000 collaborators.
Their activities range from the production of construction products and innovative materials to the distribution of materials. Powder processing and high-temperature processing are subjects encountered in a large number of materials (gypsum, ceramics, glass melting, abrasives…) and processes of interest to them. They have been part of the Thomson Reuters Top 100 global innovators ranking since the beginning of the award, and have a strong focus on research and development, including excellent collaborations with top academic groups.
Their group is the most collaborative research and development centre of Saint-Gobain, they employ 420 scientists dedicated to research and development who collaborate with all business units of Saint-Gobain to develop innovative materials and products and to improve industrial processes. 80 per cent of these research and development scientists have PhD degrees and so their group is strongly committed to the training of young researchers through PhD programmes.
Members
The European Synchrotron Radiation Facility (ESRF) located in Grenoble, France, is a joint facility supported and shared by 19 countries. They operate the most powerful synchrotron radiation source in Europe, at six GeV. MATHEGRAM will use the ID16B beamline which is a new nano-analysis beamline built in the framework of their upgrade program.
Members
The Universitat Politècnica de Catalunya BarcelonaTech (UPC) is a public institution dedicated to higher education and research, specialised in the fields of engineering, architecture and science. They are the second largest technical university in Spain with over 30,000 students covering most engineering degrees.
Members
Professor Michele Chiumenti.
The University of Salerno (UNISA) is one of the largest universities of southern Italy with over 40,000 students, 16 departments and two campuses.
The Department of Industrial Engineering has 88 faculty members carrying out cutting edge research in the areas of:
Chemical engineering
Health
Food
Agriculture and biotechnology
Information and communication technologies
Nanotechnology
Materials and new production technologies
Energy
Environment
Transport.
Chemical engineering at the University has been ranked in the top five by the Italian Ministry of Education (VQR 2013). Their campus offers outstanding logistic and social services to students, including lodging and sport facilities. Their powder technology group has been active since the establishment of the Faculty of Engineering in 1983 and has gained international recognition in the fields of fluidization, powder handling and powder mechanics.
Members
Professor Massimo Poletto
Dr Diego Barletta
Professor Fabrizia Caiazzo
Sina Zinatlou (ESR9)
Balaji Soundararajan (ESR11).
The University of Surrey is one of the world's leading institutions for research excellence. It was awarded a Gold award in the Teaching Excellence Framework (TEF) introduced in 2017. They excel at multidisciplinary and cross border research and benefit from excellent professional and administrative support. The University is committed to excellence in its support of early career researchers, both in academic and practical matters. A comprehensive Researcher Development Programme is provided, which runs over 60 workshops a year dedicated to personal effectiveness, leadership skills, communicating your research, research and the wider world and job skills and next steps.
The Department of Chemical and Process Engineering is the longest established chemical engineering department in the UK and has one of the largest concentrations of chemical engineering expertise, with an excellent reputation in research, learning and teaching. They collaborate with world-class industries and with leading edge engineering and science departments nationally and internationally.
Members
Early stage researchers
Take a look at our early stage researchers and the projects they are working on.
Objectives
Explore fundamental mechanisms underlying heat generation and transfer in granular materials at low stresses
Develop a DEM model capable of modelling heat generation and transfer in granular materials at low stresses
Validate the DEM model using experimental data on high shear mixing.
Host institution: Graz University of Technology, Austria
Primary supervisor: Professor Johannes Khinast
ESR2: Ranjan Dhakal.
Objectives
Develop and validate thermomechanical models with temperature-dependent properties for predicting heat generation and transfer at high consolidation stresses
Analyse heat generation during compaction of various powders
Explore mechanisms dominating thermo-mechanical behaviour of powders.
Host institution: Johnson Matthey Plc., UK
Primary supervisor: Dr Michele Marigo
ERS3: Aman Rastogi.
Objectives
Explore the effect of chemical kinetics on heat generation and transfer, as well as mass transfer during processing of granular materials 
Develop DEM and CFD-DEM models for heat generation due to chemical reaction
Validate the models using experimental data on drying of granular materials in kilns.
Host institution: University of Surrey, UK
Primary supervisor: Professor Charley Wu
ERS4: Domenica Braile.
Objectives
Experimentally explore changes in mechanical properties due to temperature change
Model and to examine the variation of temperature and loads during storage and discharge of granular materials.
Host institution: DCS Computing GmbH, Austria.
Primary supervisor: Dr Christoph Kloss
ERS5: Jelena Macak.
Objectives
Develop coupled DEM-CFD models for analysing simultaneous heat and mass transfer in granular materials
Implement temperature-dependant properties in LIGGGHTS®
Incorporate a non-constant density solver into CFDEM® coupling to model thermal expansion
Integrate all validated models in LIGGGHTS® and CFDEM® for advanced multi-physics simulations.
Host institution: Imperial College London, UK.
Primary supervisor: Dr David Taborda
ERS6: Marina Bortolotto.
Objectives
Understand the link between thermal changes at the particle scale and overall thermo-mechanical response of granular media through thermal characterisation experiments in a controlled-stress environment
Develop a dataset suited to validation of thermal particulate DEM codes.
Host institution: Imperial College London, UK.
Primary supervisor: Professor Catherine O'Sullivan
ERS7: Tokio Morimoto.
Objectives
Perform DEM modelling of thermal triaxial tests and to advance understanding of the link between contact configurations and thermal performance of granular materials
Simulate controlled tests on model granular materials used by ESR6
Explore the sensitivity of thermal response to fabric and packing configuration.
Host institution: Institut National de la Recherche Agronomique (INRA), France
Primary supervisor: Professor Denis Flick
ERS8: Arnesh Palanisamy.
Objectives
Determine the particle swelling kinetics and the particle rheology as a function of gelatinisation degree
Establish DEM models for heat induced swelling of soft particles
Validate the model by rheological measurements under heat treatment
Develop a simplified model applicable for process optimisation.
Host institution: University of Salerno, Italy
Primary supervisor: Professor Massimo Poletto
ERS9: Sina Zinatlou.
Objectives
Explore the effect of temperature with a high temperature annular shear tester
Develop a specifically built device to determine the effects of material properties and process conditions on the layer quality and on the final product quality
Develop a DEM model and a calibrate procedure to predict the final layer properties during powder spreading.
Host institution: Centre for National de la Recherche Scientifique, Surface of Glass and Interfaces Laboratory, France
Primary supervisor: Professor Pierre Jop
ESR10: To be confirmed.

Objectives

Perform in-situ, high temperature sintering using synchrotron X-ray computed tomography (CT) at ESRF
Analyse microstructural evolutions with respect to the ratio of crystalline, glassy, inert or fusible grains and powders considering strategies to reduce energy consumption
Examine the interplay between the presence of liquid phase and the microstructural evolution.
Host institution: University of Salerno, Italy
Primary supervisor: Professor Massimo Poletto
ESR11: Balaji Soundararajan.
Objectives
Explore the laser heating effect on beds of powders prepared for selective laser sintering (SLS)
Establish a design space for SLS in terms of critical material attributes and critical process parameters.
Host institution: Airbus Defence and Space GmbH, Germany
Primary supervisor: Dr Elmar Bonaccurso
ESR12: Alexandre Bobillier.
Objectives
Identify materials and process conditions that can produce thin smooth films on complex 3D aerospace components
Understand the fundamental physics controlling homogeneous electrostatic deposition of fine powder particles
Develop a process protocol for producing light and durable thin films using powder coating for aerospace applications.
Host institution: Centre Internacional de Mètodes Numèrics a l'Enginyeria (CIMNE), Spain
Primary supervisor: Professor Francisco Zárate
ESR13: Rafael Rangel.
Objectives
Develop PFEM model for simultaneous fluid flow and heat transfer through packed granular bed
Explore the effects of packing properties and characteristics on heat flux and fluid flow
Identify innovative solutions for regulating heat transfer using packed granular layers.
Host institution: Centre for National de la Recherche Scientifique, Materials Science and Engineering Laboratory, France
Primary supervisor: Professor Didier Bouvard
ESR14: Aatreya Manjulagiri Venkatesh.
Objectives
Investigate constrained sintering through in-situ X-ray nano-tomography (nCT) at the length-scale of particles
Provide quantitative insights into the sintering phenomenon
Explore the development of anisotropy due to the presence of a substrate during the entire sintering cycle.
Host institution: Centre for National de la Recherche Scientifique, Materials Science and Engineering Laboratory, France
Primary supervisor: Professor Christophe Martin
ESR15: Brayan Paredes.
Objectives
Develop a DEM model for analysing constrained sintering
Analyse constrained sintering by considering grain boundary and surface diffusion as the main mechanisms of mass transport
Analyse local constraints and defect evolution using realistic microstructures and particles.
News
MATHEGRAM ESR successfully defended her PhD thesis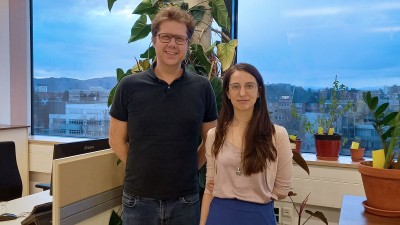 Our ESR Jelena did an excellent job on March 14 2023 during her PhD defense. The whole examination committees are all proud of her, her thesis, and the performance during the exam!
Congratulations, Jelena! 
Dr. Jelena Macak and supervisor Prof. Stefan Radl after the successful PhD defense
Outputs
Journal papers
A. Palanisamy, F. Deslandes, M. Ramaioli, P. Menut, A. Plana-Fattori and D. Flick, Kinetic modelling of individual starch granules swelling, Food Structure, Volume 26, October 2020.
B. Paredes-Goyes, D. Jauffres, J. Missiaen and C. L. Martin, Grain growth in sintering: A discrete element model on large packings, Acta Materialia, Volume 218, October 2021.
J. Mačak, C. Goniva and S. Radl, Regimes of subsonic compressible flow in gas-particle systems, Powder Technology, Volume 394, December 2021.
B. Soundararajan, D. Sofia, D. Barletta and M. Poletto, Review on modeling techniques for powder bed fusion processes based on physical principles, Additive Manufacturing, Volume 47, 2021, 102336, ISSN 2214-8604.
B. Soundararajan, D. Sofia, D. Barletta and M. Poletto, The set Up of an Experimental Testing Rig to Measure Time and Space Temperature Profiles in Laser Sintering of Polymeric Powders, Chemical Engineering Transactions, 86, 781-786, 2021.
​T. Morimoto, C. O'Sullivan and D. M. G. Taborda, Exploiting DEM to Link Thermal Conduction and Elastic Stiffness in Granular Materials, Journal of Engineering Mechanics, issue 2 vol 148, 2021.
T. Morimoto, B. Zhao, D.M.G.Taborda and C. O'Sullivan, Critical appraisal of pore network models to simulate fluid flow through assemblies of spherical particles, Computers and Geotechnics, Volume 150, October 2022, 104900.
A. Palanisamy, M. Ramaioli, P. Menut, A. Plana-Fattori and D. Flick, Multiscale modelling of flow, heat transfer and swelling during thermo-mechanical treatment of starch suspensions,
Food Structure, Volume 29, July 2021, 100211.
A. Palanisamy, G. Moulin, M. Ramaioli, A. Plana-Fattori, D. Flick and P. Menut, Determination of the mechanical properties of gelatinized starch granule from bulk suspension characterization, Rheologica Acta, volume 61, pages 299–308, 2022.
B. Paredes-Goyes, A. M. Venkatesh, D. Jauffrès and C. Martin, Two-step sintering of alumina nano-powders: A discrete element study, Journal of the European Ceramic Society, Volume 43, Issue 2, February 2023, Pages 501-5092022.
​
Conference papers
A. Palanisamy, A. Plana-Fattori, P. Menut, M. Ramaioli and D. Flick, Transient DEM Simulation of Starch Granule Suspension undergoing Thermal Treatment, Proceedings of 11th FOODSIM'2020 Conference, September 6-10, 2020, Belgium.
D.  Braile, C.  Hare and C. Wu, DEM modelling of swelling of grains, EPJ Web Conf. 249 14011 (2021), Powders & Grains 2021 – 9th International Conference on Micromechanics on Granular Media, Volume 249, 2021.
F. Kisuka, C. Wu and C. Hare, Friction-induced heat generation between two particles, EPJ Web Conf. 249 14011 (2021), Powders & Grains 2021 – 9th International Conference on Micromechanics on Granular Media, Volume 249, 2021
T. Morimoto, C. O'Sullivan and D. M. G. Taborda, Analytical and DEM studies of thermal stress in granular materials, Powders & Grains 2021 – 9th International Conference on Micromechanics on Granular Media, Volume 249, 2021.
R. Rangel, A. Franci, A. Cornejo, E. Oñate and F. Zárate, Thermo-mechanical analysis of continuous and discrete media with PFEM and DEM, Proceedings of the joint XLII Ibero-Latin-American Congress on Computational Methods in Engineering and III Pan-American Congress on Computational Mechanics, Rio de Janeiro, Brazil, 2021.
Training events
We will recruit and train a cohort of 15 early stage researchers to become a new generation of creative, entrepreneurial and innovative scientists with inter-disciplinary and inter-sectoral (i.e. academic and non-academic) experience.
We will deliver a comprehensive training programme of local and network wide training designed to equip them with the fundamental scientific skills and knowledge and transferable skills.
Training schools
First training school: Research methods and science communication (2 - 5 November 2020)
Second training school: Regulation, legislation, innovation and collaboration (6 - 8 October 2021).
Third training school: Entrepreneurship, career and research skills (4 - 10 February 2022).
Advanced training courses
First advanced training course: Modelling and characterisation of granular materials (18 - 22 November 2019)
Second advanced training course: Emerging applications of granular materials (26 - 30 April 2021).