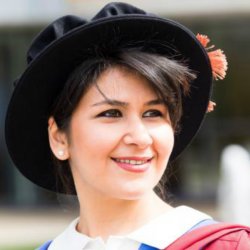 Anna Vartapetiance
"For me, one of the best things about continuing my studies at Surrey was the support I received from my supervisor, who has enabled me to achieve so much."
In March 2016, Anna presented her research on automatic detection and prevention of online grooming at the House of Commons of the UK Parliament to a range of politicians and a panel of expert judges, as part of this year's SET for Britain event which took place on Monday 7th March, 2016.
Anna was shortlisted from hundreds of applicants to appear in the event at the UK Parliament. The work she presented is related to the automatic detection and prevention of online grooming, joint work with her former PhD supervisor Dr Lee Gillam.
Prior to that, Anna was invited to the BBC Surrey Radio to discuss her work and her expectations from presenting it at the Parliament. You can download the talk at here (MP3 format, 11.2 MB, courtesy: BBC Surrey Radio).
"Finding innovative ways of protecting vulnerable people in the online gambling environment was an area I first explored in my Masters dissertation at Surrey. Later, I decided to focus more towards Deception Detection using Natural Language processing techniques for my PhD within the University's Department of Computer Sciences. I decided to stay at the University for my PhD mainly to continue working with my supervisor Dr Lee Gillam who is an established expert in this area. At the time, this was an area that was much talked-about but under-researched.
"It has also been great to continue living in the great city of Guildford where I already had a great group of friends whilst having the opportunity to work on areas that most interest me."
During my PhD I looked at different automated and semi-automated computational approaches for verbal deception detection, taking into account issues like online grooming, author identification and plagiarism detection.
My work attracted the attention of the University's Research and Innovation Services (RIS) and Surrey's Entrepreneur-in-residence Nigel Biggs. His support and encouragement led to me taking an entrepreneurial path, commercialising the idea I developed during my PhD.
I'm now co-founder, co-director and CEO of Securium Ltd, a spin-off from the University's Surrey Centre for Cyber Security (SCCS) (where I'm also a Visiting Researcher), working on developing innovative products and services to protect vulnerable people from unsavoury activities online such as child sexual grooming, radicalisation, and romance fraud. Our work has been honoured with the Home Office International Crime and Policing conference award for 'the most potential to inform thinking about how to prevent crime' and I've also had the chance to present the work at the House of Commons SET for Britain awards. In addition, I was recently endorsed by the Home Office – through the Tech Nation Visa Scheme – as an exceptional talent in the fields of natural language processing, cyber security and data sciences.
Explore our programmes in computer science programmes, including our Computer Science PhD.