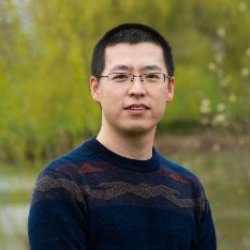 Bowei Li
Bowei Li is a PhD research student at our Advanced Technology Institute who originally studied for his undergraduate and masters degrees in China. At Surrey, he's working on next generation solar power cells and he's just had his first academic journal paper published.
Course
Advanced Technology Institute PhD
Choosing Surrey
"When I arrived to start my PhD at Surrey, it was my first time in the UK.
"I chose Surrey because it's a university with a good reputation for educating and supporting students. When it comes to research, it allows students to have more freedom, too.
"The university campus and the scenery are beautiful. It's nice to relax beside the lake in the summer.
"I take part in club activities at Surrey Sports Park, such as basketball and football. I'm a big football fan." 
My course
"Electrical and electronic engineering is an amazing and challenging area. You need to overcome problems one after another and this process inspires you to become better at it.
"I specifically work in the area of interface engineering of thin‐film devices. Essentially better connectivity between interfaces in electrical devices can increase their efficiency, performance and stability.
"Studying here has been a great experience. In terms of conducting my experiments, my supervisors have given me quite a lot of freedom. They may have suggested that I 'Try this' or 'Try that', but they've always been quite happy to let me try out my own ideas. These may not always have worked, but at least they let me try them.
"I've made a lot of friends and the people in the Advanced Technology Institute have given me a lot of support. I'm grateful for the encouragement of my principal supervisor, Wei Zhang, and my co-supervisor, Ravi Silva, too." 
My research
"My current research focuses on a material called perovskite, which is used in solar panels. I'm trying to find ways to improve the efficiency and stability of this material.
"I've had some successes and I've had a paper, Tailoring Perovskite Adjacent Interfaces by Conjugated Polyelectrolyte for Stable and Efficient Solar Cells, published in RRL Solar. This reports on how I've managed to increase the efficiency of how a perovskite solar cell converts solar energy into power by 20.56%. This is close to the highest value of silicon solar cells widely used on the roofs of buildings."
The future
"When my PhD is over, I want to keep moving forwards with my research. I want to keep on making my solar cell more competitive and more efficient.
"I'd really like to stay at the university. I want to become a researcher or a lecturer. I like spending time with students. They're energetic and passionate and they give me a lot of inspiration and ideas. But industry is another possibility."
Learn more about research opportunities at Surrey's Department of Electrical and Electronic Engineering.