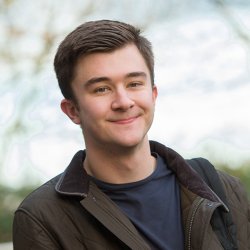 Cameron McCoig
"The academic staff from the School of Law are excellent. The teaching staff consists of high-level academics and professionals, meaning a number of my modules have been taught by barristers and solicitors."
Course
Law
Placement company
Spelthorne Borough Council
"I chose to come to the University of Surrey because I knew it was a very good university, both through looking at the league tables and through speaking to my tutors at college. The entry requirements for my course were also obtainable so that was something else I wanted to take into account when considering my options.
As I was interested in coming to the University of Surrey, I attended an Open Day with my parents. I was impressed by the campus and the facilities on offer here, and also by the enthusiasm of the students who were showing us around.
They gave a glowing report of the University and seeing so many people made so happy by the University was key to helping me decide that this was the place I wanted to study at.
Ever since taking A Level Law at college I have wanted to work in law, so studying the subject at degree level was the logical path to follow. I have always found the idea of studying law fascinating, through both case-law matters and also theoretical challenges to concepts and principles. It is this attraction that has driven me through my degree and will continue to do so for years to come.
The academic staff from the School of Law are excellent. The teaching staff consists of high-level academics and professionals, meaning a number of my modules have been taught by barristers and solicitors. This is especially helpful as these lecturers give you an idea of how different laws or concepts may work in practice. I have found my lecturers/tutors approachable, meaning that I know I can speak to them if I am having any difficulties with particular aspects of the course. Some lectures and tutorial sessions are also taken by external tutors, adding an additional dimension to the teaching structure here at Surrey. Students on the Law programme are also assigned a personal tutor at the start of each academic year. Being assigned a personal tutor is extremely helpful, as regular meetings with these tutors can help you to stay on top of your workload and achieve the best grades you can.
"The optional modules offered at both second and third year are incredibly diverse and cover a range of areas."
I like the fact that all third year modules for single honours students are optional. This allows you to choose only the modules that you wish to study and really tailor your degree how you want.
Some are more theoretically based whereas others are more practically based, so there really is something for everyone!
The facilities for the LLB programme are very good. The Library is stocked with the majority of required textbooks, and there is a wide range of alternative books and journals offered if the required textbook is unavailable. Additionally, there is the law-only common room and computer suite located within the School of Law, making it much easier to find a space to work (especially as it comes close to exam periods).
During my second and third years of study, I have been a member of Band Society (BandSoc). The activities involved with BandSoc include general jams and gigs put on by students here at the University. Being a member of the society also allows you to book out a rehearsal space for a two-hour slot with access to a PA system and drum kit. The society is great fun to be a part of (due to the enthusiasm of those running the events) and it has been a fantastic opportunity to meet some like-minded people and form new friendships. If you play any kind of instrument (or even if you just love music) then BandSoc is the society for you!   
For my Professional Training placement, I spent a year working within the legal department of Spelthorne Borough Council, which is the local authority where I live.
I was lucky enough to regularly attend various kinds of court hearings, including plea hearings and trials at the Magistrates' and Crown Court, statutory declarations and Section 158 hearings. I attended Redhill Magistrates' Court every week for Criminal Prosecution hearings covering multiple offences, such as licensing matters, breaches of enforcement notices, benefit fraud, illegal mooring and food hygiene prosecutions. In addition, I was able to attend both Guildford Crown Court and Guildford County Court on a number of occasions throughout the year to watch criminal and civil matters. I also attended an employment tribunal, a planning matter in the High Court and a six-week inquest into the death of a child at Woking Coroner's Court. 
I undertook tasks for a number of other areas within the Legal department. For example, I conducted various research tasks for both the Contracts and Property departments (leading to me feeding back directly to the clients rather than those who set me the tasks), and put together a RIPA guidance document for the Council to use.
"Working for a number of different departments within the legal system gave me a breadth of experience that would not have been possible anywhere else."
I chose to undertake a Professional Training placement at a local authority because I believed that it would offer me valuable experience by introducing me to an environment that is very different from the usual high-street law firm. It also allowed me to participate in activities involving the local community. For example, I acted as a Count Assistant with Electoral Services during both the Police and Crime Commissioner Elections and the EU Referendum.
This was a valuable experience because I was involved in one of the biggest political events in recent years and it gave me the chance to see how the wider Council operates.
My best experience whilst on placement was being able to get so involved with the inquest at the Coroners' Court. In addition to preparing the court bundles that were used throughout, I was able to attend many of the hearings. Although the content of the hearings were sad, it gave me a new perspective on a kind of court hearing that I had not experienced before. For example, there were no prosecutors or defence team; just a team of six advocates attempting to give as much assistance to the Coroner as possible through their cross-examination of over thirty witnesses. Throughout the six weeks, I heard live evidence ranging from neighbours' accounts of their experience, through to doctors and other scientists explaining the findings, toxicology tests and pollutant sweeps of the contaminated land. It was so interesting to be a part of such a high-profile case and it allowed me to see different styles of advocacy and cross-examination, due to the different backgrounds, experience and fields of the Barristers involved.
I would certainly recommend a Professional Training placement to future students. It is a fantastic opportunity to gain valuable experience that many of your peers will not have and it allows students to get fully immersed in a working environment and get some hands-on experience that would be impossible to obtain through a short-term work experience or vacation scheme. Spending a prolonged period of time with a company allows you to become a fully integrated member of the team."
The University of Surrey is a wonderful place to study – I have made some great friends and have some excellent memories of my time here, and I cannot believe that four years has gone by so quickly."
Discover more about our law programmes, including our LLB Law.