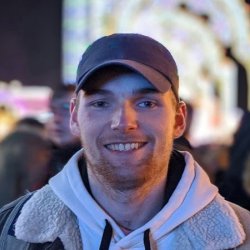 Charlie Wooding
"During my time at Surrey, I grew as a person, not only academically, becoming a fully fledged biologist, but also in an emotional sense, becoming so much more confident in everything I do."
Why I chose Surrey
I've grown up around animals all my life, from pet dogs and cats, to cattle, sheep and pigs in farms surrounding my home. I've always had a passion for learning about animals and how to care for them. But it wasn't until I spent time in a veterinary practice and on a beef and sheep farm that I realised my true passion for veterinary sciences, livestock medicine and disease. It then clicked. I knew I needed to study and research in these areas.
I originally applied to become a vet. Unfortunately, I didn't get any offers. So, I started to think about what other routes I could take in similar fields, which is when I found my BSc (Hons) Veterinary Biosciences course.
I came for an open day and the state-of-the-art facilities, like the Innovation for Health Laboratory, really stood out and highlighted to me the forward-thinking nature of the University and its staff. Also, all the green spaces in and around Guildford, including the lake and the chantries, really enticed me, plus the fact that Guildford is only an hour away via train from my hometown of Reading.
My course
There were so many aspects of my course I enjoyed. It allowed me to gradually build my skills in basic cell biology, biochemistry, physiology and genetics, before specialising in pharmacology, pathology, animal infectious disease, animal nutrition, epidemiology and food security. What's more, these modules all linked to each other in a 'One Health' mentality, which not only helped in terms of studying but was also useful in a real-world setting.
The course had a heavy emphasis on practical skills from day one, with at least one three-hour practical every week. This was the best way for me to learn and allowed me to put theory into practice. This all culminated in my final-year project on antimicrobial resistance in enteric bacteria. This was the highlight of my degree, bringing in elements of both diagnostic microbiology and antibiotic resistance in human, veterinary and environmental settings.
The academic staff were incredible from start to finish. From my tutor to my project supervisor, everyone was always clear and concise in their explanations, and were immensely supportive during exam and coursework season. There was never a time where I didn't feel like I could ask for help, and they were especially amazing during the switch to online learning because of the Covid-19 pandemic. A strong supportive team of academics during such turbulent times made all the difference.  
The biosciences laboratories were state-of-the-art and there was the added bonus of using the School of Veterinary Medicine facilities. I used the labs and equipment during my practicals and the dissertation lab for my final-year project. There was plenty of space and all the equipment you could ever need.
"My time at Surrey cemented my passion for veterinary science and I'm now studying at the Royal Veterinary College in London, on their graduate veterinary medicine programme."
My life at Surrey
I lived on campus during my first and final years, which was super convenient. It was what I wanted from student accommodation. The rooms had plenty of storage space, a comfy bed and ample work space. I even had an en-suite! The kitchen was great for socialising during the day or before a night out. I met some of my best mates in halls and I'd thoroughly recommend it for anyone thinking of going to university.
One of the great perks about Surrey is being out in the countryside with access to Guildford and London – there's everything you could ever want on your doorstep! Also, the people at Surrey really made my time memorable. There were people from different backgrounds and cultures, with varying interests and passions, forming one massive family.
My career and development
During my time at Surrey, I grew as a person, not only academically, becoming a fully fledged biologist, but also in an emotional sense, becoming so much more confident in everything I do. Before Surrey, I'd start shaking at the notion of completing large assignments, talking to new people or trying anything remotely new. But now I've cracked all of these! I know whatever I do in the future, be it my studies or my career, I can hold my head high and brim with enthusiasm and determination.
I'm now studying at the Royal Veterinary College in London on their graduate veterinary medicine programme. I'm absolutely loving the course so far, despite the workload being heavy! My favourite aspects are the animal handling practicals. Who doesn't love being out with cows and sheep all day?
It's also great having the opportunity to delve further into topics I studies at Surrey, with the ability to relate these to one another.
My time at Surrey cemented my passion for veterinary science and it's the overriding reason for me undertaking my veterinary medicine degree. Before I started my studies, I was rejected from all vet schools I applied to. But after completing my veterinary biosciences degree, I obtained interviews and offers from all four of my choices. This a true testament to how much the University has helped me to succeed and thrive in everything I put my mind to. When I left school, I wasn't 100% sold on becoming a vet. But my time at Surrey gave me the confidence to challenge myself and all the knowledge I could need.
My advice
Follow the route that is best for you, be that straight out of school into a five-year vet programme or taking the longer road by combining a biosciences course with a graduate entry vet degree. Both routes end up in the same place, and each bring their perks and downfalls. For me, doing a biosciences degree was one of best decisions I've ever made, and I'd recommend it to anyone considering a future veterinary career.
Also, it's easier to say it than it is in practice, but don't be disheartened after failure. It took me four attempts to get into a veterinary medicine programme, with a grand total of eight vet school rejections, but I've finally made it and you can too!
Discover more about our undergraduate veterinary medicine and science courses, including our BSc (Hons) Veterinary Biosciences course.