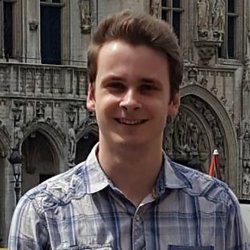 Dan Jackson
"The Professional Training year gives you a different kind of work ethic which is invaluable in your studies and in the professional workplace."
Course
Financial Mathematics
Placement company
PricewaterhouseCoopers (PwC)
After his Professional Training year at 'Big Four' accounting firm PricewaterhouseCoopers (PwC), Dan Jackson is nearly halfway to becoming an ACA chartered accountant – and has been offered a much sought-after job with the company when he graduates from Surrey.
Dan, who is studying on Surrey's BSc Financial Mathematics programme, was placed in the External Audit section of PwC's Assurance department during his placement. Far from being a desk job, this often required Dan to visit clients' premises, where he was tasked with checking documents to ensure records were correct, and gaining an understanding of the client's systems.
"I was assigned to many different clients throughout the year, including Johnson & Johnson, Porsche and Cisco, which ensured a great variety in my work. While some were for short periods of time, others required me to spend longer and enabled me to take more of a leadership role. One highlight – and challenge – was coordinating the checking of 17 sets of financial statements at once!
The placement also gave me the opportunity to study for seven of the 15 ACA exams I need to pass in order to become a chartered accountant. My proudest achievement was passing all seven exams first time! Revising for these challenging exams while working full time was definitely stressful, but the hard work was well worth it, as I'm now nearly halfway to becoming a fully qualified chartered accountant.
"I believe that some of the most valuable things I have learned are professional skills such as time management, patience, communication and responsibility."
At first, organising my workload was challenging, but I learned how to prioritise important tasks and keep a log of everything assigned to me – invaluable skills which will greatly help me with my final year studies!
Working as a professional is different to being a student, as other people are relying on your ability to complete your work – and there are no days where you are able to come in at 2pm!
The Professional Training year gives you a different kind of work ethic which is invaluable in your studies and in the professional workplace.
Surrey's Professional Training programme was a major factor of my decision to come to the University because I knew that work experience can help graduates to secure a job – and this has certainly been true in my case. PwC has offered me the role of second-year auditor when I graduate from Surrey (pending a minimum 2:1 in my degree), when I will be able to continue studying for my ACA qualification."
Find our more about our mathematics programmes, including our BSc Financial Mathematics.