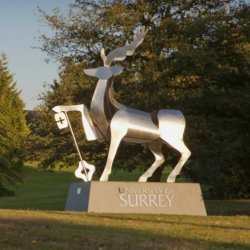 Ed Williamson
"The overall experience of pursuing an EngD with the University of Surrey has been both incredibly enjoyable and rewarding."
Course
Micro- and NanoMaterials and Technologies EngD
"My interest in the nuclear materials research area stems from enjoying nuclear physics during my undergraduate MPhys degree from the University of Sheffield. I enjoy the challenge of broadening my knowledge and so progressing from physics into materials science and engineering felt like a natural step.
The fact my materials research has applications to the nuclear industry means the nuclear physics knowledge from my undergraduate degree is still very useful!
Being able to have significant impact on the new Small Modular Nuclear Reactor Rolls-Royce is developing presents an exciting and novel field to engage with whilst studying towards my Engineering Doctorate (EngD).
"The experience I am gaining from pursuing a doctorate whilst being permanently based at the sponsor company is invaluable."
Ed Williamson
SMRs present a once in a lifetime opportunity for the UK to regain its position as pioneers of nuclear reactor technology, and they have a key role to play in helping the UK deliver on its 2050 decarbonisation commitments through the provision of clean, secure and reliable baseload power. The research I do has a direct application to the ongoing programme, whilst it also presents the opportunity to engage with the wider business.
The MiNMaT EngD programme at the University of Surrey was an excellent opportunity to continue to learn whilst also gaining industrial experience with a world-leading company such as Rolls-Royce. The four-year doctoral programme the MiNMaT Centre offers is designed for researchers who ultimately aspire to key leadership positions in industry and this really appealed to me.
The programme also offers a number of relevant courses in materials science such as Characterisation of Advanced Materials and Introduction to Physical Metallurgy. The centre also offers training towards the Institute of Leadership and Management (ILM) level 3 qualification. The ability to continue to learn not only new science, but develop soft skills such as leadership makes the programme very attractive to researchers wishing to pursue careers in industry.
I am approaching two years into the programme and so far the overall experience of pursuing an EngD with the University of Surrey has been both incredibly enjoyable and rewarding. Having the freedom to pick your own research paths, methods and techniques is initially daunting but it quickly becomes an exciting endeavour. The support from my supervisors has been excellent; they are incredibly knowledgeable and supportive of my ideas.
"The facilities at the University of Surrey are particularly impressive and they regularly help facilitate my practical work."
Ed Williamson
I am very lucky two have two fantastic academic supervisors who both take a very keen interest in my research and offer useful advice and expert knowledge. Dr Mark Whiting is an expert in materials characterisation and has consistently offered his support and advice when I have characterised new coating materials at the University's MicroStructural Studies Unit (MSSU).
This has enabled me to gain a thorough microstructural understanding of the materials I am studying.Professor Julie Yeomans has worked with ceramic and ceramic matrix composites for over 30 years and provides excellent advice regarding ceramic materials and the associated performances and behaviour.
This has enabled me to gain a quick grasp of the ceramics field, and to apply this knowledge to my research.
I have used a number of resources from across the University during my EngD. I initially utilised the Scanning Electron Microscope (SEM) at the MircoStructural Studies Unit (MSSU) to look at my coating materials at the microstructural level, enabling me to make detailed conclusions about composition and structure. I have also used the X-ray diffractometers in the Department of Chemistry to analyse the phases present in my samples.
"The most exciting and cutting edge experimental work I have done has been facilitated by both the Surrey Ion Beam Centre and the Advanced Technology Institute (ATI)."
Ed Williamson
I have used the ion beam facility to bombard my samples with ions to replicate the damage experienced in nuclear reactors. This was fascinating to experience having come from a physics background, whilst also being slightly ridiculous to see a sample the size of a two pence piece under an instrument taking up a whole warehouse!
I have more recently had the opportunity to work with the new near £1m Plasma Focused Ion Beam the University installed at the ATI earlier this year. This will enable me to characterise my coating materials in microstructural detail in three dimensions.Whilst studying for the EngD I am based full-time at the sponsoring company, Rolls-Royce, in Derby. This allows for continuous links with the business and gives an opportunity to network.
I regularly meet with materials experts in Rolls-Royce to discuss my project and develop it in a way that suits the long term research and development programme at the company. Initially these meetings at the start of the EngD programme determined the requirement for new coatings generating the need and drive for the current research direction.
I have weekly meetings with my industrial supervisor to ensure the project is going in a direction suitable for the business. This confirms that the coatings research is not only relevant to the nuclear industry but in the long-term will be used in applications across Rolls-Royce. I often present my work to the wider business, particularly at the annual Rolls-Royce EngD conference. I also consistently engage with other departments at the University to facilitate practical work. This includes collaboration with the University's Advanced Technology Institute (ATI), the Surrey Ion Beam Centre and the Department of Chemistry.
"My proudest achievement to date during my EngD has been my involvement with the Small Modular Reactor Project at Rolls-Royce."
Ed Williamson
During the EngD programme you are encouraged to be actively involved with the business, and not long after starting my EngD in 2015 the Rolls-Royce Civil Nuclear business launched the Small Modular Reactor programme. I was responsible for designing the initial layout of the plant which I was ultimately named as a designer for.
It was a real achievement and has been the start of a number of side projects I have taken part in within the business.Successfully identifying coating materials and procuring them from a number of suppliers has been one of the most challenging aspects of the EngD.
Prior to starting the EngD I had limited experience of placing high cost orders. The process of engaging with multiple suppliers, creating quotation requests and eventually negotiating prices has been an exceptionally educating experience. It is a very proud moment when the samples finally arrive for testing after months of procurement processes!
Outside of my academic studies I have been very lucky to meet a friendly cohort at the University of Surrey who are all also studying EngDs with a wide range of companies across the country through the MiNMaT centre. Going out for drinks and nights out with them at the end of some of the academic courses and for birthdays has been very fun. We have also been to play Topgolf just outside Guildford, Airhop in Guildford and loads of other things. It is surprising that even though we are based at so many different companies we still manage to find times to meet up!
Guildford's proximity to London is really useful and on the few weekends I have stayed at the University I have taken the opportunity to go into the capital. This has been to meet both old University friends and for food and drink. There have also been a number of academic talks at the IOM3 headquarters in London I have attended that have been very informative and useful for my studies. I have also visited the Surrey Hills, in particular Leith Hill that has great views over the county.
Following my degree I would like to stay in industry to lead research whilst still maintaining an academic link with Universities. I think it is highly beneficial for businesses to continue to engage with academia and it provides a powerful two way relationship. University students gain industrial experience whilst businesses have access to the latest research. I would like to expand this relationship whilst continuing to lead research."
Discover our programmes in mechanical engineering sciences, including our EngD MiNMaT.