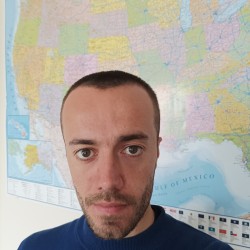 Edwin Gilson
"A real highlight for me was having an article published in a well-known journal in my field. This came out of a chapter I wasn't expecting to write at the start of the thesis, on a novel I read during the PhD."
Study abroad location
Los Angeles
Placement company
California State University
Research project
'Place and Planet: Scaling the Anthropocene in Contemporary Californian Fiction'.
Why did you choose to study your PhD?
Even from the early stages of my BA I had a desire to eventually go on to study a PhD, as I wanted to extend my academic life as far as possible. I was – and am – passionate about American literature, so it was always my plan to undertake a PhD in this subject.
Previously, I studied BA English and American Literature at Goldsmiths, University of London, and my masters in American Literature at University College Dublin. I worked for four years between my MA and PhD, so was very ready and excited to return to academia when I did.
In terms of selecting a university, it was a choice between Surrey and one other; and I received a funding offer from Surrey – though the AHRC Techne programme. It has turned out to be a very good choice!
Why are you passionate about English Literature?
I was a real bookworm as a kid, and still am. The thing I love most about literature is how it allows you to imagine worlds in your head based on words on a page. It is a very simple yet very expansive art form. With American literature in particular, I am always fascinated by the way that US fiction corresponds to and reflects the changing social and historical landscape of a supernation. In terms of my specific PhD subject – I was really interested in the tension between California's popular reputation and its environmental realities in our age of climate change (fires and drought in particular).
I undertook a three-month placement at California State University, Los Angeles in 2022, thanks to a PhD Mobility Fund from Santander via the University of Surrey. This was an immensely enriching experience – academically and personally – and one of the benefits was access to the resources at the Cal State library.
Supervisors at Surrey
My supervisor has struck the perfect balance between encouragement and constructive criticism. He has been very patient as I have developed the central argument of my thesis, and I have never felt pressurised by him at all. I am also very grateful for his expert insight on all things fiction.
My overall experience here has been excellent. Surrey has offered a relaxed and supportive environment at which to carry out my research. I would recommend it to any prospective literature PhD students. Literally everyone I have met has been very warm and welcoming, which goes a long way.
What have you enjoyed most about your PhD?
The most exciting thing about a PhD is how much your argument or focus changes throughout. You have to be patient and embrace change, because it can lead you to some very interesting areas. A real highlight for me was having an article published in a well-known journal in my field. This came out of a chapter I wasn't expecting to write at the start of the thesis, on a novel I read during the PhD.
The nature of a literature PhD means it will always be very independent, but I have met many other literature researchers at Surrey with whom I have had fulfilling and helpful discussions about matters related and unrelated to my PhD. I am also funded by the Techne AHRC training programme, so I have met some very interesting researchers through that. Through both Surrey and Techne I have made new friends and enjoyed a rewarding collegiality.
Looking forward
I will definitely apply for positions in academia, but I am open to other careers too. Writing is my biggest strength, I think, and I was a journalist in a former life, so anything that allows me to write would be welcome.
If you're very passionate about a subject, definitely consider doing a PhD. Obviously there are a lot of considerations around funding, but there are programmes you can apply for, both internally at Surrey and externally, such as AHRC Techne. And if you do start a PhD, patience is a virtue: don't get too restless or frustrated if your thesis is not progressing in a straightforward way. Those detours and distractions all prove useful in the end.