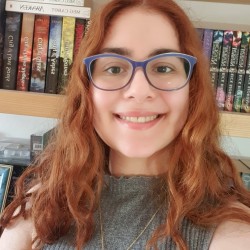 Eleni Lea Santama
"The staff are an absolute joy. Knowledgeable, insightful, and always willing to give advice. They are all such a huge part of why I enjoyed this course."
Why did you choose to come to Surrey?  
What drew me to the University of Surrey was first and foremost its impeccable Creative Writing programme. I was looking for a course that would organically help me grow as a writer and provide me the support to build a portfolio. I was already aware of its stellar reputation as a university and the location was truly beautiful. Needless to say, the University of Surrey ticked all the boxes. 
What do you like about your course? 
There really is something for just about anyone. The modules offered cover a large spectrum of subjects, genres, and disciplines. For example, one module that was of particular interest to me, and an important factor for wanting to join this course was Writing Gaming since I wish to pursue a career in the video game industry.  
The course provided me with the opportunity to surround myself with a cohort who is insightful and who have diverse experiences and fields of interest. I have come to trust their feedback and opinions in the same manner as they trust mine. We are a support group, providing encouragement, helping each other when we struggle and most important: celebrating each other's achievements. 
What are the academic staff and facilities like on your course?  
The staff are an absolute joy. Knowledgeable, insightful, and always willing to give advice. They are all such a huge part of why I enjoyed this course. Aside from them being passionate about the subject they are teaching, to the point that their passion becomes infectious, you can't help but want to engage more with the subject, and they are all very keen to encourage the growth of students and to help their project flourish.
"Whenever we would discuss our projects with them, they'd get excited and passionate about them, as much as we were. They'd always help, offer suggestions and advice. They'd especially push us and encourage us to imagine further and then tell us to put our goals even further than that."
They were especially supportive when a few of my colleagues and I decided to produce an anthology featuring the best work of everyone belonging to the Creative Writing MA and English Literature MA programmes. We were provided with guidance on producing a proposal fitting of professional standards and joined us in the excitement bringing such a project to fruition. 
I am forever grateful to all of them. They helped nurture my confidence as a writer and motivated me to dream and to pursue goals I hadn't even thought of before joining this course. 
What course(s) did you study before, and where did you study? 
I completed my undergraduate course of English Literature with Creative Writing at the University of Reading. 
Do you think you've changed since you started at Surrey? How?  
I definitely grew, both as a person and as a writer. I have found myself more confident in my skills and my work. Moreover, since starting this course, I have found it easier to pitch my projects and to advocate about my creative choices.  
What do you plan to do following your postgraduate course at Surrey? 
I am hoping to join the video game industry as a writer and/or narrative designer. And of course, I will be working on the novel I started and made preparations for during the span of this course.