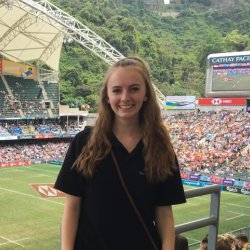 Emma Cross
"My course has been challenging and engaging however when I finish my degree I'll have eight exemptions from the professional ACA exams, which aids employability."
Course
Accounting and Finance BSc (Hons)
Placement company
Baker Tilly Hong Kong
"I chose Surrey for several reasons, I loved that it was a campus university and the idea of Surrey's accommodation being a big student hub! I was impressed by the campus and loved the outdoor green spaces and the professional-looking buildings and facilities. I stayed in accommodation at Manor park in my first year, and the buildings were modern with big kitchens. I was lucky enough to be next door to Surrey Sports Park which has everything you could imagine, including a pool, sauna, squash courts, gym, and much more.
My course has been challenging and engaging however when I finish my degree I'll have eight exemptions from the professional ACA exams, which aids employability.
I chose to do a professional training placement during my studies and secured a role in Hong Kong, working for Baker Tilly Hong Kong as an audit trainee. My placement year was very valuable, and it gave me a wide range of experience with different businesses and industries. It helped me to develop not only my finance and accounting knowledge but also my computer, efficiency, initiative, problem-solving and team-working skills. I was involved in the audits of five different companies and was lucky enough to travel all over Hong Kong and to Thailand to complete these audits.
Some of my tasks included rolling documents from the prior year, completing checklists and audit procedures, and determining materiality in the program CaseWare. When in the client offices I was involved in 'vouching' or 'testing' which was determined using random number tables or statistical sampling methods and checking them against the client's information. I would help to complete the workings and explain any variances between different years highlighting any unusual transactions.
"I enjoyed my time in Hong Kong, it was a great chance to experience a new culture, try a range of new cuisines, build a great network with colleagues and make lots of new friends from a variety of backgrounds."
Another highlight of my time in Hong Kong was the volunteer work I chose to get involved in. I volunteered for a charity called Splash which is an organisation dedicated to helping low-income earners or those who never had the chance to learn to swim. As a coach, it was my role to help teach domestic helpers and underprivileged children in Hong Kong how to survive in the water. It was an extremely rewarding experience which I thoroughly enjoyed, as I really felt part of making a real difference in people's lives.
I would absolutely recommend a placement to anyone thinking about doing one! It helped me confirm my plans to go into finance after graduation. As well as helping me to realise what I would be looking for in terms of firm values and job specifications in my applications for jobs once I graduate.
One of my favourite parts of being at the University of Surrey has been joining the squash society. I have been a player in the first women's team for my three years studying here and was on the committee in my second year. I play with such an amazing group of people and we have had so much fun at various social, games, tournaments, matches and tours over the last three years."
Discover more about the Accounting and Finance BSc at Surrey Business School.