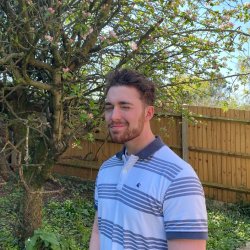 George Clapp
"Completing a Foundation Year and progressing into the first year is like moving into a house that's already a home. The Foundation Year not only supplied the key knowledge, but it helped me adapt to University life."
Choosing Surrey
The Department of Civil Engineering runs a scheme with ICE (Institution of Civil Engineers), which I applied for before joining the University. I was awarded a scholarship and I was matched with Atkins, where I get paid summer placements between semester time, plus a year-long one.
I liked the location, the town and how friendly the Department was, too. The campus is clean and modern, and it has good connections to London and nearby airports.
I also liked the Library. There are various floors for different styles of studying. If that doesn't provide the right atmosphere, there are other buildings with computer laboratories and study rooms.
My course
I was originally interested in architecture. But the marriage between the mathematical and creative elements of civil engineering fascinated me. Discovering that this branch of engineering existed excited me. It aligned with my lifelong passion of infrastructure and helping people.
I've always been a creative person, but I enjoyed completing past maths papers after school, too. I spoke to my brothers, who suggested I should investigate civil engineering, and the rest is history…
Foundation year
Completing a Foundation Year and progressing into the first year is like moving into a house that's already a home. The Foundation Year not only supplied the key knowledge, but it helped me adapt to University life.
It provided a strong and robust primer to my full degree, too. It enabled me to develop and sharpen my mathematical and practical skills, before building my knowledge in the following years. It didn't just reinforce the A Level content taught prior to university either. The programme taught applied first year mathematics, computing, physics and chemistry. It equipped and yielded me with the best head start to any science and engineering degree.
The successful work I completed in the first year of my degree is also credited to the bedrock knowledge obtained in the Foundation Year. It helped me write technical reports, research papers and conduct myself in practical sessions.
If anything, the Foundation Year has given me an advantage. I know my way round the University and I understand the routine of the degree programme. This has allowed me to propel myself into University life.
For most people, going to university is a huge, life-changing experience. Having the Foundation Year allowed me to start the first year of my degree with confidence and without adversity. 
Highlights
I've really enjoyed working with my team on the Design, Assemble and Dismantle Project. This also involved presenting, which has helped me become a better public speaker.
The most abiding recollections I have are every situation where I was startled or coaxed out of my comfort zone – to the point where I could see myself stretching and becoming a better person.
Life at Surrey
I'm really enjoying my time at Surrey and it's probably been the most enjoyable part of my life so far. It's provided a fertile ground for growth as I delve into a subject I love.
I lived in student accommodation during my Foundation Year and I absolutely loved it. The atmosphere was constantly amazing, and I managed to win the lottery with the people I lived with.
Once the pandemic is over, I'm looking forward to restarting swimming and reigniting my passion for football.
The future
My scholarship with Atkins could develop into a full-time job after I graduate. I'd like to complete a masters, so I can gain a chartership in civil engineering and, although ambitious, possibly complete a PhD.
I've always been interested in global work as well as national work, so I may expand my horizons to other countries. My sights are starting to focus on wanting to improve water resources and the safety of this force of nature. It affects everyone, no matter where in the world you are or how privileged you are. Water is a natural and fundamental part of our society, which can be used for harnessing energy and for quenching the thirst of millions. It's an area with so much potential for innovative ideas. That excites me.
The great thing about civil engineering, though, is that no matter what subdivision I end up working in, I'll always be happy because I know I'll be helping people.
Learn more about undergraduate study in our Department of Civil and Environmental Engineering.