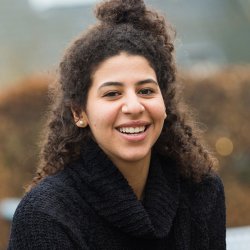 Hana Bibi
"A year in a professional setting is a steep learning curve which opens your eyes to the real world and gives you an insight to what the working world is like on both a personal and professional scale."
Course
Law with International Relations
Placement company
Burke Niazi
"Surrey was always one of my top choices because of its beautiful campus. Both Stag Hill and Manor Park seemed so welcoming and this encouraged me to be a part of the Surrey community.
As an individual who is heavily involved in sports, knowing that the Surrey Sports Park facilities are right on our doorstep was a major influence to choosing to come to Surrey. The option of choosing a Professional Training placement during the course of my undergraduate degree was a major boost for wanting to undertake my degree at Surrey. The flexibility and the ability we had to personalise our placement year was an encouraging aspect of taking a step out into the real world.
I was unable to attend an Open or Applicant Day, so I contacted the faculty once I received my acceptance and I was given a personal tour around campus, which was a great experience and one which made my decision of choosing Surrey as my first choice!
Studying law at university level was almost like a goal which I set my mind to as this was a discipline I have always had a great interest in given the career prospects of becoming a lawyer.
During my first year of university, I lived in Manor Park. Manor Park was a great place to live in my first year as it was similar to a little village where everyone is well-connected to each other as it is exclusively student accommodation. This allowed me to meet people from various different flats/blocks. Manor Park was a perfect location as it meant that I was only 5-minutes away from the sports park. This was very convenient for me!
During my time at Surrey I have been a member of the Basketball Club, the Law Society, the Arabic Society and Team Surrey Chair at the Student's Union. These have been invaluable experiences and have really shaped my student experience.
"The Campus and the Sports Park have created an inclusive environment and they are the places which I believe create a sense of community."
I have met and worked with people from very diverse walks of life and I can confidently say that without my involvement within these clubs, societies and the Union, my experience at Surrey would have been very different.
These Campus and Sports Park really do play a big role in the student experience as they are great facilities and accessible to everyone.
My placement year was split into two different placements where I undertook six months at a law firm in London and six months in a law firm in Manhattan, New York.
My first placement at Burke Niazi in London was secured through their close links with the School of Law and the placement opportunities they offer for Surrey students. During the placement, I was working in the family and housing department where I was the first point of contact for all clients seeking legal advice or representation. The work involved a large amount of client interaction, which was a great experience as this gave me the opportunity to meet and work with vulnerable clients with various different backgrounds and different legal issues. The highlight of my placement in London was the experience of building close client-relationships which built a sense of confidence and trust in my work.
During my placement in New York, the work involved taking part and preparing in depositions, drafting motions and attending various courts across different boroughs in New York. The highlights whilst working in New York was the experience of working within a different jurisdiction and working within a very different office environment. Working in New York enabled me to become a lot more independent in the sense that I was on tasks such as attending the Supreme Court as the firm's representative, meeting with clients and taking client instructions on my own.
"I couldn't recommend a placement enough – it is an invaluable experience and really prepares you for final year!"
A Professional Training placement has been one of my best experiences at Surrey so far. The amount you learn on the job is invaluable. A year in a professional setting is a steep learning curve which opens your eyes to the real world and gives you an insight to what the working world is like on both a personal and professional scale.
Another of my greatest achievements was winning the Surrey Decides election for the role of Team Surrey Chair whilst campaigning from New York. This long-distance campaign was one of the greatest achievements because it taught me a lot about myself, and the importance of persevering and staying positive, regardless how tough the challenge ahead may be.
Being at Surrey for my undergraduate degree has been one of the best and most memorable journeys so far. My time here has been incredible, I have thoroughly enjoyed reading law and politics, I have met people from very diverse walks of life, been a part of various clubs and societies, and attended a number of events, all of which have played a major role in shaping my student experience! 
My time both on and off the sporting ground, whether on campus, at the Sports Park, Manor Park, or around the Guildford community have all contributed to my positive experience over the past four years. I cannot emphasise enough how these places have created a friendly and welcome environment, making Guildford my home away from home."
Discover more about our law programmes, including our LLB Law with International Relations.