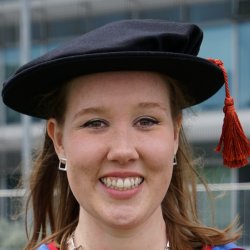 Hannah Whitmore
Our PhD students go on to a range of exciting roles in both industry and research environments. On graduation day we caught up with Hannah Whitmore who studied for a Chemistry PhD at Surrey and is now working as a postdoctoral researcher at Harvard Medical School in the USA.
Why did you choose Surrey for your PhD?
I did my undergraduate degree in Medicinal Chemistry at Surrey and decided to stay here for my PhD. It's really important to like your supervisor – after all you'll be spending three years working with them – and I found that when I interviewed for a couple of other places I didn't really feel that 'click' that I got with Professor Dulcie Mulholland, my supervisor at Surrey. She has been more supportive than I could have ever hoped for.
What's your PhD all about?
My research is in natural products chemistry which is the extraction of novel small molecules from plants. In particular I'm looking for compounds that could be effective in the treatment of blindness – especially in conditions such as diabetic retinopathy and age-related macular degeneration. In these conditions, too many blood vessels form, causing damage to the retina, known as retinopathy, which can eventually lead to blindness. We've found several compounds which are really good at stopping these blood vessels from forming and growing, suggesting that they could become future therapies for the treatment of retinopathy.
What first got you interested in medicinal chemistry?
I loved chemistry at school and I also liked the biosciences side. Studying medicinal chemistry allowed me to study both subjects, which I think marry together well.
What are the best things about studying at Surrey?
I love the fact that the Department of Chemistry is relatively small. All the lecturers know you by name and there's a more personal touch. They understand what drives you and really take an interest in your life as a whole.
The facilities at Surrey such as the dedicated undergraduate computer lab and the Joseph Kenyon laboratory are fantastic and really well-equipped.
What did you enjoy most about life in general at Surrey?
Outside of my course I set up the Rifle Club and also got involved in archery, scuba diving and even jiu-jitsu. I played the cello in the University Orchestra, with its brilliant conductor Russell Keable, throughout my undergraduate and PhD years, which was a great part of my experience here.
What are you up to now?
I'm a postdoctoral researcher at Harvard Medical School, focusing on the cell biology aspect of diabetic retinopathy. This has enabled me to see things from another perspective: looking at what's going wrong in the body which we could potentially target and treat with our compounds. I have a paper coming out this week and there's already been some commercial interest too.
Harvard is a very different environment to Surrey and I do miss the small campus feel, but the facilities are fantastic and it's a wonderful opportunity for me.
Hannah's recent research paper was published by the National Centre for Biotechnology Information in April 2019. Read features on the research online at sciencedaily.com and diabetes.co.uk.
Discover our courses in chemistry including our Chemistry PhD.