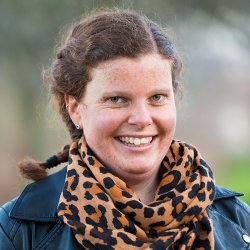 Holly Adcock
"One of my highlights was going to a patient who was having a heart attack, which progressed into a cardiac arrest. We worked really hard to resuscitate him for a long time and took him to hospital."
"I chose Surrey because I liked the lovely campus, it had a little village feel with everything I need in one place, and the lake and surrounding nature were beautiful.
I was amazed by the Sim Suite and other facilities available to us as healthcare students. I also liked the structure of the course, and the fact that we spend six months in university building up a sound knowledge base of the anatomy and physiology of the body, and some basic skills before we went out in practice. This meant that when it got around to April, and we went out on placement, I felt a lot more prepared.
The current student paramedics that were at the Open Day sealed the deal for me, and set my mind to being accepted at Surrey. The way they talked about the course, I just knew Surrey was where I wanted to go and study. The minute I stepped out of the car on the Austin Pierce plaza, I just got a good feeling about the university.
"No other university was as welcoming as Surrey on their Open Days."
I liked spending the first semester of the course working alongside the other healthcare disciplines. I love being out on placement and working alongside competent professionals who are keen to share their knowledge and push you to excel.
The Sim Suite is pretty incredible, and the shouting/breathing/vomiting/sweating manikins are great for making simulation more realistic. I like that you can listen to their heart and lung sounds, and take their pulse from the pulse points you would be able to on an actual human.
The academic staff are great because they teach us the gold standard of how things are supposed to be done, but then they also bring in the reality of the situation out in practice. In our line of work there is a lot of improvisation required, and they acknowledge that, and help us to think outside the box.
I lived in Manor Park accommodation for my first year. I remember when I first found out where I was going to be living I was gutted because it wasn't on the main University campus, so I thought I would be too out the way. However, from the first weekend I moved in, I just loved Manor Park. It's so nice, it doesn't feel like student accommodation at all! And I love the fact that it's a 20 minute walk away from the main uni campus, because that means I get a nice little walk in the morning. In my second and third year, I lived with some of my best friends both from my course, and from other courses in a house in Guildford.
I think it's so important to have an interest outside of your course, and make friends with other people.
For my first two years I was part of the Pole Fitness Society, which was a great weekly workout. This year I've joined the Hockey club, which I'm loving! Obviously I've been part of the paramedic society for the entire three years, and it's great socialising with the others on my course, and people in different years. In my third year, I am now the events coordinator for the paramedic society, and I have loved organising all the educational and training events for the society. The most recent event was our "Dying With Dignity" conference, which was attended by student paramedics from four different universities, and also qualified staff from the local ambulance service. Now onwards and upwards to our next conference which is going to be a bigger, more involved event!
In my spare time, I'm a student ambassador for the Widening Participation and Outreach Department. As part of this I get to organise and run sessions for people outside of the university (such as year 8 students, mature students, year 12 students), talking about different aspects of being a paramedic- which has increased my confidence in public speaking massively. My favourite event to be part of is the year 12 residential health sciences summer school.
I love popping to Surrey Sports Park for the exercise classes, the amazing swimming pool and hockey training twice a week. I also love a cheeky cup of tea from Teas & Tees before 11am (only £1!) with my course mates. At lunch, we sit in Hillside as an entire cohort (40 of us) and take over one of the long tables. On a Wednesday, I get involved with the HIIT circuit training which takes place in Rubix with the club lights and music pumping.
"As part of our course, we carry out placements during all three years, at the ambulance stations, hospitals and prisons throughout Surrey."
The work involves responding to patients at a very fraught time in their lives, when they are in need of our help. One of my highlights was going to a patient who was having a heart attack, which progressed into a cardiac arrest, we worked really hard to resuscitate him for a long time and took him to hospital. 
When we got there, I got to watch him having a stent put in his heart, and a week later we got a thank you letter from his family saying that he had survived. That's teamwork at its best!
During my placement, I worked on my communication skills, talking to a wide range of patients and ambulance clinicians in a variety of settings. Working as a team in those situations is vital, as that is what's going to help the patient. I began my placements back in first year, by sitting back and watching my mentor managing the patients. Now, in two years down the line, I'm the one taking the lead and making the decisions, and directing other team members to do tasks.
The support from the clinicians at my station was so lovely. If I'd attended a patient, where the situation was highly emotive or it had been playing on my mind, I would receive several messages from my colleagues at my ambulance station over the next few days, asking if I was ok, and did I want to meet up to talk about it.
It's a key part of our course. That is where you learn to apply the skills you have learnt in university, to the real world out on placement.
My proudest moment was at the end of the Paramedic Society's "Dying With Dignity" conference, into which I had put a lot of time and effort, and spent months organising, when several people came up to me and commented on how much they enjoyed the conference and how helpful it was for them.
Since I started at Surrey I've matured, come out of my shell, and become more independent. Being at university and all the opportunities it brings, has challenged me and pushed me out of my comfort zone and help me develop.
When I graduate I plan to get a job as a paramedic. My ideal job would be working at either of the two ambulance stations where I have done my placements as I've made friends there and feel part of the team."
Discover our health sciences degrees, including our BSc Paramedic Science course.