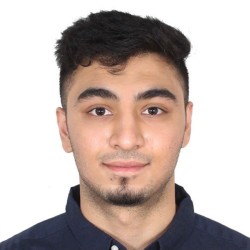 Hriday Dayanand
"I personally believe that my life has undergone a 360-degree transformation since joining the University of Surrey and I have come a long way from the person I once was."
Why did you choose to come to Surrey? What appealed to you?
One of the primary reasons I opted for the University of Surrey would have to be because of its renowned campus and beautiful atmosphere. Although I got accepted into many universities in the heart of the city at London, I preferred to live and study at a location that was away from the hustle and bustle of the city but at the same time boasted of world class infrastructure required for me to excel in my field. Be it the state-of-the-art sports park, multi-level library or the serene lake at Stag Hill, I believe the campus at Surrey has the perfect facilities for a student to make the most of their time at university.
What was your impression of Surrey?
My first impression at Surrey was most certainly a positive one. Being an international student who had never set foot in the country before, I was full of apprehensions before I arrived and was extremely nervous about how I would manage on my own. But from the very first greeting I had at the reception until my last days on campus, I came across so many friendly people from different cultures who would go out of their way to help me. The support they showed not only helped me settle and adapt quickly to the new environment, but was also the reason I rarely felt homesick.
Why are you passionate about your subject?
Since the onset of Covid, a vast majority of businesses have had to undergo a digital transformation to stay competitive in today's business environment. It is essential for brands to have a strong digital presence to not only thrive as a business but to also stay on top of the latest industry trends. Owing to this realisation, I developed a keen passion towards the field of Digital Marketing as it covered all the various aspects related to engaging with and retaining consumers via several online channels. Coupled with my curiosity towards technology and desire to express myself through creative outlets, it made the perfect field for me to explore further and make a prospective career out of.
Why did you choose to study your course at Surrey?
The reason I opted to study my course at the University of Surrey was due to the multi-dimensional approach the university has adopted towards the field of Digital Marketing. The University understands that for a student to be a successful, it is essential for them to not only be adapt with the concepts related to the field but to also hone a strong business orientated mindset. Having this multi-dimensional approach enables students to view any scenario from a bird's eye view and conceptualise the most suitable solution. The University does an excellent job of understanding this and catering the course in a manner that well equips their students to face any situation that they might face.
What are the academic staff and facilities like on your course?
I found the staff at the University of Surrey to be not only be extremely supportive but also incredibly knowledgeable in their fields. The professors would often go to great lengths to ensure that students are able to firmly grasp the concepts being taught be it through practical demonstrations, guest lectures, conferences, or webinars. Besides helping me with my academic endeavours, the staff were also very approachable when it came to seeking advice in any matters related to my personal life as well.
What course did you study before, and where did you study?
Prior to joining the University of Surrey for my master's degree, I pursued my undergraduate degree at O.P Jindal Global University in the field of Bachelor of Business Administration.
Have you lived in University accommodation? If so, what is it like?
Throughout my master's degree, I resided at the University accommodation at Manor Park which felt nothing short than residing at a fancy hotel. Everything from the location of the property to the interiors and appliances used to even the common spaces all had a very modern feel to it, and I found that I thoroughly enjoyed coming back to my room after a long tiring day at university.
What's the best thing about living in University accommodation?
The best part about living at the University accommodation would have to be the memories created with all people I've got to meet. Staying at the university accommodation gave me the opportunity to connect with many like-minded people from various courses who were also studying at the university. Spending time and getting to know different people and their cultures and also going on to make lifelong friends would have to be one of the biggest upsides of staying at university accommodation which I would definitely recommend.
Do you feel supported at university?
The university places extremely high priority on ensuring that all students have access to the right resources required to take care of their mental health. The university understands that life as a student can be quite challenging which is why they ensure that students can always avail one of the many supportive resources available to them during times of need. They also constantly propagate the importance of sound mental health, which I believe to be of utmost importance.
Have you used any of our support services?
The university has excellent supportive facilities in place such as the MySurrey Hive which can provide you with assistance to any matter during the course of your degree. I found the team to be extremely helpful and could always count on them to point me in the right direction every time I needed assistance on any topic, be it academic or personal.
What careers support have you received?
The university provides a brilliant range of career support facilities that provide invaluable insights onto various aspects that highly boost your chances of being employed upon the completion of your course. The university allows students to book appointments both online and face to face with their career advisors who can assist you on a range of topics such as your resume, cover letter, LinkedIn profile and even preparation for an interview. I personally found this service to be of great help as it enabled me to understand what it is that employers are looking for in recent graduates, which helped me mould my profile in order to be an ideal candidate.
What has been your best moment at Surrey so far?
Besides the innumerable small victories that I have achieved in my personal life over the course of my degree, my biggest achievement would have to be landing my dream job at my dream company even before the completion of my degree. I was fortunate enough to have received an offer for the role of "Digital Marketing Specialist" at GVE London Ltd which is one of UK's biggest premium supercar dealerships. Not only was I able to secure a permanent role directly related to my field of study but I also received the opportunity to work at a fast-paced thriving environment where I am certain to grow as an aspiring Digital Marketer. Having received this offer really helped me understand my capabilities and potential and cemented my career path going forward which I completely attribute towards the staff and facilities available at the University of Surrey.
Do you have any advice for students thinking about postgraduate study?
If there was one piece of advice that I could give to any student who was considering, pursuing their postgraduate degree, it would be to go ahead and take that plunge because it will be the most rewarding experience of their life.
Taking the first step in any walk of life is always the hardest and there's no one better who understands this because I personally felt equally as intimidated. For as long as I can remember, it has always been my dream to pursue my master's degree abroad. However, when I finally received my acceptance letter, I could not help but worry about the various challenges that I may encounter. Nonetheless, I decided to put all my concerns behind me and face any situation that may come head on, and I could not have made a better decision. Over the course of my degree, I have been able to conquer so many different challenges that I would once only dream about and do so with ease which truly helped me to understand my deeper potential. More importantly, I also learnt how to handle those situations that I may not be the most equipped for and deal with them in a manner such that I came out on top, for which I could not be more grateful.
Do you think you've changed since you started at Surrey? How?
I personally believe that my life has undergone a 360-degree transformation since joining the University of Surrey and I have come a long way from the person I once was. The person I am today is more confident, independent, and most importantly full of self-belief and understands that I have the capability to achieve any feat that I truly set my mind out to. All of this would not have been possible had I not stepped out of my comfort zone which is what I would highly recommend to any person considering taking the next big step in their life.
What do you plan to do following your postgraduate course at Surrey?
Following my postgraduate degree, I plan on working in the country as a Digital Marketing Specialist where I will seek to hone and refine all the skills that I have developed over the course of my degree. I would then seek to become the Marketing Manager of a company or agency that oversees all marketing and outreach activities pertaining to a firm. I would also gradually like to pursue my Master's in Business Administration in a few years' time after which I would eventually look to build and form my own company.
Finally, do you have any other comments you'd like to offer about your time at Surrey?
I would just like to thank the University of Surrey and all its faculty for not only constantly believing in me but also providing me with a platform to showcase my abilities. The university campus and the town of Guildford will always hold a very special place in my heart no matter where I go and I am certain that if given the opportunity, I would love to return one day and do it all over again!