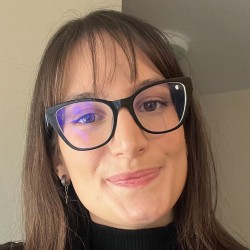 Ioana Stupu
The staff in the School of Hospitality and Tourism Management really brought the industry into the classroom and made the course applicable to real-life situations, and for that I am extremely grateful.
Placement company
Archer Hotel Capital
What's one snack you couldn't live without at university?  
As much as I don't like to admit it, frozen pizza saved me from a LOT of situations. 
Why did you choose to come to Surrey? 
The main reason I chose Surrey was the high ranking of my course in the top European hospitality management universities. This was supported by the various activities, societies and clubs available at Surrey, the fact that all these create a sense of community on campus, and the proximity of the University to London. 
What was your first impression when you got here? 
I felt overwhelmed by all the things going on, but soon realised that there are endless opportunities to have fun, meet people and just generally grow as a person.
The campus was a maze in the very beginning, but once I learned my way around, it started to feel more like a playground where I'm free to explore diverse cultures, my course and my existing passions, as well as discover new passions.  
Why are you passionate about your subject? 
I'm passionate about studying International Hospitality Management because it's a blend of the well-structured aspects of managing a business (appealing to the 'dork' in me) with the intricate sides of human interaction and hospitality (appealing to the 'social butterfly' in me).
I like the fact that I have the chance to study a management degree applied to such a fun and ever-changing industry. 
What do you like about your course? 
I like the fact that we're challenged to think about the content from the perspective of the real world.
From first-year modules like Restaurant Operations, where we worked a day a week in the Lakeside kitchen and restaurant, to final-year modules like Hotel Investment, where we were introduced to the concept of feasibility studies, the course provided me with a deep understanding of hospitality management.  
Who are your favourite academics and why? 
I couldn't have done this degree without Sylvia Ganbert, Karen Kelly, and Chef Dave Hill. They taught me that a positive attitude solves more than half of the problems you encounter and that you need to take work (and life) step by step.
The staff really brought the industry into the classroom and made the course applicable to real-life situations, and for that I am extremely grateful. 
What were the facilities like on your course? 
The study spaces on campus are great. I like the variety of options, from the multiple levels of the library to the more relaxed Hive and Nest. It's great to have so many places to choose from, and to see the study spaces transform into your social hubs as you become friends with the people around you. 
More specifically to my course, the Lakeside Restaurant and Coffee Shop really helped bring all the theory to life, with the academic and practical guidance blending into a wonderful learning experience. For a hospitality degree, I believe this is one of the best facilities available!  
What careers support have you received?  
I often requested help from the careers and employability service in the form of one-to-one meetings about my CV, covering letter, LinkedIn profile and just general advice, and I was always supported in my journey of discovering what career I want to pursue. It's reassuring to know you have a team available to guide you through these types of decisions. 
Can you tell us about your Professional Training placement?  
I've been on a Professional Training placement at Archer Hotel Capital, an investment fund specialising in hotels. I was an asset management trainee responsible for undertaking data analysis of the hotel performance in the portfolio, as well as maintaining regular communications with the hotel executive teams. 
Would you recommend a Professional Training placement to others?  
Absolutely, yes! The Professional Training placement was an experience that opened my eyes to what the industry looks like and helped me discover what I'd like to do in my career.
While university gave me a base of knowledge to work with, the placement fully immersed me in the industry, as it taught me valuable practical and analytical skills. It also made me appreciate my time at university even more once I returned. 
Are you part of any clubs or societies?  
I was part of Surrey Snowsports, and this was an amazing club to join to have fun, meet people and have a good laugh. I loved how it helped me get the feeling of being part of a community and I'll always be grateful for the friendships I've made through this club. 
What are the best things about life at Surrey?  
The sense of community. Every step you take on campus is another opportunity to socialise and, for a student, I think it's a great place to be. There's plenty of things to do on campus, from the ping pong tables scattered around campus to Rubix and Surrey Sports Park, but also in town.
If you're up for it, you quickly find friends and start making memories here.  
What's been your best moment at Surrey so far?  
There isn't only a single 'best moment' I can think of. However, some of my best times relate to the chances I've had to meet new people and discover different cultures, the opportunities I've had to learn about my industry (through practical modules and hotel visits), and the responsibilities I've taken on, such as being a course representative. All these have helped me grow in ways I didn't know I could when I started university. 
How has your time at Surrey had an impact on you? 
It helped me discover who I am both in a career sense, but also in a personal one. The course and lecturers helped me to find out what I'm good at and to discover the hospitality industry, while the friends I've made helped me build the confidence to take up any challenge.
Having the University of Surrey as a 'playground' in which to discover myself was absolutely amazing, and I would choose Surrey again. 
Finally, tell us what you want to do when you graduate. 
I'd like to build on my placement in asset management and pursue a career in hospitality real estate.